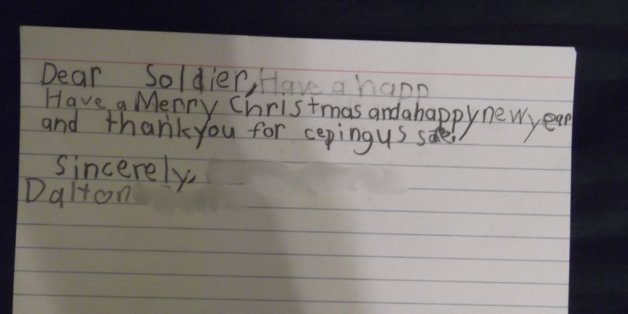 The spelling might have been a bit creative, but that didn't seem to bother the recipient of an adorable letter sent to an airman stationed at California's Travis Air Force Base over the holidays.
The handwritten note was delivered to the base last Thursday along with a Christmas-themed drawing and a box of cookies, according to Redditor Slayfire122, who posted photos of the gift online. Clearly penned by a youngster, the letter thanked the airman for his service and wished him happy holidays.
Dear Soldier,

Have a Merry Christmas and a Happy New Year and thank you for ceping us safe.

Sincerely,

Dalton
Identifying himself in the post only as Charles, a mechanic on a C-5 Galaxy aircraft at the base in Fairfield, Calif., the clearly touched airman shared a series of pics of the surprise holiday care package from Dalton last week in an Imgur album titled "Why we go to work every morning."
(Story continues below.)

And Charles wasn't the only Travis Air Force Base employee to receive a holiday surprise. Dalton's gift was one of hundreds of packages dropped off at the dorms as part of the annual Operation Cookie Drop tradition at the base, reports Yahoo! News.
All told, more than 10,00 cookies of all shapes, sizes and flavors were delivered to the men and women serving at Travis over the holidays, according to area news outlet KCRA.
"For a lot of them, this is their first time away from home and especially difficult at the holidays," Lisa Williams, 1st sergeant, senior master sergeant, told KCRA. "It's a little holiday surprise."
The cookies were certainly a welcome gift for Charles, who said via Reddit that he would be Skyping his family on Christmas morning.