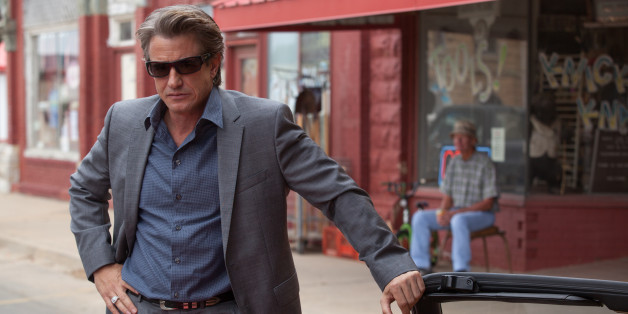 Dermot Mulroney doesn't exactly shy away from any claims that he steals a few scenes in "August: Osage County," Tracy Letts' Pulitzer Prize-winning play that is now a major motion picture with Oscar hopes. Mulroney plays Steve Heidebrecht in the film, the fiancee of Karen Weston (Juliette Lewis), a woman who returns to her Oklahoma home for the funeral of her father. At first, Steve acts as broad comic relief in "August: Osage County," which puts his character at a stark contrast to the dark and barbed one-liners spouted by Karen's drug-addled mother (Meryl Streep) and her older sister (Julia Roberts). As Mulroney explains, Steve is supposed to steal scenes -- especially when Ricky Martin songs are involved -- until, well, he's not.
I met Mulroney at a hotel just off of New York City's Central Park. In person, Mulroney is an affable man who also kind of defines the word "quirky." Perhaps that's why it's surprising that so many people confuse him with Dylan McDermott, a man who seems the polar opposite of quirky -- a confusion that even resulted in a "SNL" sketch last season, which Mulroney discusses ahead.
You steal some scenes in this movie.
Well, that's how that character is designed. I'll take all the credit for it, but, really, it goes to Tracy Letts. Steve is meant to come in, break up that dinner with his phone call and his four wives -- that's what he's there for. To disrupt this disruption. And by doing so, you kind of accept him as part of this ship of fools -- and then he jumps ship and shows his real nature. He tricks you.
He did trick me. I liked him until that moment. And it doesn't help that you are playing him because you are a likable guy.
Right, so I help mislead.
Then he's a jerk.
Just another jerk.
He's the worst of all of them.
Exactly. That's how I read it, too. And that's that part. And that part was famous coming out of the play because of that, too.
Was there a particular trait that you wanted to bring?
I don't know. In some ways, I just felt so right for this part that I wasn't really looking to put a hat on a hat.
Did they come to you?
No, I auditioned. I auditioned several times.
Steve listens to "Livin' La Vida Loca" by Ricky Martin while he drives around town.
And that, I had no idea about until I saw it in Toronto.
Really?
That was put in in post-production. Of course! We're just driving the car. John Wells picked those songs -- or he and his music supervisor. But that added more to my character than anything I could think of, it was incredible.
You have to be a pretty confident fellow ...
Yeah, to drive up to a funeral playing "Livin' La Vida Loca," right? You've got to feel good about yourself, it's true? And that's what music can do to a film when it directly adds to a character ... the part I played is even better, for four bars of a song. And he's from Florida in the '90s, how could that not be on the radio. Can you picture Karen and Steve driving halfway across the country with Ricky Martin blasting the whole way?
I can.
That's what must have happened. And a big bag of weed. They couldn't fly to Oklahoma and carry that on a plane. That's why they had to drive -- that's what Juliette and I decided.
So, the "SNL" sketch you were on...
How did that happen?
I did not know the confusion people have between you and Dylan McDermott was such a big deal.
It's been around forever. No, I've encountered it.
Has anyone said to you, "You were great on 'The Practice'"?
No. Not that. Because people don't think we are each other, they just mess our names up. People don't confuse me for being the guy that did any of his jobs, they just mix up the letters in the names. It's like a collective dyslexia.
So you get a call one night, "We need you to be on 'SNL'"?
On Thursday night.
Were you in New York?
No! I'm in L.A. and I get a call Thursday at nine o'clock from an agent -- it's a bizarre time to get a call. So, I flew overnight Friday, arrived Saturday morning, rehearsed Saturday afternoon in front of the cameras live. And from what I understand, Dylan was asked, but couldn't go. They had designs to have us both on. But, it is a thing. And the thing that shocks me is that it's yet agin a new thing -- it's been through three full cycles in the last 25 years.
I would have thought the sketch would put it to rest.
It actually may have. The twist on the "SNL" thing is that they had three African Americans on the panel.
It was Jamie Foxx, Kenan Thompson and Jay Pharoah.
Exactly. It was Jamie's show. And you know what African American men do automatically that I love? They call me "D."
I think you just want to be loved.
Like anybody! Isn't that the root of all creativity?
Mike Ryan is senior writer for Huffington Post Entertainment. You can contact him directly on Twitter.
BEFORE YOU GO
PHOTO GALLERY
"August: Osage County"