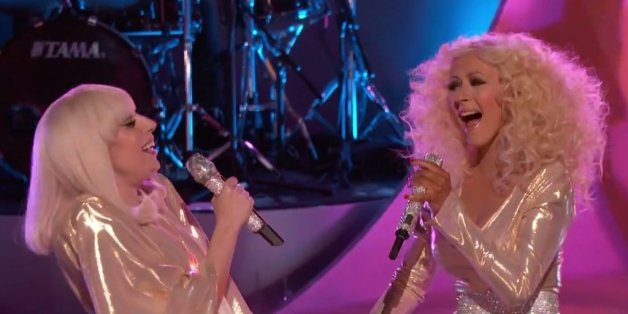 In a scene straight out of campy disco heaven, Christina Aguilera joined Lady Gaga on Tuesday to perform Gaga's latest single, "Do What U Want." The divas belted out the dance anthem on the season finale of "The Voice," where Aguilera serves as a coach.
Gaga arrived wearing a shimmering, skintight onesie that made her look like a disco angel as a cloud of fog floated across the bottom of the stage. Aguilera appeared almost two minutes into the song wearing a nearly identical outfit, which means, in the retro promised land, the singers are basically kindred spirits. The only thing missing was R. Kelly, who is featured on the track but must have been unable to reprise the naughty-lover routine from his and Gaga's "Saturday Night Live" performance. Bummer.
Perhaps Gaga and Aguilera's collaboration is a truce of sorts. Buzz about a supposed feud between the artists emerged in 2009 when some accused Aguilera of imitating Gaga's outfits and electronic sound. Gaga addressed the matter in September on "Watch What Happens Live," saying, "I'm a very big fan of Christina Aguilera, and from the very beginning when my career started, there was all of this controversy about the two of us. I always felt it was very unfair to her ... I just think it's very unfair for anybody to pit another woman against another woman. Especially in the space of music when we are all just trying to be taken seriously."
Aguilera returned the sentiments in a tweet on Tuesday night.
She is such a powerhouse vocalist and I was honored to join the stage with @ladygaga tonight on #TheVoice! xo

— Christina Aguilera (@xtina) December 18, 2013
Watch the performance below.
BEFORE YOU GO