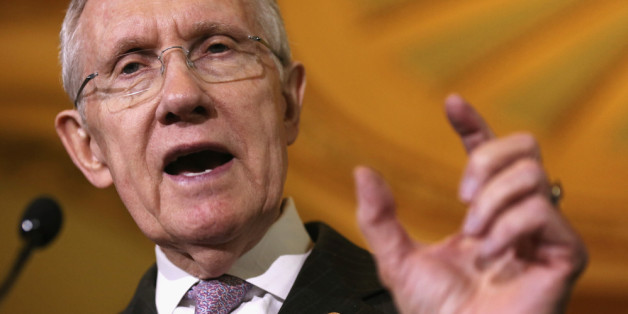 WASHINGTON -- Senate Democrats are hoping to cut a deal with Republicans to confirm four of President Barack Obama's nominees this week and punt the rest to next year -- a plan that, if everything goes smoothly, would send senators home for the holidays as soon as Friday morning, a top Democratic aide told The Huffington Post.
Eleven presidential nominees are ready for Senate floor votes, but senators would have to stay in session until Monday or Tuesday -- and spend Christmas Eve together! -- to get through them all.
Nobody likes that idea. So Senate Majority Leader Harry Reid (D-Nev.) is hoping Republicans will agree to hold votes on four of the nominees and call it a day.
The aide emphasized there is no deal yet. Those four nominees, in the order they would come up, are Alejandro Mayorkas for deputy secretary of homeland security, John Koskinen for IRS commissioner, Brian Davis for U.S. district judge for the Middle District of Florida, and Janet Yellen for chairman of the Federal Reserve Board of Governors.
The order of those nominees is tied to how much time each is allotted for Senate debate. Mayorkas and Koskinen each get up to eight hours of debate. Davis gets up to two hours. Yellen gets up to 30 hours. Democrats could agree to waive some or all of their half of the debate time for each nominee, in the interest of time. But Republicans could decide to use the full time allotted to delay the process. Saving Yellen for last makes it easier to knock out the others quickly.
As for the other seven nominees awaiting votes, Democrats are hoping Republicans will agree to hold them over until the Senate comes back in January, when the new session of Congress begins. Without GOP consent to carry them over, most would have to go through the entire nomination process all over.
Those nominees are Sloan Gibson for deputy secretary of veterans' affairs; Sarah Sewall for under secretary of state for civilian security, democracy, and human rights; Michael Connor for deputy secretary of the interior; Sarah Bloom Raskin for deputy secretary of the treasury; Jessica Wright for under secretary of defense for personnel and readiness; Richard Engler for member of the Chemical Safety and Hazard Investigation Board; and Robert Wilkins for judge on the D.C. Circuit Court of Appeals.
Wilkins is the only nominee who wouldn't have to restart the process if his vote gets bumped into 2014. Republicans filibustered him in November -- a key vote that pushed Democrats to pull the trigger on filibuster reform -- which means Democrats can bring him back up whenever they want. But his vote comes with 30 hours of debate. Barring a miraculous deal with Republicans to move his nomination this week, Democrats are likely to punt his vote to January.
"The writing is on the wall. He's a done deal," said the aide, referring to Wilkins. "It's just a matter of when."
BEFORE YOU GO
PHOTO GALLERY
The Obama Cabinet