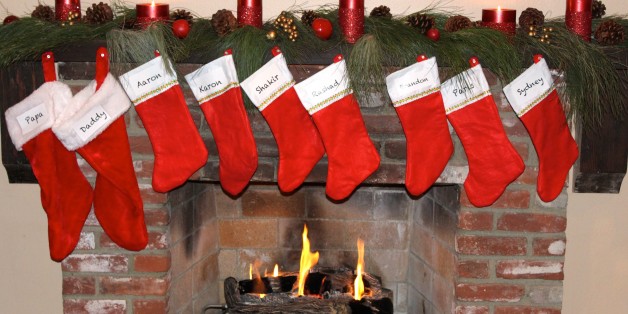 This week's Huffington Post Gay Voices RaiseAChild.US Family Fridays installment features Cook-Troynel family, where Christmas is eagerly anticipated every year and each child helps with preparing the special holiday meal. Let's meet the family and catch a glimpse of their holiday festivities. -- Corinne Lightweaver, RaiseAChild.US
At the Cook-Troynels' home in Tampa Bay, Florida, nine stockings are hanging up in anticipation of Santa's visit. This year, two of those stockings are stand-ins for the two sons who are serving in the military far from home. Ten-year-old Paris is standing on a ladder putting an angel on the uppermost boughs of the six-foot Christmas tree. Nine-year-old Sydney is making cards for her two oldest brothers. The middle three boys are gathered around the table playing cards and eating homemade holiday cookies. And their two parents are sitting on the couch holding hands, watching their children with wonder and reflecting with joy on the years of special memories.
The story of this family of nine started fourteen years ago when Jason Cook, then 30, and Michael Troynel, then 39, began talking about building a family soon after they began dating. Though they knew early that they would choose to adopt through the foster system, they never imagined they would have seven children. They intended to adopt a boy and a girl, but fell in love with a sibling set they met at an adoption fair hosted by the County of Los Angeles Department of Children and Family Services. Michael and Jason became adoptive parents to a sibling set of three boys, then their two younger brothers, then later added a sibling of two girls. In this multiracial family -- Jason is Caucasian and Michael and the children are African-American -- has lived in several states, but all the children were adopted in California. Since then, the family has moved twice for jobs and twice to be closer to extended family members.
The Christmas tree is festooned with keepsake ornaments make by each of the children in grade school and traditional glass baubles. The tree also reflects the children's cultural heritage: an African American ballerina in a gold tutu reflects Sydney's love of dance and a glorious African-American angel tops the tree. Other special ornaments—like the Santa Claus on a lifeguard stand acquired in California -- provide reminders of the four states in which the family has lived.
The family moved to Florida in April of this year to be near Jason's grandmother Alma and father Samuel. Sam and Jason's uncle and his wife will be joining the family for Christmas, which will naturally be a noisy affair with five exuberant children in the house. However, the family is already feeling keenly the absence of Jason's grandmother, who passed away just weeks ago. Jason hadn't known what to expect from "the 93-year-old Yankee from New England" when she met her African-American children for the first time last spring, but his concern melted quickly. "She was the most doting, loving grandmother. She embraced them with open arms and couldn't wait to see them each time she knew we planned to visit."
The children had nine months with their great-grandmother before she died, which Jason says was a blessing, especially for their oldest daughter. Paris says her grandmother "loved to share stories about her daddy when he was growing up."
The older boys, 24-year-old Aaron and 22-year-old Karon who are serving in the military, will also be missed. Aaron, who talked about joining the army since the day he moved in, has served his country for six years, including in Germany and Afghanistan, and two tours in Iraq. Karon, who joined after being influenced by his big brother, has served stateside in the Marines for three years.
Jason's favorite holiday memory is of the three eldest boys' first Christmas with them. The boys, ages 5, 9, and 11, were over the moon with excitement about their first bicycles. Although Jason and Michael had missed many "firsts" with their new sons -- from first tooth to first day at school -- they cherished being the dads who got to teach their children how to ride a bicycle.
Jason's experience with becoming an adoptive parent, seven times over, through the foster care system is what led him to become a Parent Advocate at RaiseAChild.US, a nonprofit that encourages the LGBT community to build families through fostering and adoption. Everyday, Jason talks with LGBT prospective parents from all over the country who are seeking information about foster and adoption and welcoming agencies, or who are dealing with obstacles as they move through the agency certification process. He calls the individuals and couples who have signed up on the Next Step to Parenthood program on the organization's website, fielding questions and providing resources and tips.
"I hope people who are wishing they had children this Christmas will take an opportunity today to pursue their dream by calling RaiseAChild.US," says Jason. "There are 400,000 children in the foster care system who need loving parents. I know firsthand how adoption benefits both the children and the parents. Becoming an adoptive parent has been an amazing experience for me and I wouldn't have it any other way. I love being part of helping families decide whether fostering and adoption is for them, and then guiding them through the process."
Corinne Lightweaver is Special Projects Manager at RaiseAChild.US. Since 2011, RaiseAChild.US has run media campaigns to educate prospective parents and the public, and has engaged more than 2,000 prospective parents. Its goal is to provide safe, loving, and permanent homes to serve the needs of the 400,000 children in our nation's foster care system. For more information, visit www.raiseachild.us.
BEFORE YOU GO
PHOTO GALLERY
Cook-Troynel