Do you feel guilty boarding your pets while you're traveling during the holidays? Maybe you should start feeling jealous.
It's estimated that Americans spent $55.53 billion on their pets in 2013, up from $53.33 in 2012. And there are a lot of exciting products and services to spend that money on -- including a host of luxury pet resorts. Maybe it shouldn't be a surprise, then, to find some places charging $5 for 15 minutes of belly rubs, or $6 for bedtime story time.
There are even more luxury options for dogs and cats staying at the Olde Towne Pet Resort, in Sterling, Va. You may already have seen the saltwater lap pool in action, in this popular video of Holly, a cat whose owner put her on a swim weight-loss regimen:
But you might not have known that lucky pets that enjoy the pool get a "comb out and dry afterwards," explains Leah Sedwick, who opened Olde Towne Pet Resort's first facility in Springfield, Va., with her father in 2002. (Although there are two branches now, more were planned until Sedwick's father died a few years ago, she says.)
The resort was modeled as a sort of mix between a hospital and a spa, Sedwick says. It's got a backup generator, a supply of bottled water in case the utilities go down, and aromatherapy sessions are available.
About an hour from Washington, D.C., by Dulles Airport, Olde Towne in Sterling also tried offering dog yoga, but that wasn't a hit. Amenities still on the market include hot-oil skin and coat treatments ($10-$20, by weight), pawlates ($25 per session) and shopping sprees during which pets are brought to the resort's well-stocked gift shop to select their own toys and treats, within a budget laid out by Mom and Dad. (It's up to resort staff to enforce these price limits; animals, even very well trained ones, can't be expected to do math.)
Doggie day camp ($35 per day, $25 for boarders) takes place in several big rooms where dogs are matched by temperament, with no more than 10 dogs per staff member. A certified animal masseuse named Holli Shan offers both sport and regular massages for $35 each.
"A lot of people will ask why," says Shan, who explains that animals get "the exact same benefits people get" from a massage. Like people, though, some animals aren't into being touched in that therapeutic way.
"Cats are funny. It takes a very special cat to have it be done," says Shan, giving a pet massage demonstration on a lovely old Rottweiler named Sasha May. It didn't take place in a candle-filled room with tinkly music in the air, and Sasha May resting on a padded table, like in this promo shot: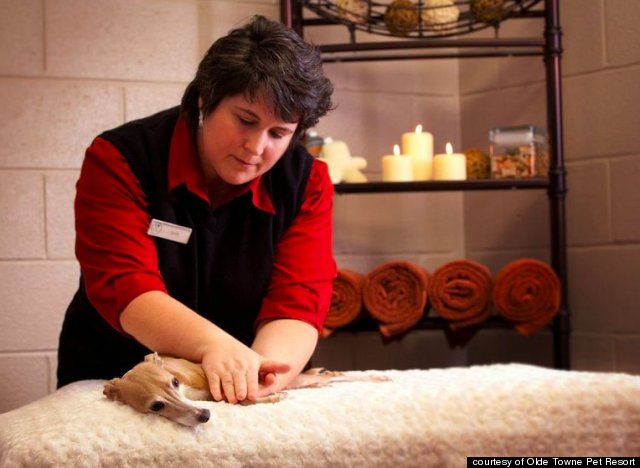 "I'm a lot more basic than that," says Shan, sitting on the floor of one of the facility's big luxury dog suites with the smiling Rottie. "She loves the attention. And we love giving it to her."
The $20 cuddle sessions are similar to massages -- but more straightforwardly petty, instead of health-related. But what about dogs whose owners haven't shelled out for the extra touch time? General manager Wanda Hudgins says no dog is denied attention. (Still, if you're spending $105 per night for a luxury dog suite, why not put in the extra $20 for the cuddles, for pet's sake?)
And speaking of $105 per night dog quarters, there are four tiers of housing for canines. The "classic" model -- 20 square feet of space, with three walks per day included, for $60 -- is perhaps the tiniest bit grim. But there is nothing grim about the toniest boarding space.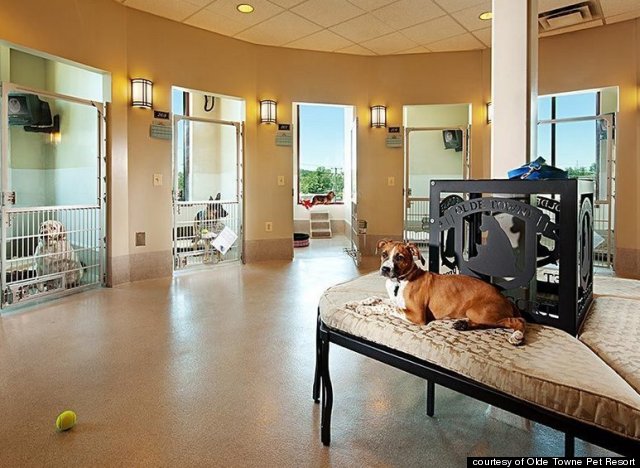 These "luxury" suites are $105 per night; suites with windows are a well-spent extra $5. Each 50-square-foot enclosure comes with a webcam, four walks per day, two playtimes and a television.
"We used to put on Animal Planet," says Hudgins. Now TVs are set to play movies like "Beethoven," or any other program featuring cats and/or dogs.
Cat guests have a floor of their own -- their suites run from a $30 per night "studio" to 30-square-foot "Club Cat" enclosures for $50. Each cat suite comes with one playtime session in a big, toy-filled space that also holds a climbing apparatus and a comfy chair that does not seem especially scratched up. (What's the secret?)
Although Holly the swimming cat recently died, the pool is still getting great use. Guests can schedule water workouts for $35 a pop. An 11-year-old beagle named Sparky, who is a slightly chubby, thoroughly cute cancer survivor, comes in three times a week for his sessions.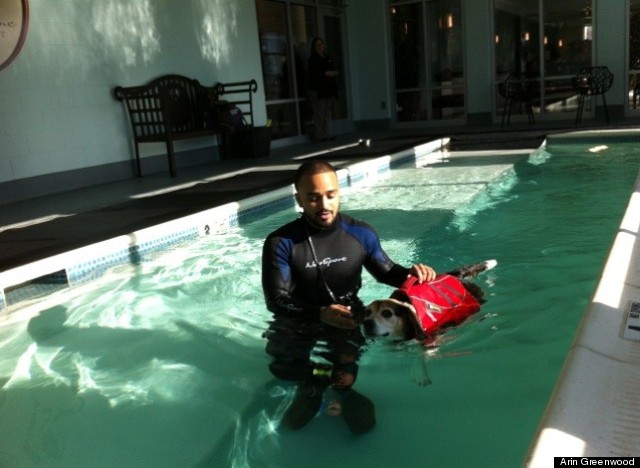 Sparky wears a lifejacket and is urged to complete three sets of 10 laps while his owner, Marcia Parkinson, tells HuffPost that her beagle has come to love his pool time. And lest this seem like just an indulgence meant to soothe pet owners' guilt about their long workdays and travels, she notes all the swimming's been good for him, too.
"I think he lost 10 pounds," Parkinson says.
Along those lines, what about possible suites for pet owners, who also may want to enjoy the pool, the aromatherapy, maybe even the cuddle time? Disappointingly, HuffPost was told no such plans are in the works.
PHOTO GALLERY
Olde Towne Pet Resort