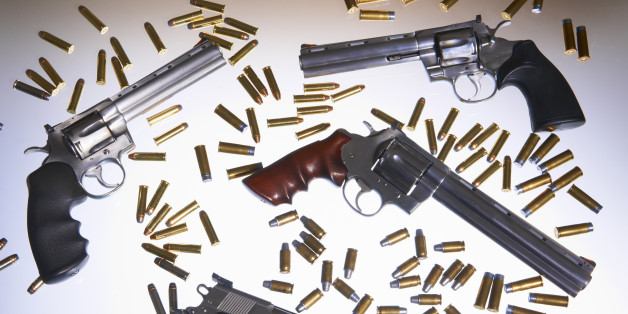 A record high of nearly 1 million background checks have been done this year on people interested in buying firearms, state data show. The background checks are a required part of the purchase process at stores.
By mid-December, the Florida Department of Law Enforcement had run 823,653 background checks, surpassing the 797,610 total checks conducted in 2012. The agency also ran an all-time high of about 13,500 checks during Thanksgiving weekend (Thursday through Sunday), about 200 more than the same period last year.
"These numbers indicate individuals who are attempting to purchase firearms. But whether or not they go away with firearms we do not know," said Samantha Andrews, spokeswoman for the Florida Department of Law Enforcement. She said the state does not have sales data.
"What we can say, is that more than 96 percent of all transactions result in approval while the caller is on the phone," Andrews said.
Owners of gun stores in South Florida say they noticed a surge in firearm sales during the first few months of the year.
"Everybody under the sun was purchasing weapons," said Les Wexler, owner of K&W Gunworks in Delray Beach.
That momentum didn't last long.
"After Sandy Hook, it went nuts. Then it slowed down," said Gary Lampert, a managing partner at National Armory, a gun store and range in Pompano Beach.
People rushed to stores to buy firearms following the December 2012 mass killing of elementary school students in Sandy Hook, Conn. Lambert said people feared federal bans and limitations on firearm purchases, so they stocked up.
FDLE ran about 114,500 background checks in January. In June, around 55,500. By Dec. 15, about 41,000.
Despite the record number of background checks statewide, sales so far at Lampert's store are only a small fraction -- about 20 percent -- of what they were in 2012, he said. "It's not the end of the world. But it should be better."
Overall, "the industry is busier" than in the last few years, said Randall Waltuch, owner of Gun World of South Florida in Deerfield Beach. There are more seniors and women buying guns and getting licenses to carry a concealed weapon, he said.
In Broward County, there are about 89,000 people with permits to carry a concealed weapon or firearm, according to the Florida Department of Agriculture and Consumer Services. In Palm Beach County, around 72,600. Statewide, there are at least 1,204,520 people allowed to carry a concealed weapon or firearm. That's all based on data up to Nov. 30.
Last year, Florida became the first state in the nation to have more than 1 million people licensed to carry a concealed weapon or firearm.
mvalverde@tribune.com, 954-356-4526, Twitter @MiriamValverde ___
BEFORE YOU GO
PHOTO GALLERY
Gun Control Bills That Failed In Florida