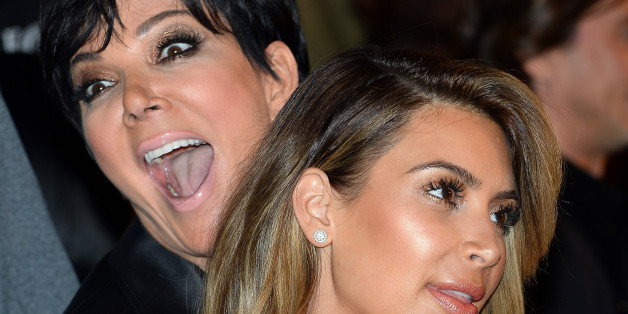 Kim Kardashian and fiance Kanye West are living with her mom Kris Jenner these days as their home is being renovated. But if you thought a house full of reality stars can get messy, well, you'd be surprised: mom Kris says the experience has been "special" and "amazing."
"The whole way it evolved has been a dream come true for me, as [Kim's] mom and ... North's grandmother," Jenner told People magazine at her #cirocthenewyear pledge party at L.A.'s Mixology 101 on Dec. 17. "Our house is blissful. To watch Kim and see her mature and grow and turn into the most delicious mother, who is interested and engaged and reads to her every day, and if she works, brings North with her –- it's very cute the way she doesn't want to be apart from her."
"And Kanye adores both of them," she continued. "The way he speaks of them, it is so delicious and I can't explain how in love with them he is. It's really sweet to watch."
Back in August, West was a guest on Kris' talk-show, "Kris," and gushed openly about his lady love.
"I could have people saying, 'This is going to damage your credibility as an artist or as a designer, and I say, 'I don't care. I love this woman,'" he said. "Or someone could say, '[T]he paparazzi surround you. ... Everyone knows you don't like paparazzi. Why would you be with this person?' And I would say, 'I'm being with this person because I love this person and she's worth it to me.'" He then called Kim his "joy."
BEFORE YOU GO
PHOTO GALLERY
The Kardashians