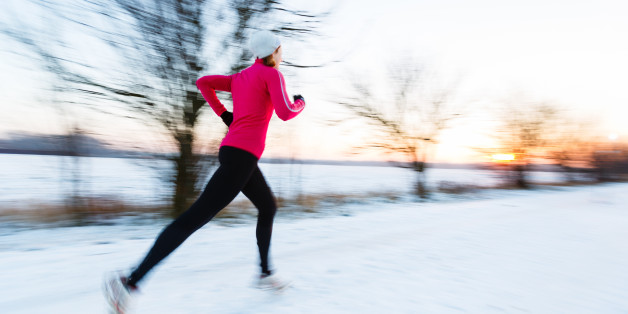 The winter months can be chilly and gray -- not exactly the kind of weather that inspires outdoor workouts. But when you're dressed for the conditions and determined to conquer the cold, weather is a state of mind. In fact, a brisk run while the snow is falling can make for an exhilarating workout. And since it's perfectly safe to exercise outside all winter long, you can keep logging those miles even when the mercury drops. Learn to love the frigid temperatures by layering up with the gear below and hitting the road!
Pants And Tights
Warm tights are crucial for winter training, especially on longer runs that keep you out in the cold for an hour or more. DryLete fabric is "thermo-regulating," which provides warmth and wicks moisture. Plus, it's super comfortable. Price: $70
2. The North Face Torpedo Pants
Cold is cold, but cold with wind and rain or snow is another matter. Wear these wind and water-resistant pants on top of tights when things get particularly nasty. Or rock them solo on days when it's raining, snowing or sleeting, but not too terribly cold. Price: $75
Shirts
3. Mizuno Breath Thermo Stretch Crew
Being super sweaty in the freezing cold is no fun, and that's where this mid-weight tech jersey comes in. It's made of a performance fabric that traps heat and breathes, so you will stay warm and dry even on long, hard runs. (Available for men and women.) Price: $64.99
4. Women's Printed UA Fly-By Turtleneck
When your neck gets cold, the rest of your body follows suit. This lightweight turtleneck provides extra protection for neck, and the mitten sleeves do the same thing for hands. Wear it on its own or as a base layer when it's super cold. Price: $59.99
Jackets
A great pick for a moderately cold day, this super light jacket adds wind blocking without too much extra weight or insulation. It also has a water-repellent coating. Price: $99 
6. Utopia Thermal Hooded Jacket
It's always good to have a hood handy in the event that wind picks up or the snow starts to come down. This jacket also has plenty of moisture-proof pockets, so your smartphone or iPod will stay as protected as you are. (Available in both men's and women's styles.) Price: $120
Shoes and Socks
7. Saucony Men's Xodus 3.0 GTX®
Whether you're running on the trails or roads, winter running calls for a sneaker that has extra traction. These shoes provide the sturdiness needed for slippery surfaces and uneven terrain, and the waterproof GoreTex can do battle with snow and slush. Lace up to keep your feet warm and protect yourself from rolling an ankle or slipping on icy patches. Price: $130
8. YaxTrax Run
If packed snow and ice are making your favorite route look extra treacherous, strap these spikes on over your sneakers for extra traction. (As always, though, run with care; sometimes inclement conditions make for a great reason to take a day off to rest and recover.) Price: $40
9. Darn Tough Road Warrior Micro Crew Ultralight
These merino-wool socks are versatile -- they'll keep feet warm in winter and not-too-hot in summer. Plus, wool stays warm even when wet, so neither rain, nor snow, nor sleet…nor sweat will cause a chill! Price: $17
Hats and Headwarmers
10. Mountain Hardwear Micro Half Dome Headband
On moderately cold days, a headband that covers the ears is just the right amount of protection. Plus, this one is lightweight and quick drying. Price: $12
Cover your dome in an insulating, wind-blocking hat for long, cold runs. Price: $20.50
When you're up against gusty winds and biting cold, the less skin that's exposed, the better. Cover up from head to chin with this balaclava made of tech fabric. Price: $25
Gloves
13. Smartwool PhD Hyfi Training Glove
Merino wool gloves plus touchscreen compatibility means warm hands and complete control over your favorite running playlist. Price: $40
Underwear
14. Brooks Men's Thermal Wind Boxer
Every layer counts; slip into something a little more thermal and wind blocking before you put on your tights. Price: $40
15. EMS Women's Techwick Seamless Hipster Bikini
Stay warm and dry from the inside out with moisture-wicking, quick dry underwear, which is crucial for long cold runs.  Price: $16
It's your very first layer on top, so maximize warmth and comfort with a moisture-wicking bra specially constructed for the cold.  Price: $32
Accessories
17. HotHands
For long runs on days when the cold is cutting through every layer, slip HotHands warmers slip inside gloves or sneakers. They will generate hours of heat, which means no more frozen toes or fingers. Price: From $11.19
18. Duravision Pro 180 Pro Safety Light
Daylight can be hard to come by during the winter months and drivers' visibility is even further compromised during flurries and snowstorms. Price: $9.99
Protect lips from sun, wind and cold -- or repair them once the damage is done -- with this potent ointment. Price: $3.69
20. Tifosi Alpe 2.0 Sunglasses  
Freshly fallen snow is beautiful…and blinding. Protect your eyes from UV rays and bright white winter skies with lightweight, anti-fog sunglasses. Price: $60 to $70
Disclosure: All affiliate links on Greatist highlight products the team has either reviewed or thinks are kick-ass. Greatist's business team adds all these fancy links themselves, removing our editorial team from the process.
More from Greatist:
48 Healthier Holiday Cookies
Recipe: Easy Holiday Sangria
40 Delicious Things You Didn't Know You Could Make In A Microwave
BEFORE YOU GO
PHOTO GALLERY
Treadmill Mistakes