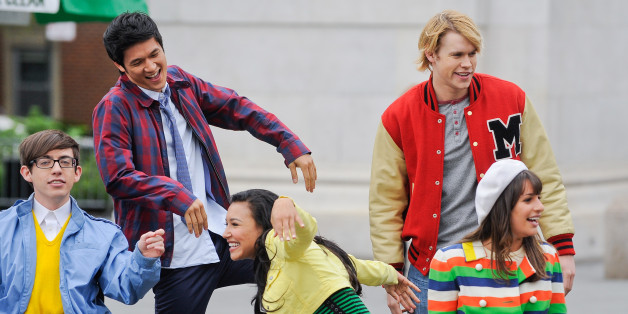 The 100th episode of "Glee" is right around the corner, and die-hard fans couldn't be more excited to celebrate with the show's original cast. Show creator Ryan Murphy invited all of the originals back for the episode, and since they all accepted -- yes, even Dianna Agron -- the rumor mill has been speculating about what's to come of the reunion. We caught up with Harry Shum, Jr. and Kevin McHale, who gave us an inside peek at what's to come.
"All season I've been going, 'This is my 92nd episode, this is my 93rd,'" McHale said over the phone. "Growing up, I'd always see how 'Friends' and all these shows go on and on and on. They talk about going hundreds of episodes and I never thought I'd be a part of something like that."
Shum had yet to read the script, but McHale assured that the one-hour special will be "hilarious" and catches up with fan favorite cast members who weren't prominently featured in the current season of "Glee." "There are some of those Santana and Brittany moments that we've all been missing," he said. "I'm a fan of those story lines, too, so I'm excited for people to see that."
Beyond the 100th episode, Shum and McHale admitted they could see a future for the originals, possibly in New York City, where Rachel (Lea Michele) and Kurt (Chris Colfer) live. McHale said Artie and other characters will move there after graduation, but he doesn't know what's exactly in store for the second half of Season 5.
"Glee" fans have been a huge part of the show's 100th episode, and will be able to decide which songs the cast performs. They'll vote for their favorite classic "Glee" songs, which will then be remixed on the show. "I think we have some of the most dedicated fans," Shum said of the Gleeks. Shum and McHale are even offering some quality time with the cast as part of a charity event for Invisible Children.
But neither Shum nor McHale could have guessed that their little-show-that-could would turn into a phenomenon. McHale said, "I think we were shocked that anybody even watched the show in the first place."
The 100th episode of "Glee" will air on March 18, 2014 at 8 p.m. EST on Fox.
BEFORE YOU GO
PHOTO GALLERY
Glee Episode Stills