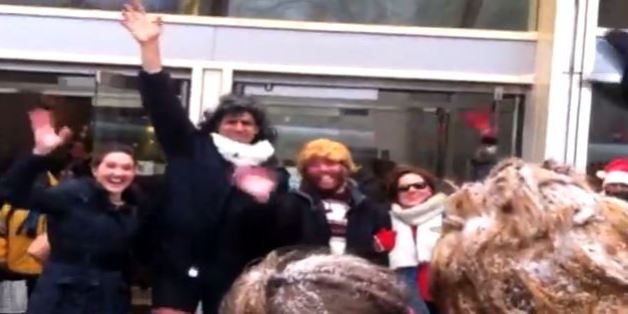 There's nothing on this earth that encapsulates the spirit of Christmas and the hair of the 1980s better than the music video for "Last Christmas" by Wham!
Lucky for us, there's a duo in Brooklyn who thought the video needed a present-day remake. Velvet Deer's "Last Christmas" still has all the same awkward, hair-glamorizing shots, but the lyrics have been changed to reflect the most American Christmas value of all: Holiday shopping.
It's four-and-a-half minutes of toe-curling hilarity, shot inside New York City malls. Its chorus makes us realize we still have some last-minute shopping to do: "Last Christmas, I went to Walmart / But the very next day, I went to Target / This year, I'm going to Sears / To get a door-buster special."
If you haven't seen the original "Last Christmas," treat yourself:
Now watch Velvet Deer's remix:
The band, made up of Jeb Colwell and Melissa Morrissey, usually spends its time crashing karaoke parties and singing new lyrics to old tunes. But when Kanye West's "Bound 2" video was parodied, frame-by-frame, by Seth Rogen and James Franco, the two wanted to make their own low-budget spoof.
Colwell explains:
"Our goal was to re-create Wham's classic video to Last Christmas shot-for-shot. But unlike those guys we had no gear, no crew, no budget and, thanks to that blizzard last weekend, only 3 hours to film! Thank God for iPhones, friends and Mudslides!"