Again and again in 2013, tech CEOs and startup founders exhibited an astonishing lack of connection to the real world. And because these are tech people we're talking about, they couldn't help but broadcast their insensitivity via Twitter, Facebook and other other social mediums. Month after month feet were thrust into mouths, apologies proffered and tweets deleted. Still, it's hard to forget these cringeworthy moments:
1. Twitter CEO attacks professor who criticizes Twitter for having one woman on its board
The New York Times's Claire Cain Miller criticized Twitter for having only one woman on its board when the company filed for an IPO in October. "It's the same male chauvinistic thinking," Miller quoted Stanford professor Vivek Wadhwa as saying. "The fact that they went to the I.P.O. without a single woman on the board, how dare they?"
In response, Twitter's CEO Dick Costolo tweeted this:
@rich1 Vivek Wadhwa is the Carrot Top of academic sources.

— dick costolo (@dickc) October 5, 2013
Stay classy, Costolo. Thankfully, Carrot Top wasn't all that offended by the remark.
2. Tech incubator throws a "Hackers and Hookers"-themed party
The company, called Hacker Hideout, insisted that the Halloween party wasn't meant to offend anyone. In case you were wondering, the party was supposedly terrible.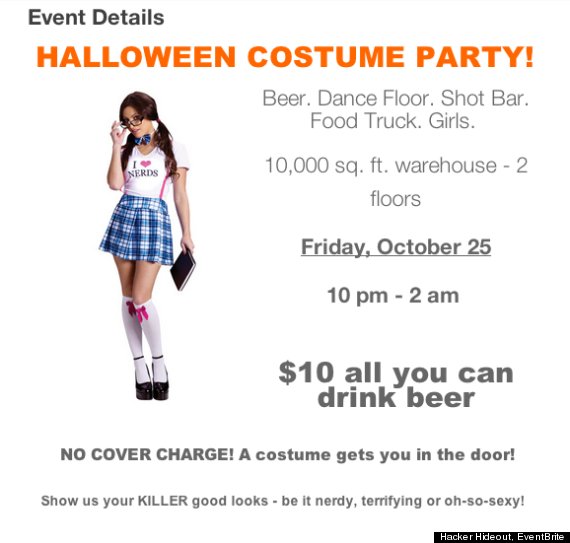 3. Postmates CEO tells customer to "Fuck off"
In one of the most horrible email fails in recent memory, Bastian Lehmann, the CEO of the delivery app Postmates, accidentally sent an email to a customer instead of to his coworkers. In that email, he suggested that someone tell that customer to "fuck off."
That customer, upon receiving the email, tweeted it to the world.
Emailed @Postmates founder/CEO @basti to communicate my poor order history. He told me to "fuck off". pic.twitter.com/YkCMK0rDbf

— Erin Boudreau (@Erin_Boudreau) September 15, 2013
After the tweet, Lehmann admitted to having written the email and apologized. "What I said was a major lapse in judgement on my part," Lehmann wrote in a blog post. "I deeply regret this."
4. Yahoo CEO Marissa Mayer makes fun of protesting Walmart workers
Marissa Mayer and Salesforce CEO Marc Benioff were talking on stage at a conference in San Francisco in November when they were interrupted by a group of Walmart protesters calling for higher wages for Walmart workers. Mayer, a multimillionaire, is on Walmart's board.
"We don't want any more protests," Benioff said, according to Business Insider. "But if you want to protest, No. 1, you can do it outside. No. 2, it's better to split up when you start. Then when those people get arrested, then a second group stands up. Then a third. I'm just saying."
"That's a design problem right there," said Mayer as the crowd laughed. Not cool, Mayer.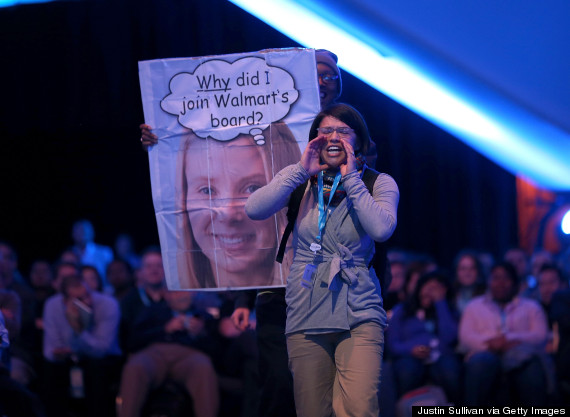 5. The sexist presentations at TechCrunch Disrupt
There were two absurdly sexist demonstrations at TechCrunch's annual event Disrupt. The first was a fake app called "Titstare," the work of Australian techies Jethro Batts and David Boulton.
"Titstare is an app where you take photos of yourself staring at tits," Boulton explained to the audience:
Another developer showed off his new app called "Circle Shake" by miming masturbation onstage.
TechCrunch's co-editors apologized with a blog post. (TechCrunch, like HuffPost, is a unit of AOL).
6. When Mark Zuckerberg helicoptered into Burning Man for one day only
Facebook CEO Mark Zuckerberg wanted to experience this year's Burning Man festival, but on his own terms. Instead of camping out in the desert like everyone else, Zuckerberg took a private helicopter in, made some sandwiches, and flew right out. He's no Sergey Brin.
7. 23-year-old startup founder suggests the homeless learn to code
Patrick McConlogue, founder of music website Echo Republic, this August wrote a controversial blog post, in which he declared that the homeless should learn to code. In pursuit of his mission, McConlogue offered a homeless man the choice of $100 or a cheap laptop and coding lessons. Instead of offering him, ya know, shelter or food.
In McConlogue's defense, he did actually teach a homeless man named Leo Grand to code. Months later, Grand built an app that's available in the App Store.
8. Startup founder insults entire city
Peter Shih, the founder of payment startup Celery, wrote a blog post called "10 Things I Hate About You: San Francisco Edition," filled with sexist, offensive material. "San Francisco has some of the craziest homeless people I have ever seen in my life," Shih wrote. "Stop giving them money, you know they just buy alcohol and drugs with it right?" He also called the "Transvestite to Taxi ratio" "literally off the charts," and complained about "all the girls who are obviously 4's and behave like they are 9's."
Locals started a campaign to send him away.
Posters already up in SoMa demanding Peter Shih go back to New York... cc: @ajs pic.twitter.com/hERtNUvzVg

— Arnie Gullov-Singh (@arnie) August 16, 2013
9. When Snapchat's Evan Spiegel and Bobby Murphy tried to write one of the company's cofounders out of its history
The whole Snapchat saga was a mess this year. Reggie Brown sued Snapchat cofounders Spiegel and Murphy in February, asserting that he had a role in the idea for the app.
The emails that have come to light through the lawsuit have been ridiculously, well, douchey. For example, one email that Spiegel sent reads: "I just built an app with two friends of mine (certified bros our frat just got kicked off campus) and we think you might really, really like it."
Spiegel also spoke disparagingly of Brown: "I regret giving him so many chances.... He exploited my attempts at generosity," he said.
Not only that, but Snapchat just filed for a restraining order against Brown, who was once a friend of Spiegel's and Murphy's. Cold.
10. Samsung's relentless use of boobs to sell product
Samsung promoted its new line of refrigerators and washing machines in South Africa with a ridiculous show filled with dancing, scantily-clad women.
No, really, I still feel wobbly after Cape Town. See? #jetlag #africaforum pic.twitter.com/w4B8rl3Z5Y

— Axel Buhrmann (@AxelBuhrmann) March 15, 2013
Samsung South Africa apologized, saying it would "be more sensitive" in the future.
That same month, Samsung created another sexist moment for the U.S. Galaxy S4 launch event, featuring live skits and videos, which showed women obsessing over shirtless men and discussing manicures. Molly Wood from C-Net called it "tone deaf and shockingly sexist."
11. LivingSocial's anti-Semitic party decorations
Flash sale website LivingSocial threw a 7 Deadly Sins Halloween party this year, and the Greed-themed room featured dreidels, offending some Jewish partygoers. A LivingSocial spokesperson eventually issued a statement saying that the company "does not condone prejudice" and was "deeply apologetic."