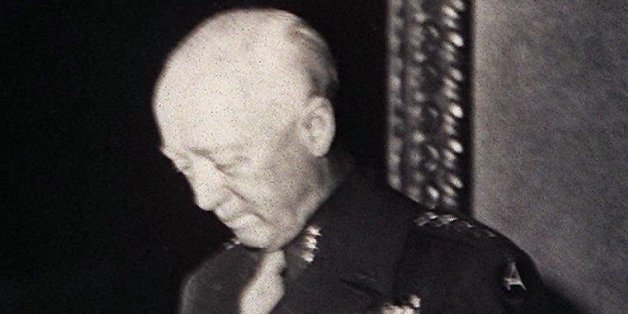 A collection of World War II Gen. George S. Patton letters to a Shamokin High School graduate sold for $54,810 in an online auction earlier this month.
Sold through New Hampshire-based RR Auction Dec. 7, the correspondence was written to Harrisburg resident Mary Jane Krieger, who graduated from Shamokin in 1942 and kept the letters in her scrapbook. Krieger, who married Jonathan Rice of Harrisburg, died in 1982.
The "unique letters" show the softer, human side of Patton, who is generally know for being an "unrelenting, tough military guy" with the nickname "Old Blood and Guts," said RR Auction owner Bob Eaton Monday.
"The position isolated him. He probably look forward to the letters and the break in the stress," he said.
These letters, affectionately addressed to "My dear Mary Jane," offer kind remarks of appreciation for packages sent, apologies for delayed correspondence "owing to the fact that we are having a battle," and thoughtful opinions of shared poetry all casually interspersed with commentary on the war.
One buyer purchased 18 letters written between Oct. 28, 1944, and Dec. 21, 1945, for a total of $30,768.
A second buyer purchased a Dec. 8, 1945, letter, which is postmarked the day of the accident that would lead to the general's death, for $11,833.
It was the highest single purchase made at the auction.
A third buyer purchased a Jan. 20, 1945, letter during the Battle of the Bulge for $10,540.
In it, Patton wrote, "I owe you a lot of letters but have been so busy in this battle that I have not had no time to write. I hope you got on all right at the hospital. If you like snow this is the place to live -- I hate it and besides it slows up our attacks and so helps the Germans. We got quite a few of them in this current show but not as many as I should like when the snow melts there is going to be an awful smell around here -- a German smell."
A fourth buyer purchased a Nov. 1, 1944, letter for $1,669, in which Patton told Krieger he gave Marie Magdalene "Marlene" Dietrich, a German-born American actress and singer, some of the candy Krieger sent him.
Eaton would not reveal who purchased the letters, but Bobby Livingston, RR Auction vice president, told The Patriot News last week that there was "fierce international bidding between both dealers and collectors."
Two of the successful bidders were U.S. collectors from Colorado and Ohio; and the other two were military dealers from the east cost and England, Livingston told the Harrisburg newspaper.
In a media release, Livingston said the collection of letters revealed a "rarely seen side of the legendary general whose name alone, according to Eisenhower, 'struck terror at the hearts of the enemy.'"
Remembered as the hard-driving, unrelenting military hero who led the U.S. head-first through World War II's Invasion of Sicily, the rapid drive across France following the Invasion of Normandy, the relief of Bastogne during the Battle of the Bulge, Patton's steady communication with Krieger reveals a much softer side, necessarily concealed from his 'real-life' wartime acquaintances.
The letters, according to the release, are a far cry away from the tone of his famous address to the Third Army in which he said, "No bastard ever won a war by dying for his country. You won it by making the other poor dumb bastard die for his country."
Staying in touch through even his busiest times in the war, Patton wrote to her until his final days. One of the last four letters he ever wrote was to thank her for a book of poems she sent as a Christmas gift.
Accompanied by the original mailing envelope addressed in Patton's hand, with a couple of letters of Patton's censor signature remaining along the top edge.
As German troops launched their last-ditch offensive across Belgium, Luxembourg, and northeastern France in late December of 1944, unleashing 250,000 men on a weak point in the Allied lines during one of the worst winters in European history, Patton quickly and decisively marched his troops to the besieged city of Bastogne. Successfully disengaging six divisions from front-line combat and relieving the city, he pulled off one of his most remarkable achievements of the war.
Taking time out from the crucial Battle of the Bulge to write to Krieger, Patton discussed his distaste for the winter weather in gory relation to the war at hand by writing, "I hate it and besides it slows up our attacks and so helps the Germans."
With a dramatic understatement, he continued, "We got quite a few of them in this current show."
By the close of the battle, five days after this letter was written, Germany had suffered roughly 85,000 casualties. America suffered around the same, with 19,000 of those being deaths. With the disturbingly vivid description of the "awful smell" that would surface in the spring, this letter goes straight to the snow-covered fields of America's bloodiest battle of World War II. ___
BEFORE YOU GO
PHOTO GALLERY
The Marital Histories Of Our Founding Fathers