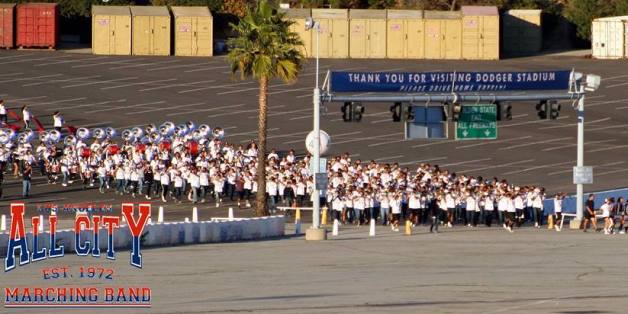 What the teenage band members lacked in experience, they more than made up for in enthusiasm.
Practicing outside Dodger Stadium on Monday, the Los Angeles Unified School District All City Honor Marching Band played with enough spirit to ring in the new year -- perfect for their upcoming performance at the 2014 Rose Parade.
They even personify the theme of the upcoming Rose Parade: Dreams Come True.
The 350 students from about 60 high schools will get the rare opportunity to perform in front of about 800,000 people along the 6-mile parade route in Pasadena, plus another 350 million people around the world who will be watching on television.
"It's a great honor," said Carmen Cordon, 16, a junior at Fairfax High School in Los Angeles. "I'm so glad that I got chosen to be here -- it's amazing."
Everyone underwent tryouts in September to earn their spot on the band and have been rehearsing almost every Saturday since then.
Instead of going on vacation during the winter break, they will play their trumpets, trombones, sousaphones and drums while marching up and down the hilly parking lot around Dodger Stadium for hours on end.
Some of those instruments weigh about 25 pounds, so the band members will have to huff and puff in tune -- and without breaking formation.
When they're not practicing, they're studying, because LAUSD's Beyond the Bell after-school program requires them to have at least a 2.5 grade-point average to stay in the band.
For Grover Castro, 16, a junior at Hamilton High near Culver City, the chance to perform at the Rose Parade is worth all the hardship.
"It's the best feeling," he said. "I love it."
Darnella Davidson, who marched as a student years ago and now serves as the band's assistant director, still remembers the thrill.
"Oh man, when I marched, it was just exhilarating," she said. "It was a total high. It was wonderful."
"There's nothing like marching in the Rose Parade, because all these people on the parade route are cheering for you," she added. "You can't help but get excited and feel the energy."
This upcoming event will be the 125th Rose Parade and the 100th Rose Bowl game.
Vin Scully will serve as the grand marshal and there will be 47 floats, 20 bands and 16 horse units.
But it's not just about pomp and pageantry, said Tournament of Roses president and board chairman R. Scott Jenkins.
"It gives young people a goal to work toward, that of being a top-ranked musician, performing with an honor band made up of people from across the city," he added.
"I know that, for every single one of these young people, it will be something they'll remember for the rest of their lives," he added. "It's that kind of motivation that will help them through their lives, to set goals, work hard, and achieve them."
Tony White, coordinator for music and entertainment with LAUSD's Beyond the Bell program, said training for the Rose Parade leaves the band members in great "physical and mental shape."
"We look for the kids who are going be dedicated, and put forth their energies to be great," he said.
"We always tell them, 'There's no mountain high enough, they can climb every mountain,' " he said. "We use this experience to push them to do well in life."
Paul Morales, a senior at Santee Education Complex in Los Angeles, is taking the lessons to heart.
"I'm a drum major at my school too, and I'm the last one to leave the band room because I help the teacher clean and then go home, do my homework and then come back the next day and do it over again."
"It's not like I feel a need to do this, but I want to," he said. "I am motivating myself."
Joel Alcazar, a junior at Wilson High School in El Sereno, has been successfully balanced his responsibilities at the band with academics.
"It's very hard, because I have advanced placement classes, band after school and Rose Parade practice on Saturdays, but I still maintain above a 3.5 GPA, close to a 4.0," he said.
He does it because it inspires other kids.
"I'm the drum major at my school and I guess other kids in the band look up to me as an inspiration to keep up the good work, because great things come out of it." ___
BEFORE YOU GO
PHOTO GALLERY
20 Things Not To Worry About Before You Turn 20