All year, HuffPost Teen has chronicled the incredible stories of teenagers who have raised their voices, and the voices of others, to change the world. Some made scientific and technological advances no one thought possible. Others stood up for themselves in the face of injustice -- and in doing so, stood up for thousands. Some started multi-million dollar businesses in high school, and some simply dared to be something different in a world that tried to make them something else.
These people aren't just brave because they are teens -- they are brave, period. Here is our list of 13 of the most fearless teens of 2013. Tweet any other names you would add to the list @HuffPostTeen!
1. Daisy Coleman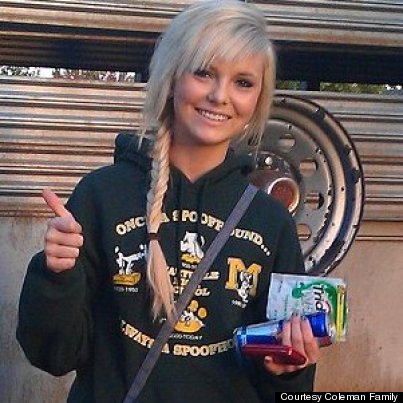 Daisy is the teenager at the center of the infamous Maryville rape controversy. If you have not yet read her incredibly brave first-person piece about the experience on XOJane.com, please take the time to. (We'll wait.) "I not only survived, I didn't give up," she wrote. "This is a victory, not just for me, but for every girl."
2. Cassidy Lynn Campbell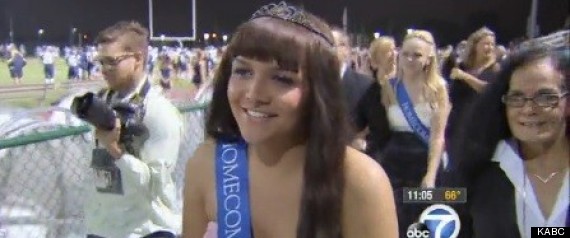 Cassidy Lynn Campbell is a transgender teen who documented her journey transitioning in videos on her YouTube channel. She decided to run for homecoming queen at her California high school this year to make a statement. To her shock, she won the title, and her story ended up inspiring teens across the country who are struggling with their own identities. "I realized it wasn't for me anymore and I was doing this for so many people all around the county and the state," she told KTLA. "I am so proud to win this not just for me, but everyone out there."
3. Malala Yousafzai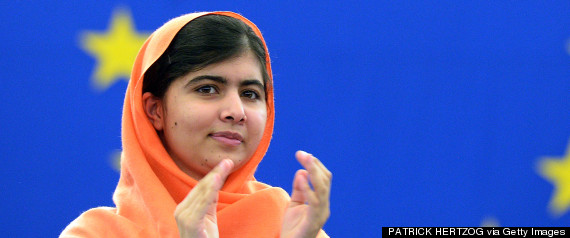 Malala also appeared on last year's most influential list, but we can't think of another name that is more deserving of further recognition. This Pakistani teen's life was changed forever when she was shot in the head by the Taliban last year -- all because she wanted to go to school. Instead of backing down, the now-16 year-old has become an international crusader of education rights for girls. In addition to giving a speech on Malala Day at the United Nations earlier this year, she has been honored as a Nobel Peace Prize nominee and Pakistan's' first National Peace Prize winner.
4. Jaylen Bledsoe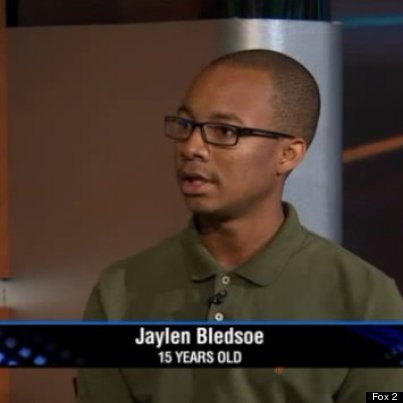 Jaylen started his own tech company when he was just 13 years old. Now, at 15 years old, it's worth 3.5 million dollars and he has over 150 contracted employees. The teen credits his school's gifted education program for his business idea, but admits it's taken a lot of hard work and courage, too. "Take risks," Jaylen told Fox 2. "As a minor, there's nothing you can do that will shoot you down for too long. You can always jump back up and keep going."
5. Ireland Baldwin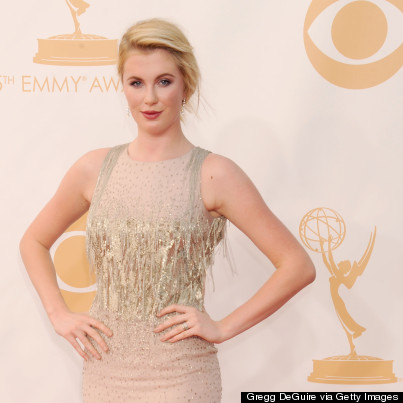 You may know Ireland as Alec Baldwin's 18-year-old daughter. What you may not know is that she is a total badass when it comes to standing up to the media. This year, hers was one of the many faces of young, teen girls that were brutally targeted by celeb gossip stories. But it was when she made the cover of a paper -- with the headline "'Little Pig' Comes To The Rescue" -- that Ireland decided to publicly and unapologetically call them out on it. "Out of all of the BREAKING news going on in our country or let alone around the world, they were desperate enough to put me on the cover?" she wrote on Instagram.
6. Zach Sobiech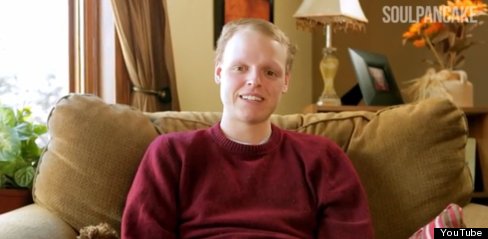 Zach uploaded the song "Clouds" to his YouTube page in December 2012 as a good-bye letter for his friends and family after learning that he only had months to live. The 19-year-old passed away this year from osteosarcoma -- a cancerous bone tumor -- but not before inspiring thousands of people across the world by his music and message. "I want to be remembered as a kid who went down fighting, and didn't really lose," Zach said. Watch SoulPancake's amazing video about his life here.
7. Maya Van Wagenen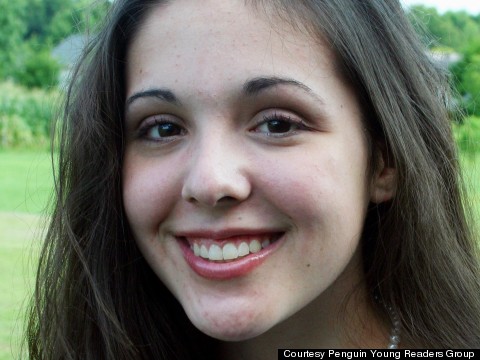 This 15-year-old writer first scored a $300,000 book deal for a unique project she took on in the eight grade: she found the 1950s popularity bible "Betty Cornell's Glamour Guide For Teens" and decided to apply the advice to her every day high school life. She chronicled how things went in a memoir called "Popular: Vintage Wisdom For The Modern Geek." Now, she's landed a big-time movie deal with Dreamworks, which makes her "the youngest non-actor to ever make a feature deal" at the studio.
8. Marcel Neergaard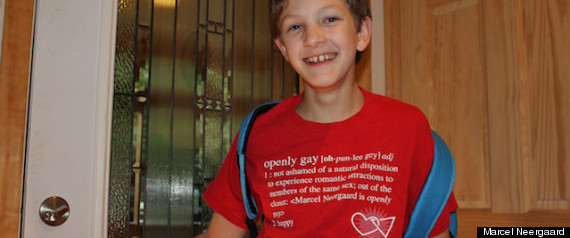 Marcel might be only 12 years old, but he is one of the coolest, most courageous pre-teen Internet activists out there. This year, for the sixth grade, he was homeschooled because of the severe bullying he endured after his classmates discovered he was gay. Also this year, a bill was introduced in his home state, known as the "don't say gay" bill. Though he was only 11 at the time, Marcel decided he had had enough. He made a video, wrote a blog and launched a petition -- and across the Internet, people stood with him against LGBT bullying. They are still standing with him.
9. James Ward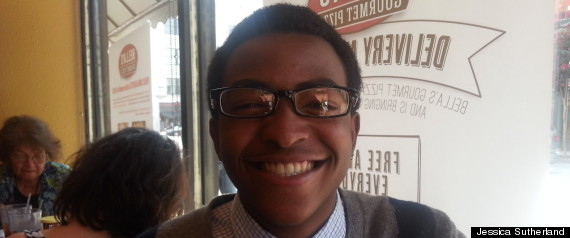 Despite the fact that James was homeless for a period of his life, the high school senior was determined to be the first person in his family to go to college. He knew he could not afford the tuition, so he decided to crowdfund his way to his dream school. He called his campaign "Homeless to Howard," and its message -- that every teen should feel empowered to make a better life for themselves -- spread like wildfire across the media, and even included an appearance on "Ellen." Needless to say, the teen achieved his goal. "It's surreal. I can't believe after everything that's happened I'm going to be leaving to attend Howard," he said in an interview with The Huffington Post.
10. Lorde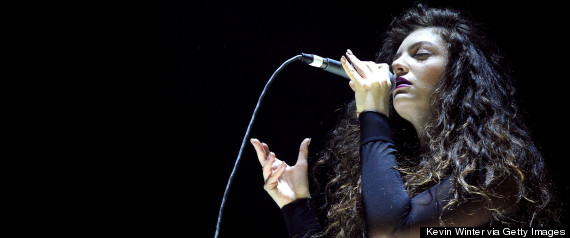 You can call her queen bee -- or, you can just call her this year's most-talked about singing sensation. The 17 year-old New Zealand singer/songwriter had one of the most popular hits of 2013 and was the first woman to top the alternative charts in 17 years. She's also an outspoken feminist and constantly keeps her cool in the face of Internet hate.
11. Jacob Rudolph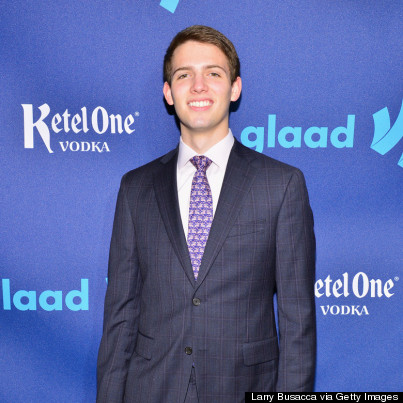 This high school student from New Jersey came out as LGBT to his entire graduating class, as well as parents and teachers, in an impassioned, unforgettable speech. The teen was accepting an award for Class Actor at a school event. "Sure, I've been in a few plays and musicals, but more importantly, I've been acting every single day of my life," Jacob told the crowd. "You see me acting the part of straight Jacob, when I am in fact LGBT... So take me, leave me or move me out of the way, because I am what I am." Watch a video of his speech here.
12. Sara Volz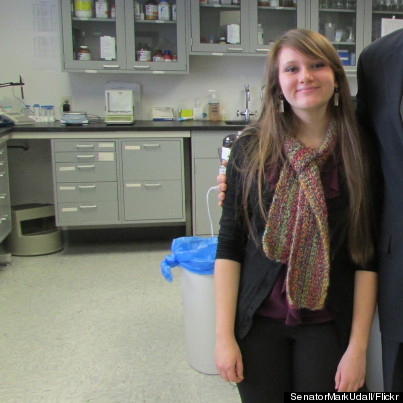 This 17-year-old scientist created her own unique work space for her research: her bedroom. More specifically, she created her own algae biofuel lab under her bed. Her at-home project led to groundbreaking advancements for the scientific community -- including proof that the natural oils produced by algae could be converted into biofuels used in diesel engines. Sara's discoveries beat out 1,700 other whiz kids nationwide to win the 2013 Intel Science Talent Search. She was awarded a $100,000 scholarship.
13. Becky G
Otherwise known as Rebbeca Marie Gomez, this 16-year-old rapper/singer/songwriter took the hip hop and pop world by surprise this year. Her (squeaky clean) rhymes feel different from the Mileys and Selenas alongside her -- and honestly, it's about time more young, female rappers stormed the pop music scene. "I'm really thankful and proud of where I came from," she said in Latina Magazine, on growing up without a lot of money. "If you go through hard times, you learn to change it for the better. I want to build an empire, but I want it to be attainable for people who are where I was a few years ago."
Special achievement award:
Tavi Gevinson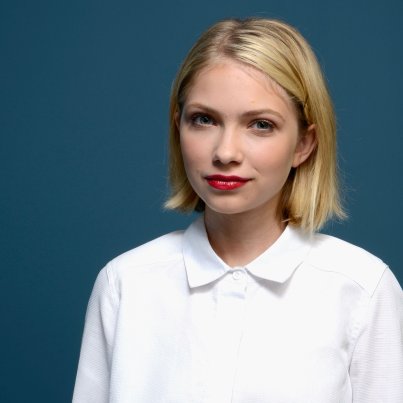 Between interviewing Emma Watson, acting alongside legend James Gandolfini and running the pages of teen 'zine Rookie Mag, you have to wonder when Tavi Gevinson finds the time to sleep -- much less apply to college. But somehow, the 17 year-old media mogul manages to be the boss while still having those normal growing-up, is-everything-going-to-be-OK? fears just like any other teen.
BEFORE YOU GO
PHOTO GALLERY
18 LGBT Kids And Allies Who Are Way Braver Than We Were At Their Ages