If you've grown tired of all the establishments within a five-mile radius of your house, know that the world is bursting with weird, creepy, and mind-blowing spots for you to enjoy a spot of tea -- or delicious libations.
You can have a drink...
With geeks of every stripe.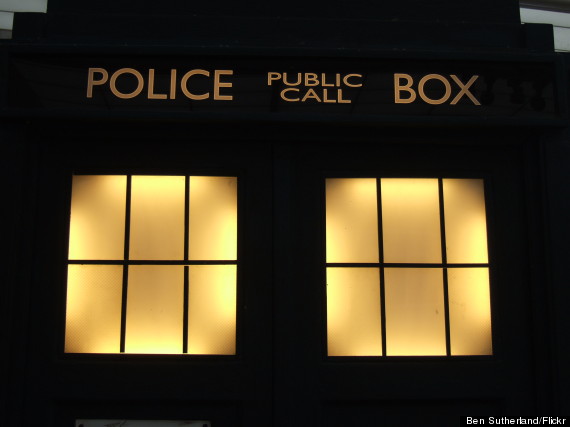 Where: Paris, France
La Dernier Bar Avant la Fin du Monde, or "last bar before the end of the world" -- a Hitchhiker's Guide to the Galaxy reference -- is a haven for Trekkies, Potterheads, Lord of the Rings obsessives, Star Wars fanatics, World of Warcraft addicts, the Doctor Who fandom, and all kinds of other nerds.
Surrounded by handlebar mustaches.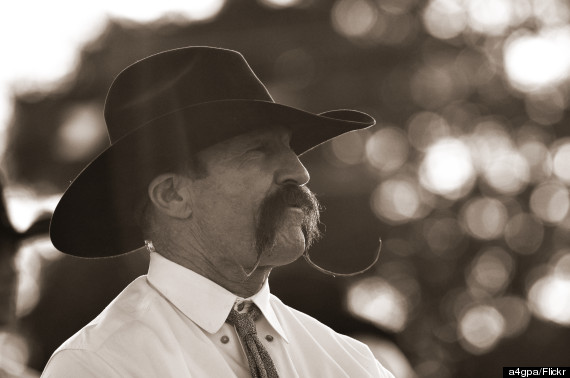 Where: London, England
Meetings of The Handlebar Club take place at the Windsor Castle pub, where anyone sporting "a hirsute appendage of the upper lip, with graspable extremities" is welcome. Beards, sadly, are not allowed.
In a real, live cave.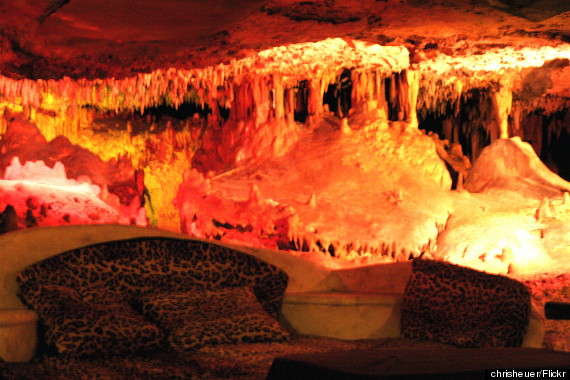 Where: Playa del Carmen, Mexico
Alux is a restaurant and bar named after the mischievious elfish cave-dwelling creatures in Mexican folklore. You can grab a drink here among the stalactites and stalagmites as you try to remember which is which.
In a room full of hammocks.
Where: Multiple cities, Japan
Appealing to the slovenly bum in all of us, hammock cafes let you relax with a hot drink or a cold beer without having to actually sit up straight like your mother taught you. (Just don't get too excited about getting in.) Unfortunately, time limits are enforced, but happily so is the "no children" rule, in some of the cafes.
With nocturnal birds of prey.
Where: Tokyo, Japan
Head to one of Japan's owl cafes to enjoy a nice hot owl-themed beverage while you make friends with some of the birds. Some of the cafes even let you hold one, but others have more stringent rules.
Alternatively, go to any beach bar in the tropics.
Served by a monkey.

(YouTube)
Where: Utsunomiya, Japan
A pair of macaque monkeys help out at Kayabukiya sake tavern, serving hot towels and beers to customers upon request after the cafe's owner realized they were such good listeners. The monkeys only work two hours per day, in accordance with Japanese laws to prevent animal abuse.
Suspended high above the street. Where: Global
Dinner in the Sky is a mobile novelty restaurant that offers full-service dining 150 feet above the ground via crane. Just hope you don't have to use the restroom.
With some cats.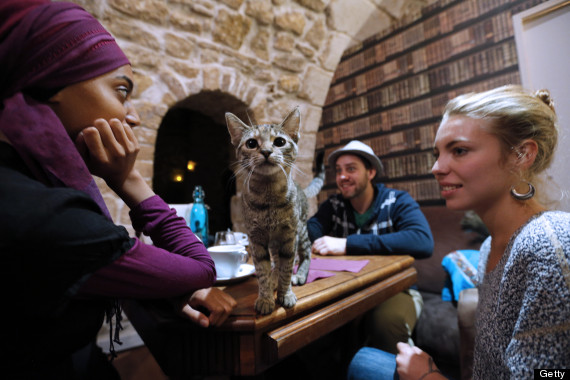 Where: Multiple cities, Japan
Indulge your cat obsession while sipping a nice cup of coffee in one of Japan's notorious cat cafes. Don't expect the cats themselves to care whether or not you're there, though, because they probably don't.
With some penguins.
Where: Multiple cities, Japan
Proving that all things are truly possible in Japan, the nation's penguin bars allow you to enjoy a drink and a meal as a bunch of penguins enjoy a nice swim. At certain times you can even help feed these adorable little guys.
On a teeny tiny island accessible only by sea.
Where: Michamwi Pingwe, Zanzibar
You'll have to wade out to this bar and restaurant settled on a naturally formed rock off the coast of Zanzibar to get sloshed. But it's all stunningly gorgeous, so we wouldn't complain too much.
In the belly of a whale.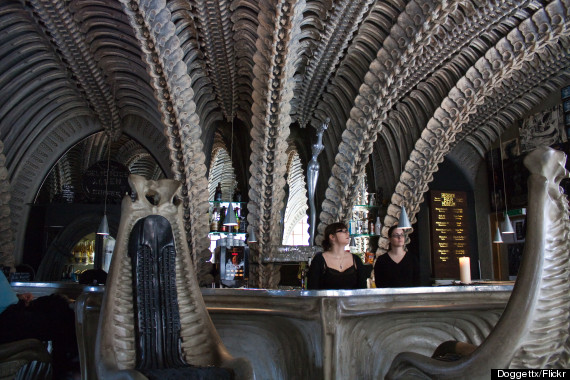 Where: Gruyères, Switzerland
Being inside this vertebral structure is said to evoke the Biblical story of Jonah. In any case it's sure to leave you feeling uneasy -- the cavernous space is peppered with alien and otherworldly sculptures.
James Bond-style in an underwater oasis.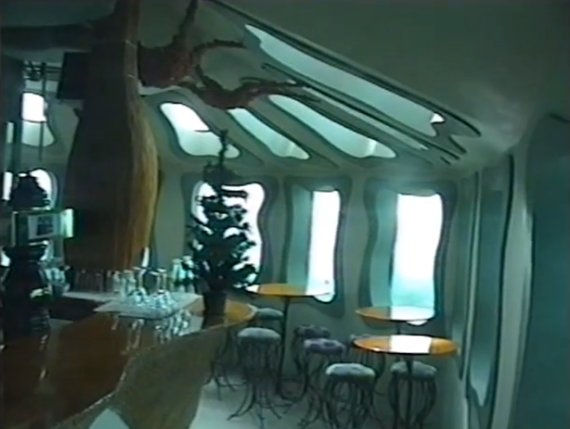 (YouTube)
Where: Eilat, Israel
The Red Sea Star restaurant and bar is situated entirely underwater, so you can toss back a few drinks while gazing at the mesmerizing marine landscape through windows above and around the dining room.
While freezing in a room made of ice.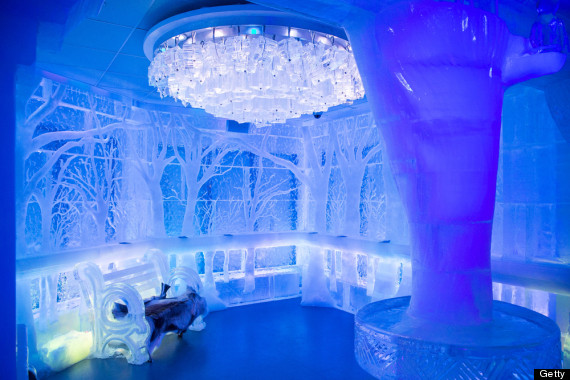 Where: New York City, United States
Everything at Minus 5 is made of ice, from the walls to the seats to the very glass you'll drink from, although supposedly the name is misleading -- it's a balmy 23 degrees inside! Your cover charge provides you a parka and pair of gloves to use for the duration of your stay.
Perched in the best treehouse ever.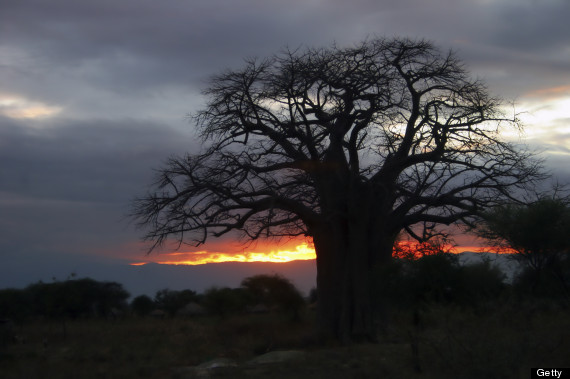 Where: Limpopo Province, South Africa
Since 1933, patrons have been coming to Sunland Bar in this massive Baobab tree for a drink and view. It's basically the magical playplace that was always missing from your childhood, only with booze! Don't come with a crowd, however -- this cozy little bar can only fit 15 patrons.
With a bunch of "hobbits."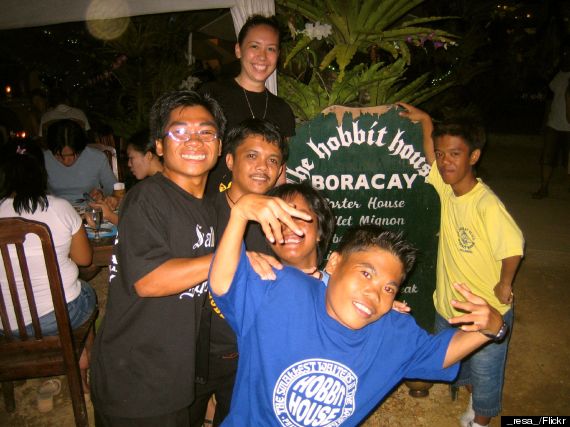 Where: Manila, Philippines
An ex-Peace Corps volunteer founded The Hobbit House with a love for all things Lord of the Rings and a full staff of little people. Politically correct or not, this place looks like you'd get a few stories out of your visit.
All the way down in Antarctica.
Where: Antarctica, duh.
Scientists at the Vernadsky Research Station get thirsty, too, you know. The world's southernmost bar exists in the Argentine Islands, part of the continent of Antarctica, featuring homemade vodka and Ukrainian knickknacks. Drinks can be purchased for a few dollars or a women's undergarment.
And, finally, while you're trying to get away from some zombies.
Where: Minneapolis, Minn.
When the zombie apocalypse comes, Donny Dirk's Zombie Den will already exist as a hideaway from the walking dead, where the Minnesota winters are cold enough "to sustain, with minimal odor, re-animated ambulatory flesh." So you can drink somewhere it doesn't smell like a thousand rotting corpses. Huzzah!
BEFORE YOU GO
PHOTO GALLERY
Alcohol Myths That Just Aren't True