Does one of the most iconic features of Chicago's skyline look a little bit different to you?
No, you weren't imagining things on that last trip south on Lake Shore Drive -- the sign on the Drake Hotel's roof has a new purplish, lavender-like color, in addition to being LED rather than neon.
WBEZ reports the new sign will be easier to maintain and will better withstand Chicago's notoriously unpredictable weather.
NBC Chicago reported in September that the Gold Coast landmark's sign had been switched over to LED.
BEFORE: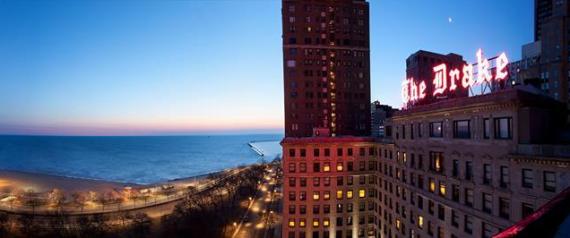 AFTER:
Iconic Drake Hotel sign now uses LED technology, replacing neon that was there for 70 years. http://t.co/RbGiURi3Kn pic.twitter.com/Lr4uq4rUc0

— NBC Chicago (@nbcchicago) September 27, 2013
According to Green Lodging News, the neon sign was first installed at the 140 East Walton Place hotel about 70 years ago.
BEFORE YOU GO
PHOTO GALLERY
The Best Hotels in the US