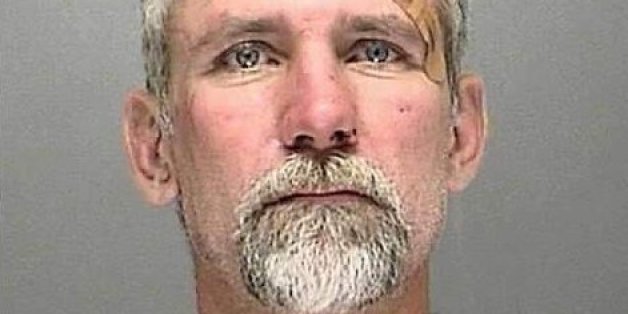 A Florida man is behind bars after allegedly throwing bricks at children while also hurling racial slurs, and then attempting to flee on his ex-wife's bicycle.
Larry Kenton, 44, is accused of showing up at his ex-wife's home in Daytona Beach on Dec. 16 to pick up some of his belongings.
He was allegedly drunk at the time, according to the woman, who says Kenton forced his way into the house and began arguing with their daughter over her choice of boyfriends, RawStory.com reported.
Kenton allegedly called his daughter a "n--ger lover" and go ready to leave. Just before he could, the daughter's boyfriend arrived and the suspect yelled, "You are the one!"
He is accused of hitting the boy in the face and head, then choking him. Police also said Kenton picked up a brick and banged it on the back of the boy's head, according to the Daytona Beach News-Journal.
When an adult saw the incident and attempted to help the boy, Kenton threw a brick at him also, according to the police report. He also screamed racial slurs at and attacked two other African-American kids, one of whom had to be treated by paramedics, WESH.com reported.
Kenton attempted to escape the scene by hopping on his ex-wife's bike and pedaling away, but he was quickly arrested, according to Sun-Sentinel.com
He is charged with three counts of aggravated child abuse, driving under the influence, driving with a revoked or suspended license, battery and resisting an officer without violence.
BEFORE YOU GO
PHOTO GALLERY
Dumb Criminals: Mugshot Gallery