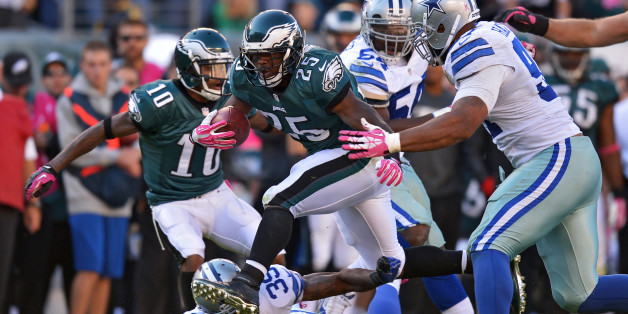 It's now or next year.
The 2013 NFL season has come down to Week 17 and several teams in both conferences are still fighting over the remaining spots in the postseason. Even those teams who have already secured of a berth in the playoffs are still jockeying for seeding, first-round byes and home-field advantage.
In the AFC, all four division titles have been locked up (Broncos, Patriots, Colts, Bengals) along with one of the two Wild Card spots (Chiefs). The Broncos have guaranteed themselves a first-round bye but can still secure home-field advantage throughout the AFC playoffs. The Ravens, Chargers, Dolphins and Steelers are all vying for the final Wild Card Spot.
In the NFC, only the Seahawks, Panthers and 49ers have clinched playoff spots while six other teams still have work to do. Week 17 includes a pair of de facto playoff games in the NFC with the Eagles and Cowboys playing for the NFC East title while the Packers and Bears tangle with the NFC North title on the line.
All together, a dozen games on the Week 17 schedule could impact the playoff participants and seeding. Here is a look at the current positions and Week 17 playoff scenarios for every team in contention, via The Associated Press:
Denver — AFC West and first-round bye

New England — AFC East

Cincinnati — AFC North

Indianapolis — AFC South

Kansas City — playoff spot

Clinches home-field advantage throughout AFC playoffs with:

— Win or tie, OR

— New England loss or tie

New England (vs. Buffalo)

Clinches first-round bye with:

— Win or tie, OR

— Cincinnati loss or tie and Indianapolis loss or tie

Clinches home-field advantage throughout AFC playoffs with:

— Win and Denver loss

Cincinnati (vs. Baltimore)

Clinches first-round bye with:

— Win and New England loss

Indianapolis (vs. Jacksonville)

Clinches first-round bye with:

— Win and New England loss and Cincinnati loss or tie

Clinches playoff spot with:

— Win and Baltimore loss or tie, OR

— Win and San Diego win, OR

— Tie and Baltimore loss and San Diego loss or tie, OR

— Tie and Baltimore tie and San Diego tie

Baltimore (at Cincinnati)

Clinches playoff spot with:

— Win and San Diego loss or tie, OR

— Win and Miami loss or tie, OR

— Tie and Miami loss and San Diego loss or tie, OR

— Tie and Miami tie and San Diego loss, OR

— Miami loss and San Diego loss and Pittsburgh loss or tie

San Diego (vs. Kansas City)

Clinches playoff spot with:

— Win and Miami loss or tie and Baltimore loss or tie, OR

— Tie and Miami loss and Baltimore loss

Pittsburgh (vs. Cleveland)

Clinches playoff spot with:

— Win and Miami loss and Baltimore loss and San Diego loss

Seattle — playoff spot

Carolina — playoff spot

San Francisco — playoff spot

Clinches NFC West and home-field advantage throughout NFC playoffs with:

— Win or tie, OR

— San Francisco loss or tie

Clinches NFC South and a first-round bye with:

— Win or tie, OR

— New Orleans loss or tie

Clinches home-field advantage throughout NFC playoffs with:

— Win and Seattle loss and San Francisco win

Clinches NFC East division with:

— Win or tie

Clinches NFC North with:

— Win or tie

San Francisco (at Arizona)

Clinches NFC West and first-round bye with:

— Win and Seattle loss

Clinches NFC West and home-field advantage throughout NFC playoffs with:

— Win and Seattle loss and Carolina loss or tie

New Orleans (vs. Tampa Bay)

Clinches NFC South and first-round bye with:

— Win and Carolina loss

Clinches playoff spot with:

— Win, OR

— Tie and Arizona tie, OR

— Arizona loss

Arizona (vs. San Francisco)

Clinches playoff spot with:

— Win and New Orleans loss or tie, OR

— Tie and New Orleans loss

Dallas (vs. Philadelphia)

Clinches NFC East with:

— Win

Clinches NFC North with:

— Win