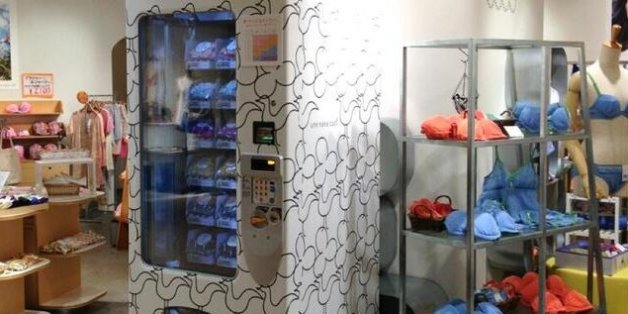 Remember that bra vending machine that popped up in Japan? Yeah, it didn't work out as well as planned.
Asahi Shimbun reports that the machine, created by lingerie maker Wacoal's Une NaNa Cool brand, has not sold many bras in its few months of existence and has been shuttered this week. A Wacoal rep told Asahi Shimbun that as of Dec. 20, only seven bras has been bought, despite the plentiful press coverage and numerous curious passersby. "It must be something that takes time to get used to," the rep said.
Yeah, we should say so. Bras are one of the toughest items to buy, as any woman can tell you, since proper fit is of the utmost importance. The machine reportedly featured a sizing chart, but not being able to try on the actual bra was likely a deterrent for shoppers. Online retailers face the same challenge; while companies like Brayola and True & Co. have introduced algorithms to help women purchase bras online, no one brand seems to have found big success selling bras outside traditional brick and mortar stores.
We're not too surprised the bra vending machine didn't strike gold. Would you have bought one?
PHOTO:
ブラジャーが自販機でも買える!ウンナナクールのノンワイヤーブラ『FUN FUN WEEK』を自動販売機でも購入できます♪ 渋谷パルコ店は8/9~31、二子玉川店は9/1~30の期間限定! pic.twitter.com/HJO31O2H8k

— 【公式】ワコール:Wacoal (@Wacoal_News) August 12, 2013
THIS is how we prefer to buy bras:
Want more? Be sure to check out HuffPost Style on Twitter, Facebook, Tumblr, Pinterest and Instagram at @HuffPostStyle.