This year has been an interesting one for the environment. Heat waves, winter storms, tornadoes and typhoons struck all corners of the globe. Baby pandas stole our hearts, new animals were discovered hiding in plain sight and old pipelines spewed crude oil into neighborhoods.
From the visceral to the adorable, 2013 has been one for the record books. Take a look at the photos below that chronicle some of the most memorable, and at times tragic, experiences we've faced this year.
This story appears the special Year in Photos issue of our weekly iPad magazine, Huffington, available Friday, Dec. 27 in the iTunes App store.
Boston, Massachussettes
February 9, 2013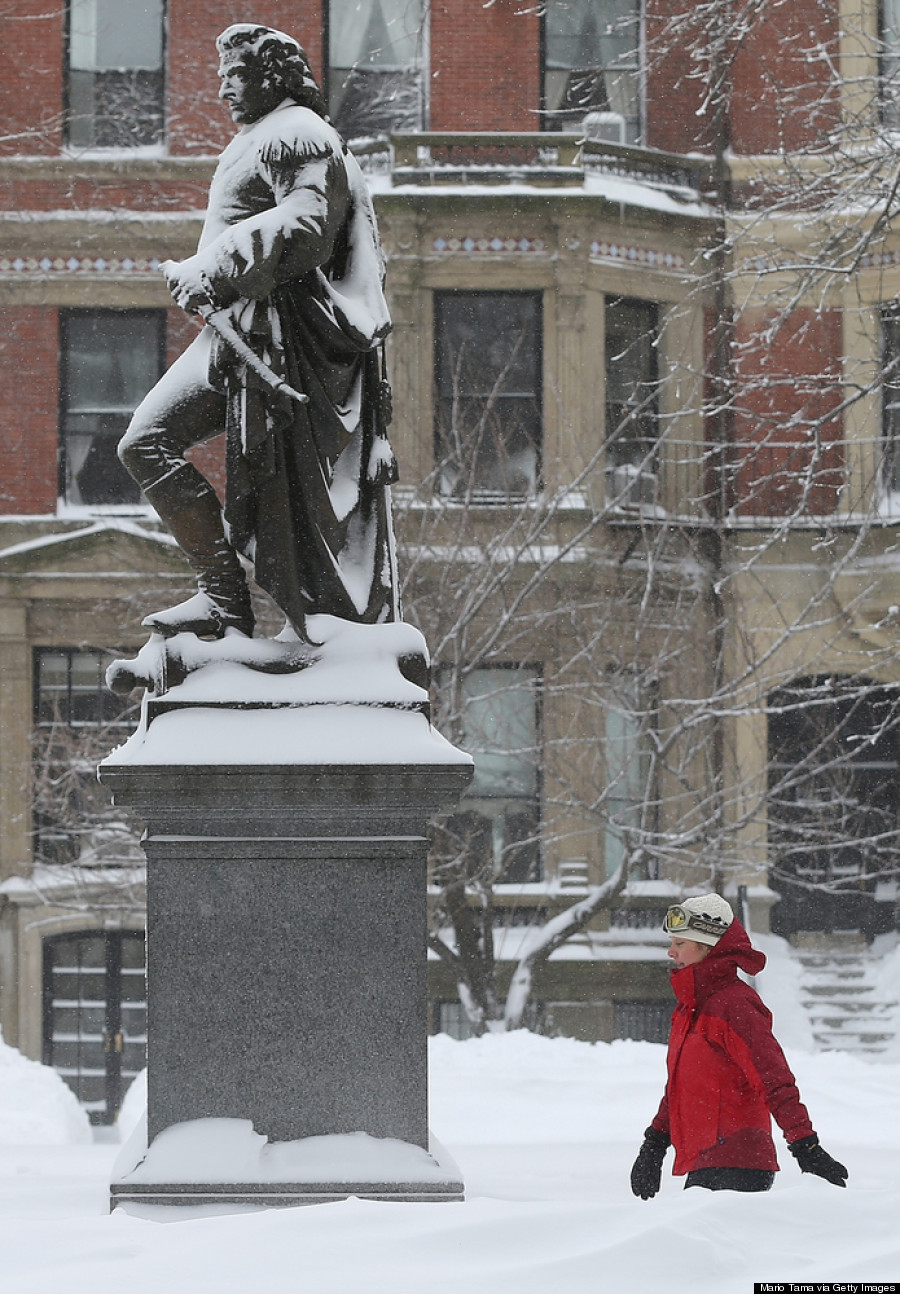 A woman walks past the General John Glover statue in Boston, Mass. after Winter Storm Nemo dumped up to 3 feet of snow over parts of the Northeast. The storm knocked out power to 650,000 and dumped more than two feet of snow in parts of New England. (Photo by Mario Tama/Getty Images)
Mayflower, Arkansas
March 29, 2013 Oil covers the ground around a slide in a neighborhood in Mayflower, Ark. days after a pipeline ruptured and spewed oil over lawns and roadways. Thousands of barrels spewed from the ruptured Pegasus pipeline, owned by ExxonMobil, forcing some residents to evacuate for months. (AP Photo/Jeannie Nuss)
El Reno, Oklahoma
June 1, 2013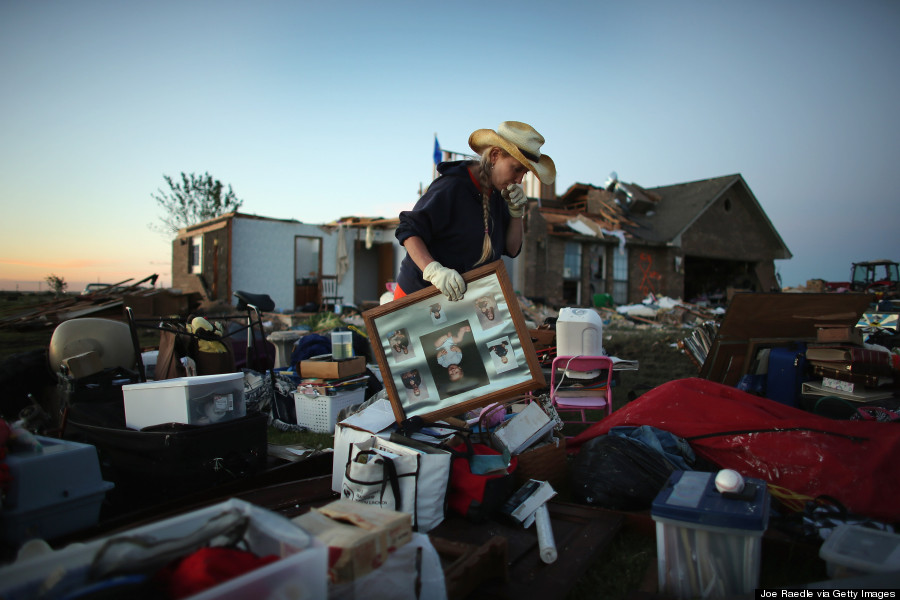 Charlene Wilford helps load up items saved from a home damaged after a tornado hit El Reno, Okla. The tornado was the widest ever in recorded history, stretching to a width of 2.6 miles. It ripped through the area on May 31, 2013 killing at least nine people, injuring many others and destroying homes and buildings. (Photo by Joe Raedle/Getty Images)
Olinguito Discovered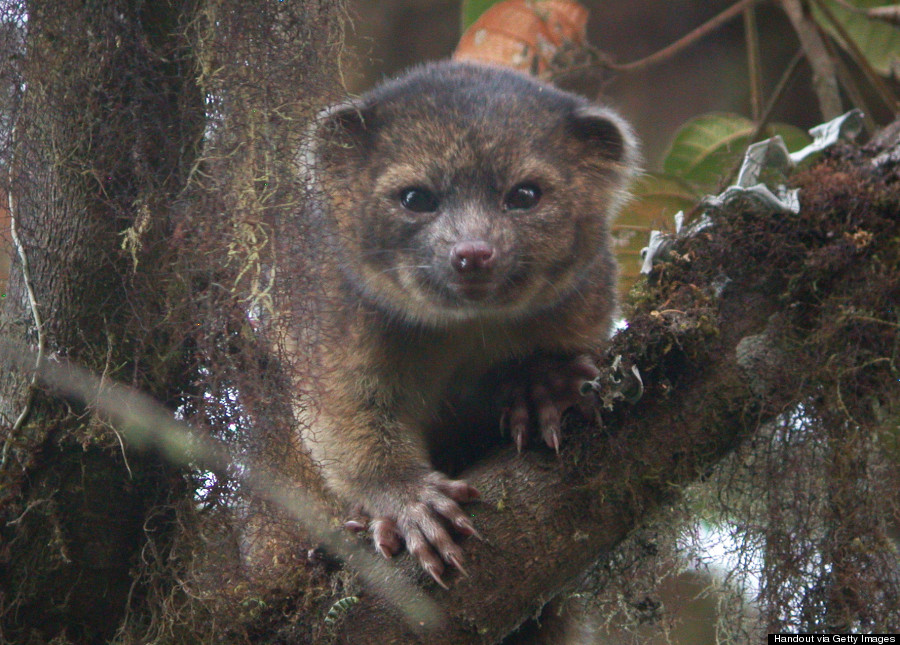 This photo provided by Smithsonian shows an olinguito, a new species of carnivore discovered in South America. The olinguito (Bassaricyon neblina) had been mistakenly identified for more than 100 years and is the first carnivore species to be discovered in the American continents in 35 years. (Photo by Mark Gurney for Smithsonian via Getty Images)
Moore, Oklahoma
June 2, 2013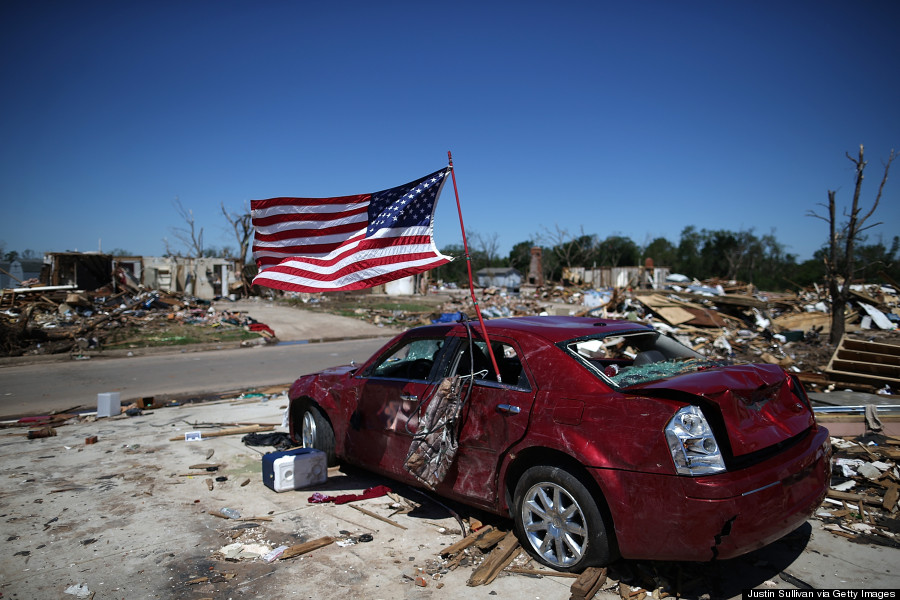 An American flag flies from a car that sits in the driveway of a home that was damaged by a tornado in Moore, Okla. The devastating EF-5 tornado ripped through the town on May 20, killing 24 people, including 9 children, and destroying hundreds of homes and businesses. (Photo by Justin Sullivan/Getty Images)
Yarnell, Arizona
July 1, 2013 Firefighters work near a wildfire burning along a ridge in Yarnell, Ariz., in this photo provided by the U.S. Forest Service. The lightning-sparked fire spread to at least 2,000 acres amid triple-digit temperatures, and overtook an elite group of hotshot firefighters, killing 19 members as they tried to protect themselves from the flames under fire-resistant shields. (AP Photo/U.S. Forest Service)
Suining, China
July 27, 2013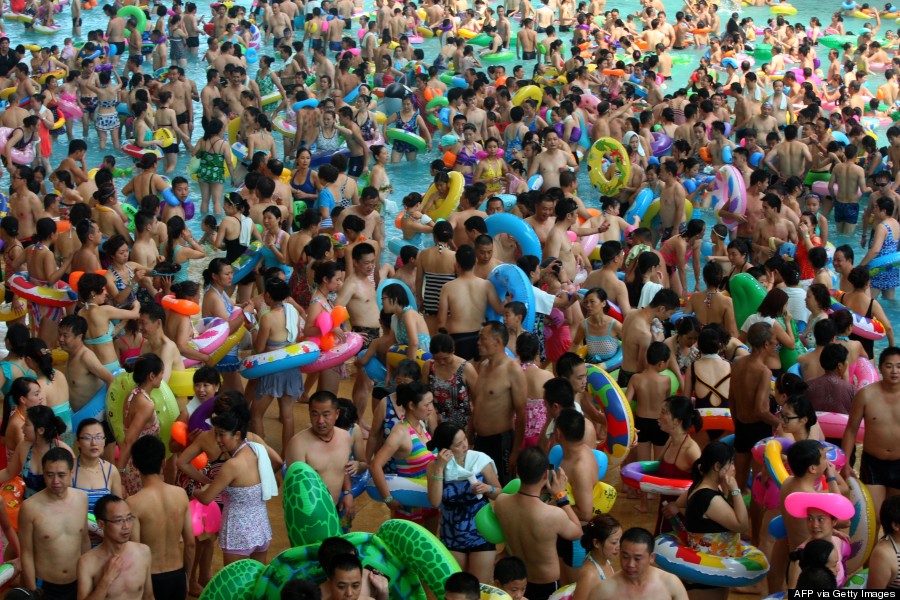 This picture, taken on July 27, 2013 shows hundreds of people trying to cool off at a waterpark in Suining, Southwest China's Sichuan province during a heatwave that pushed thermometers as high as 106 degrees Fahrenheit. The deadly temperatures lasted for weeks, creating the worst heatwave in at least 140 years. (STR/AFP/Getty Images)
Baby Panda Born At National Zoo, Washington D.C.
August 23, 2013 In this photo provided by the Smithsonian's National Zoo, a member of the panda team at the Smithsonian's National Zoo performs the first neonatal exam on a giant panda cub born Friday, Aug. 23, in Washington. The cub was named Bao Bao, which means "treasure" or "precious." (AP Photo/ Smithsonian's National Zoo, Courtney Janney)
Rim Fire, Yosemite National Park, California
August 25, 2013 A firefighter watches for spot fires during a burnout operation while battling the Rim Fire near Yosemite National Park, Calif. The blaze, caused by a hunter's illegal fire, destroyed more than 30,000 acres of forest and become the third-largest in state history. (AP Photo/Jae C. Hong)
Boulder, Colorado Flooding
September 12, 2013 Sue Sadar walks across a trench of mud which used to be a lawn as she and family members clean property in an area inundated by flooding in Boulder County, Colo. A week of severe rains killed at least 8 people, destroyed more than 2,000 homes and caused upwards of $2 billion in damages. (AP Photo/Brennan Linsley)
Typhoon Haiyan, Tacloban, Philippines
November 2013 A Filipino man walks in a puddle of water at a neighborhood ravaged by Typhoon Haiyan in Tacloban. At least 6,000 people were killed by the storm, which was one of the strongest ever recoreded, and hundreds of thousands of people were displaced as it tore through the eastern Philippines on Nov. 8. (AP Photo/Dita Alangkara)
BEFORE YOU GO
PHOTO GALLERY
Animals That Survived Tornadoes