Police have charged a 30-year-old Lincoln Park man with two sexual assaults and robberies that happened on the same day in the Montclare neighborhood and near the CTA Orange Line Midway station.
James Whiteside was due in court Monday where he faces eight felony charges in connection with the two attacks carried out Friday, DNAinfo Chicago reports.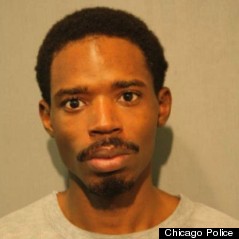 James Whiteside faces eight felony charges in the sexual assault and robberies of two women.
The first attack was 2:30 a.m. in the Northwest Side Montclare neighborhood on Dec. 27. According to the Tribune, police say Whiteside attacked a 23-year-old woman outside a fast food restaurant near Belmont and Harlem, allegedly threatening the woman with a pair of 3-inch scissors. Police say Whiteside then pushed her into her car and drove her to a nearby street where he raped and robbed her of her phone and wallet.
Around 4:15 p.m. that same day, police say Whiteside attacked a 69-year-old woman as she walked to her car outside the CTA's Orange Line train station at Midway Airport, ABC Chicago reports.
According to NBC Chicago, Whiteside raped the woman before stealing her cash, cell phone and ATM card.
In both cases, police say Whiteside drove around with the women and even picked up other passengers while forcing his victims to make cash withdrawals from their bank cards.
Police say Whiteside "implicated himself" to other people saying he "robbed and raped a woman the night before," according to the police report cited by the Tribune. He was eventually apprehended while trying to flee from detectives at a home in West Humboldt Park.
Whiteside faces charges of aggravated criminal sexual assault of a victim older than 60 years old, aggravated criminal sexual assault with a weapon, aggravated unlawful restraint, aggravated kidnapping, armed robbery with a dangerous weapon, aggravated robbery and aggravated vehicular hijacking.
BEFORE YOU GO
PHOTO GALLERY
Crime In Chicago