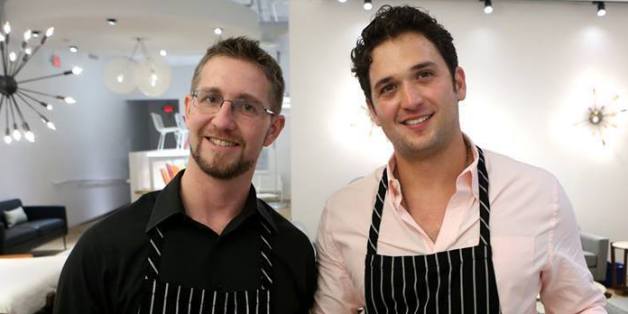 Miami sure loves its meat, from a pig in La Caja China to ham on Cubans to pork belly on, well, everything you could possibly order.
Fortunately, the 305 isn't immune to the craze for bacon, either. But true to our city's source-it-yourself spirit, there's a pair of locals making artisanal bacon in the most "only in Miami" of ways: with sea salt they harvest themselves, evaporated cane sugar from right here in Florida, and locally grown and humanely raised heritage pigs.
"We realized we could produce much better bacon than what was currently available," said chef Andres Barrientos, half of the superduo Miami Smokers with buddy James Bowers. The pair has been turning out bacon for farmer's market customers and Miami restaurants including The Federal, MM74, Eating House, Azucar and Blue Collar, but ran into one of those good problems when they reached capacity with their current smoker.
Enter the "Urban Smokehouse" project in Little Havana, for which Miami Smokers is raising funds on Kickstarter. Not only will the pair be able to expand their own business with more room for curing and a storefront to sell, but the smokehouse -- the only such facility in Miami -- will be available for use by other chefs and artisans to produce delicious charcuterie in an environment that's perfectly suited for curing and smoking meat.
In other words: advance bacon-ia! Donating to the project ($6 and up) comes with rewards including a delivery of the company's famous candied bacon, bacon jerky, and/or other goodies. You can even earn a pig roast for 50 with a pledge of $2,100!
HuffPost caught up with James and Andres to hear a little more about their business, but also to get to know these obviously awesome locals.
Years in Miami:
James: 33
Andres: 30, born and raised
Favorite childhood memory in Miami?
James: Fishing
Andres: Riding inflatable boats around flooded streets.

Current neighborhood:
James: Shenandoah
Andres: SoFi
Current gig:
James: Miami Smokers
Andres: Ditto
Favorite 'Only in Miami' moment?
James: Cars on 8th street covered in dolls and stuffed animals.
Andres: Dominos and coladas on calle ocho.
What's your idea of a perfect day in Miami?
James: Hanging out at Stiltsville
Andres: Humidity in the 70%'s
395 or 195?
James: 195
Andres: I'm 395, all the way.
Where do you take out-of-towners visiting Miami?
James: Everglades, Little Havana, and down south for Amish cinnamon buns
Andres: Depends... Little Havana, Amish sticky buns, dive bars
Best reaction to your bacon?
James: Little kids jumping up and down
Andres: Yeah, those kids do the darn best things. We've had giggles, screams, shrieks, fits of laughter, and the unexpected jumping. That shit is cute.

Where did you learn the most about bacon?
James: Allan Benton
Andres: Yup, deep in the Tennessee boondocks with the "godfather of bacon," Mr. Allan Benton
How much bacon are you producing annually?
James: 7,000 lbs
Andres: Not enough…
Describe your urban smokehouse plans.
James: To take over the artisan bacon market
Andres: Muhahahahah, to take over the bacon world!
James: Oh yeah, we also want to build a community curing center where chefs and other artisans can come make their own charcuterie. That's what the Kickstarter is for.
Why do you hate Miami?
James: Traffic. We deliver the bacon ourselves!
Andres: Yeah, the traffic is getting to be ridonkulous.
Why do you love Miami?
James: The vibrant culture, the warm ocean, and the growing culinary scene
Andres: So many beautiful ladies!
What are three local meals you can't live without?
James: the burger from Swine, ice cream from Azucar, and Miami Smokers BLT
Andres: Cafecito; Pan con lechon; Stone crabs
In a word or two or three, Miami is...
James: Home
Andres: Home

BEFORE YOU GO
PHOTO GALLERY
Miami Smokers