Images of sparring boxers, relentless cross country skiers and triumphant Olympic parades -- these are but some of the artistic symbols that were used to represent Soviet Russia. It was in the time period after the Russian Revolution of 1917 when these visual manifestations of strength, glory and victory permeated propaganda of all shapes and forms, including the world of realist artwork.
An upcoming exhibition at Sotheby's is paying tribute to the strange and largely overlooked world of Soviet artwork. In "Soviet Art Soviet Sport" the auction house will bring together 35 of the most iconic paintings, drawings and sculptures from the era, exploring how figurative art was bent and molded to fit the larger vision of a united Soviet Union. Sport was used as a means of communicating struggle and confrontation, and later as a method of conveying recreation and the everyday, as artists functioned as ideological conveyors.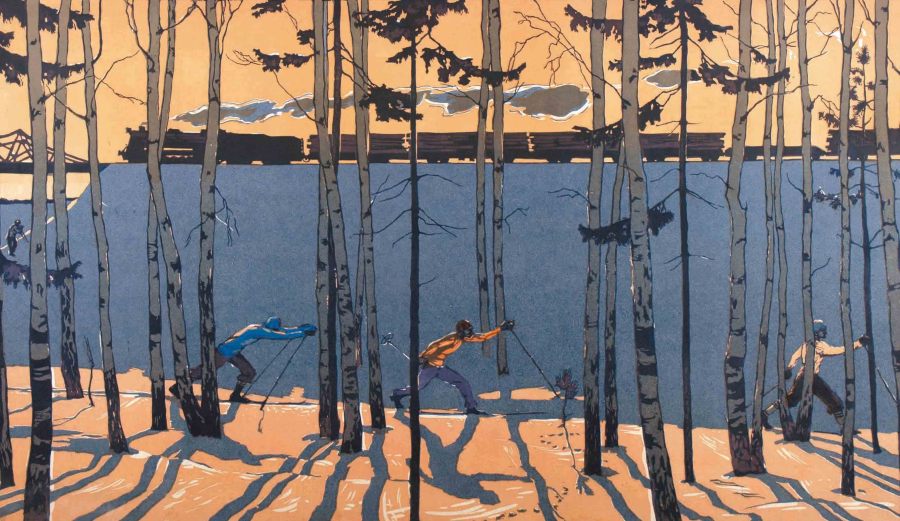 Viktor E. Popkov (1932–1974), At the Weekend. 1958, Colour linocut on paper. 49.7 by 83 сm, Property of the artist's family
From Sergey Luchishkin to Mikhail Izotov, the auction house showcases artists from the 1930s to the 1980s. Like the court painters of renaissance art, these painters and sculptors were expected to acclimate their aesthetic to the whims of their primary patron -- the Soviet government. Artists avoided the "decadent bourgeois" styles of the Impressionists and Cubists before them, opting to produce art with a strict Socialist Realist message, lest they end up like Mikhail Sokolov, who was arrested for his formalist, "counter-revolutionary" art.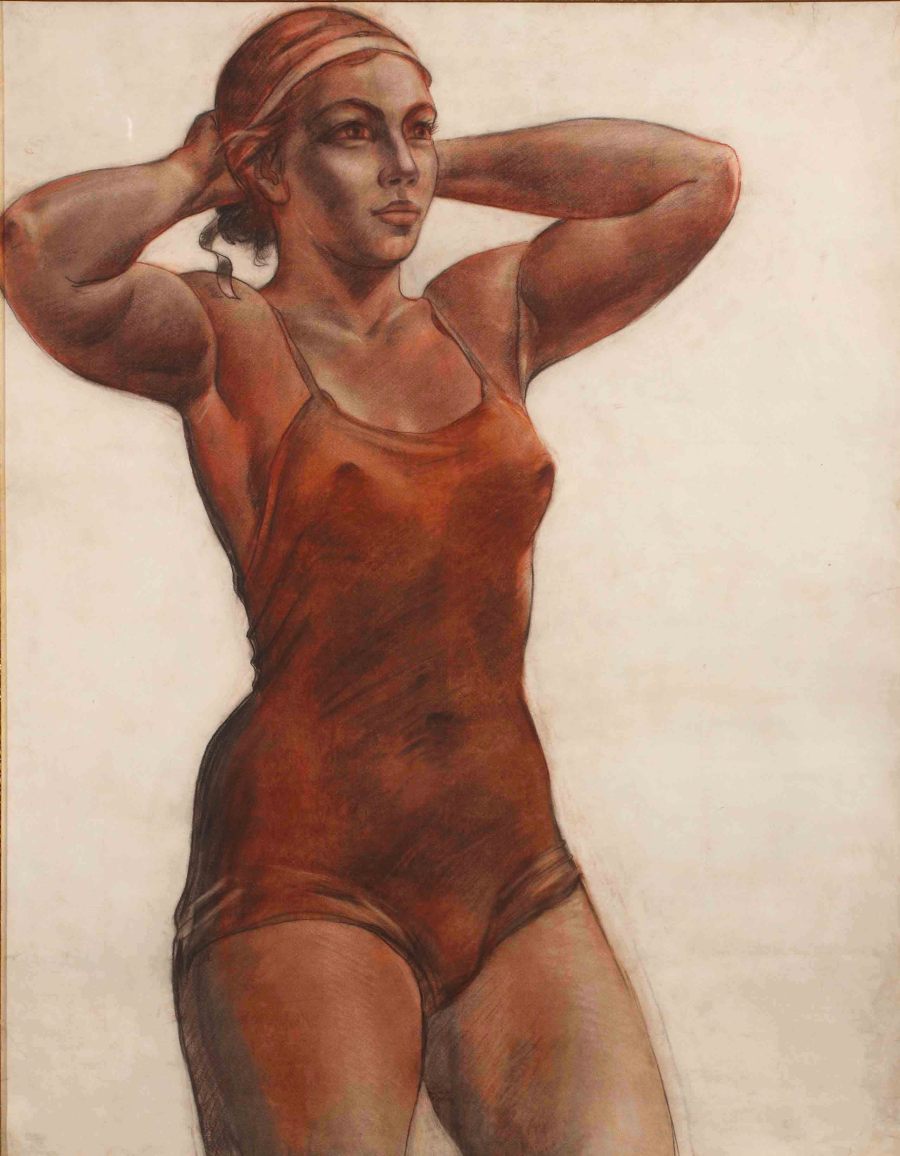 Alexander A. Deyneka (1899–1969), Sports woman tying a ribbon. 1950s, Charcoal and sanguine on paper . 99 by 79 сm, Institute of Russian Realist Art
"Sport has one wonderful feature: it can safely fit into a very wide variety of artistic frameworks," explained Soviet artist Alexander Deyneka in a statement from Sotheby's. "This subject is inexhaustible because it is democratic and popular. Sport accommodates within itself shades of feeling -- it is lyrical, it is positive and full of optimism. It draws on heroic origins."
While the Socialist Realists were bound by the oversight of the Soviet state, the canon of mid-century art manages to incorporate bits of self-expression and experimentation with style. As was the case with literature and film, components of the avant-garde made their way into the genre, ever so slightly pushing the boundaries of art. With it came the works of Viktor Popkov and Olga Vaulina, both of whom played with brushstrokes and symbolism in ways that challenged the severity of other artists.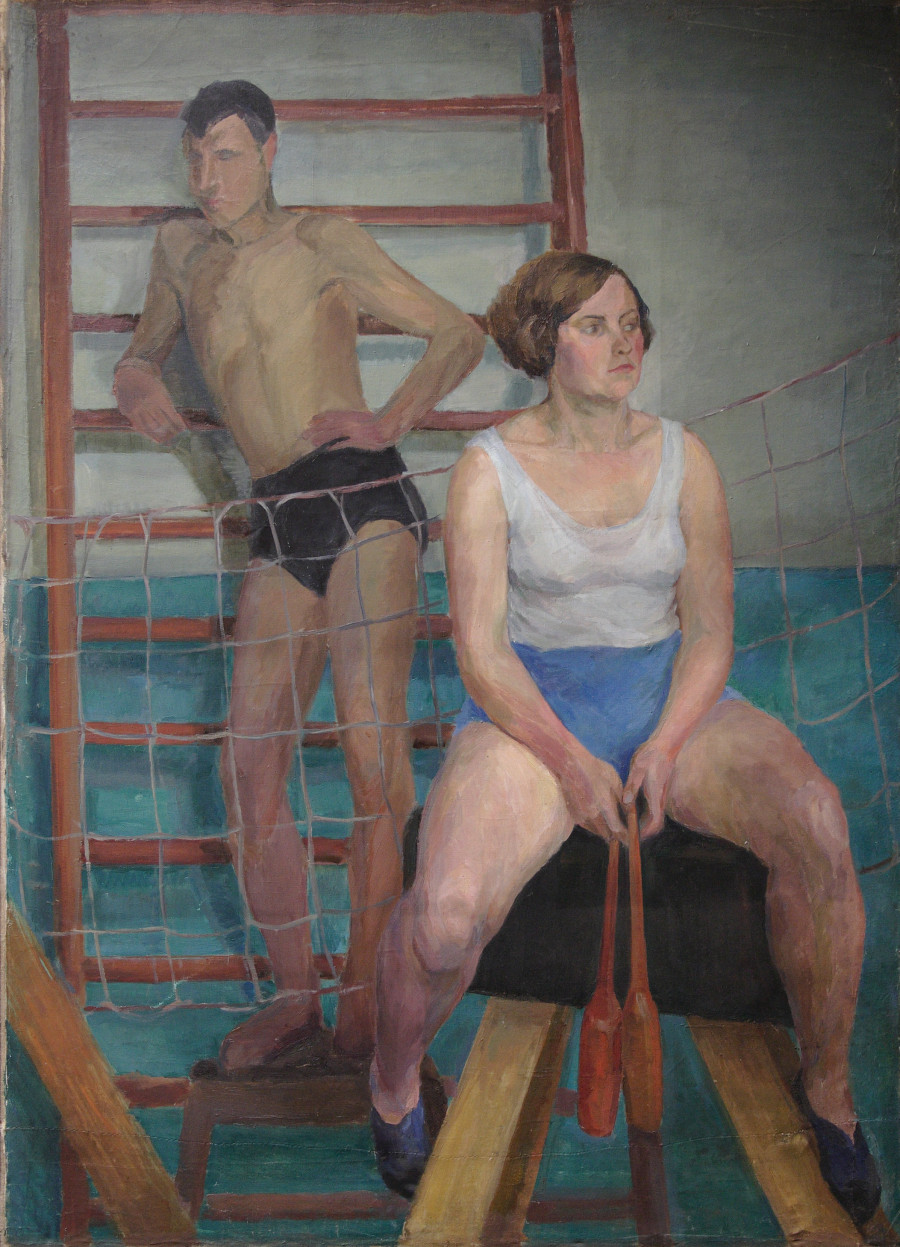 Olga P. Vaulina (1902–1996), In a sports hall. 1930s, Oil on canvas. 132 by 101 сm, The 'New Gallery' Art Foundation
Scroll through a preview of "Soviet Art Soviet Sport" below and let us know your thoughts on the exhibition -- set to run from January 2 to January 14, 2014 -- in the comments.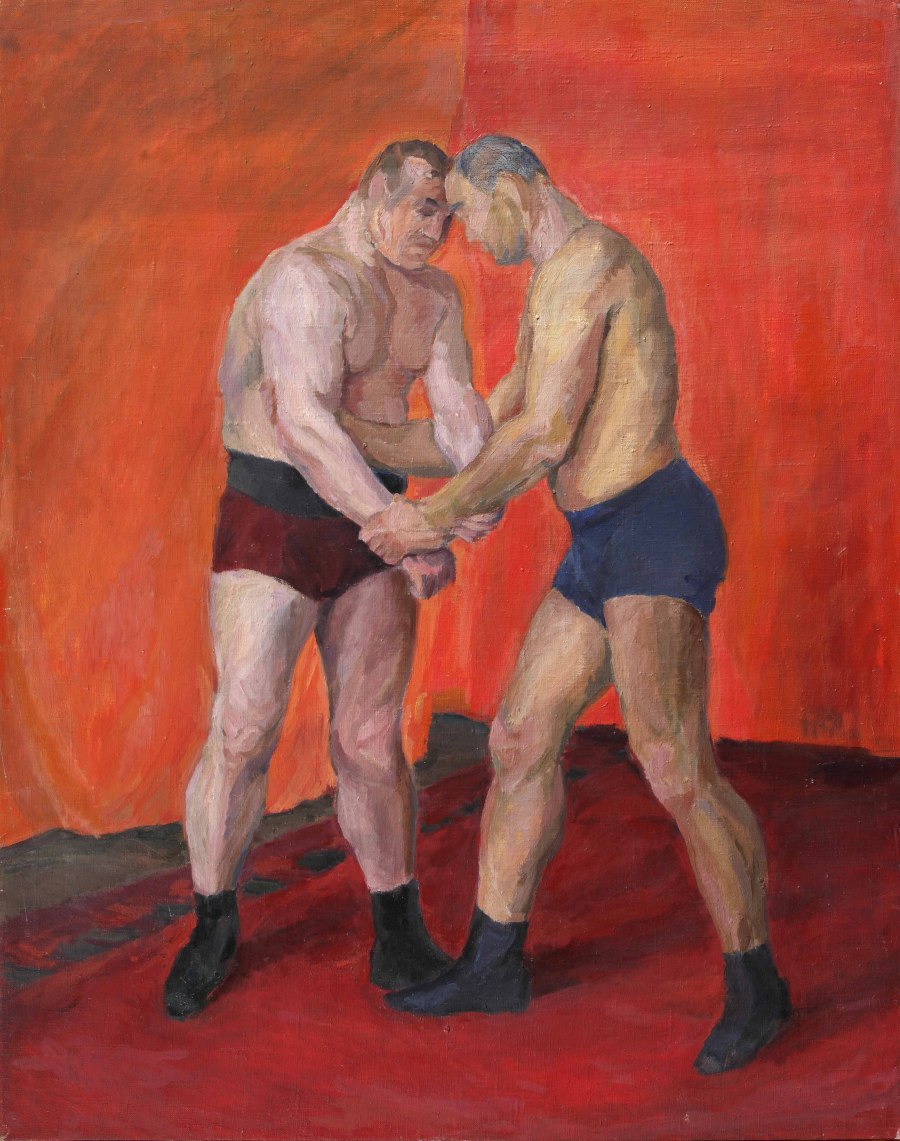 Olga P. Vaulina (1902–1996), Wrestling 1930s, Oil on canvas. 112.5 by 88.5 сm, The 'New Gallery' Art Foundation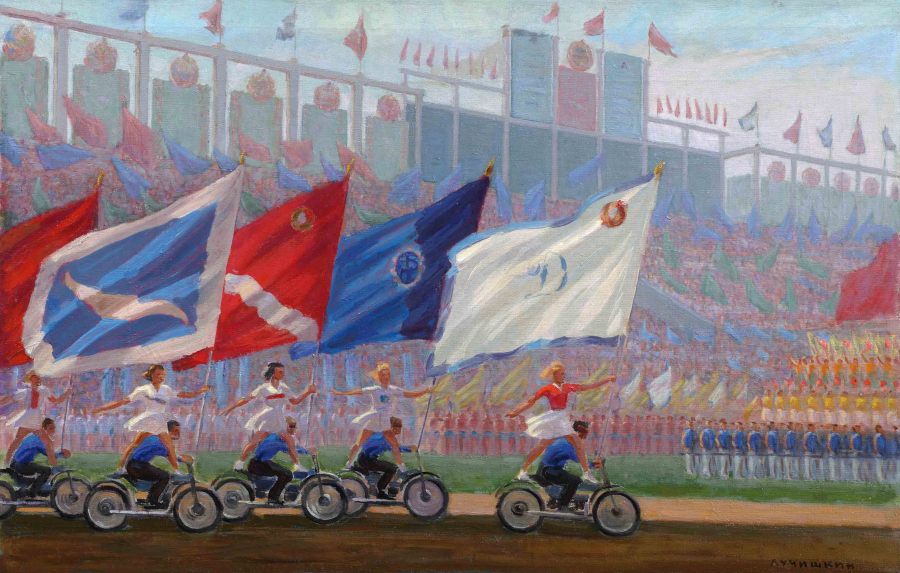 Sergey A. Luchishkin (1902–1989), Parade at the Dynamo Stadium. 1936–1976, Oil on canvas. 70 by 103.5 сm, Institute of Russian Realist Art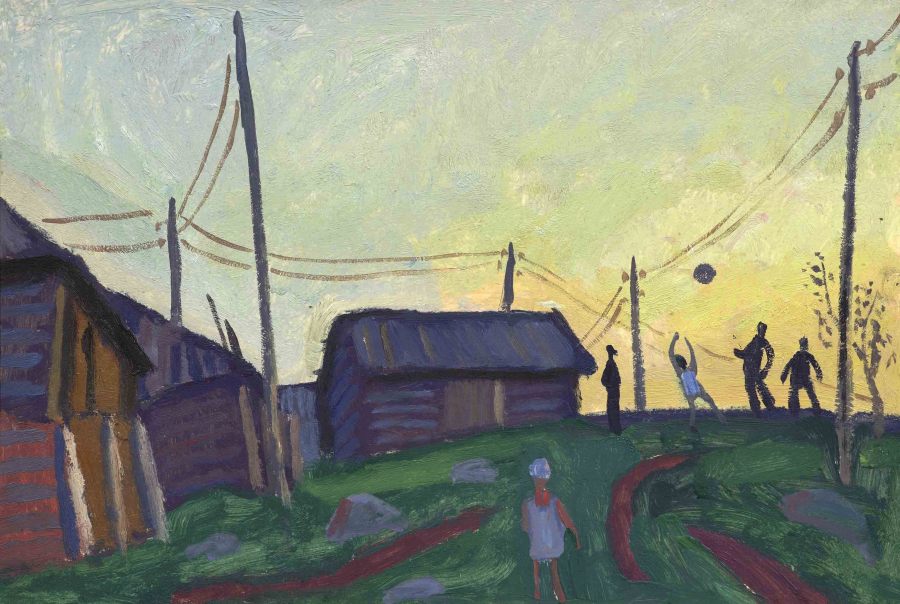 Viktor E. Popkov (1932–1974), Volleyball. 1968, Oil on paper and fiberboard. 32.5 by 47 сm, Institute of Russian Realist Art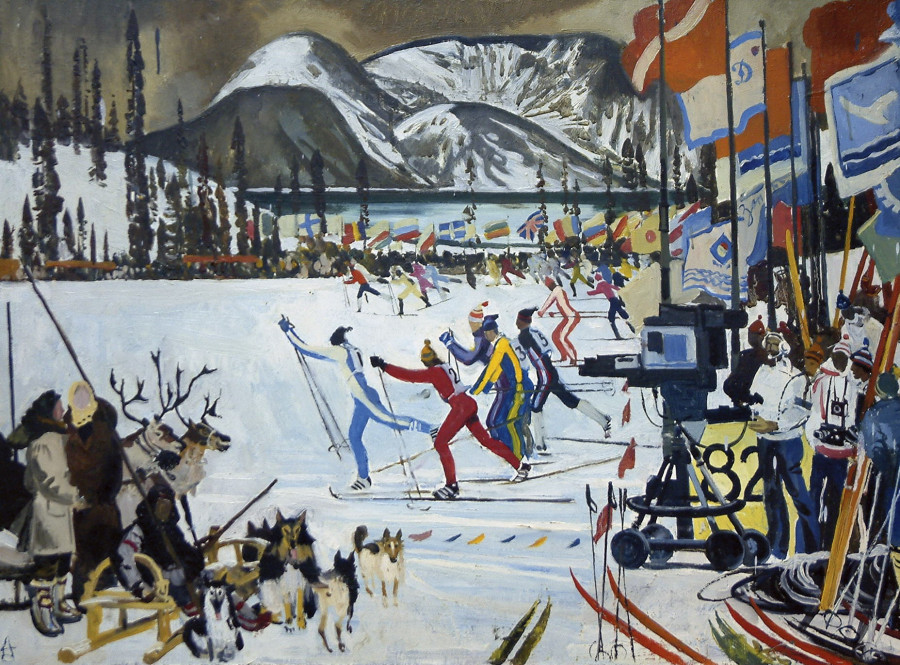 Andrey N. Bliok (born 1946), Festival of the North in Kirovsk . 1972, Tempera on canvas. 60 by 80.2 сm, Institute of Russian Realist Art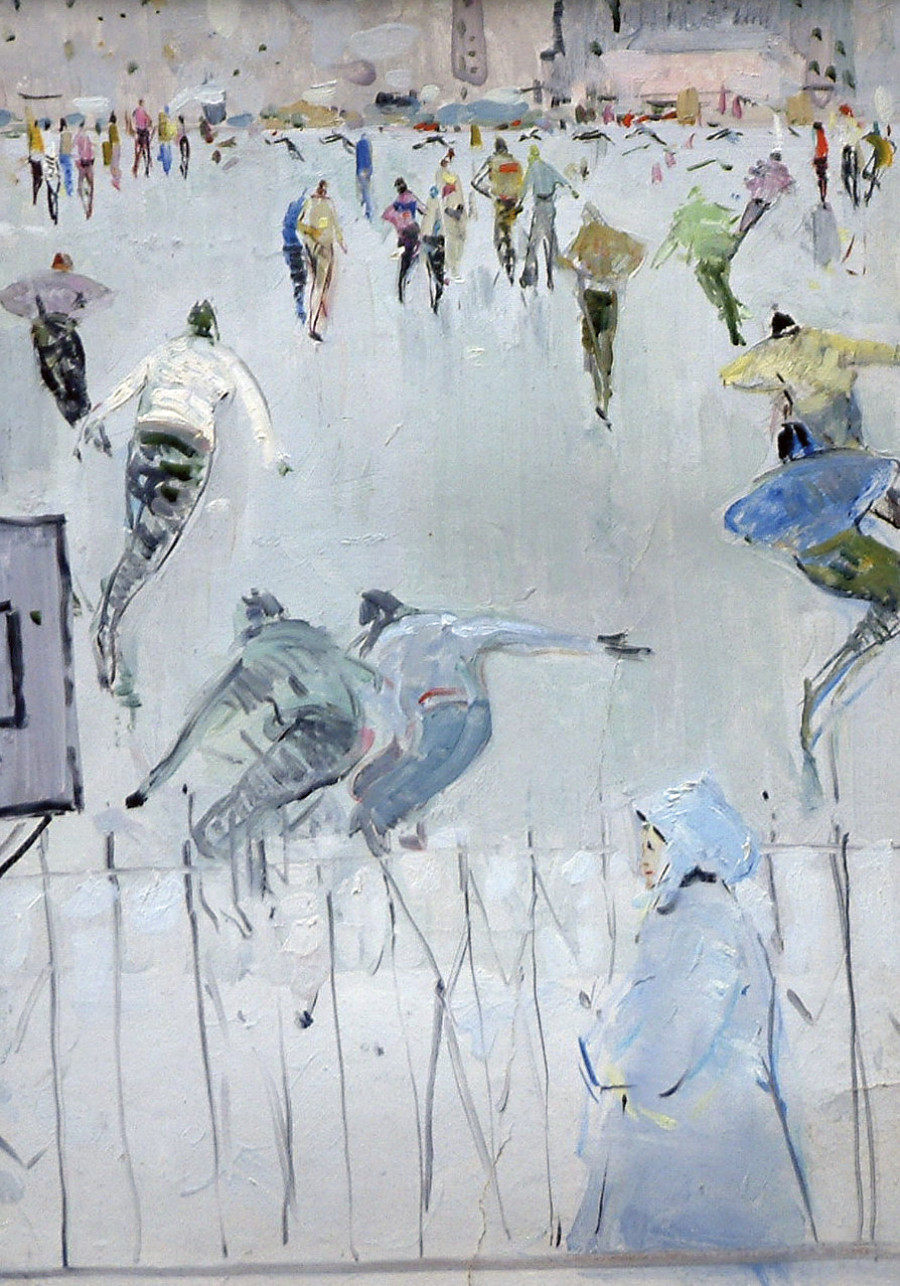 Boris F. Domashnikov (1924–2003), The Stadium. 1970s, Oil on cardboard. 50 by 34.8 сm, Institute of Russian Realist Art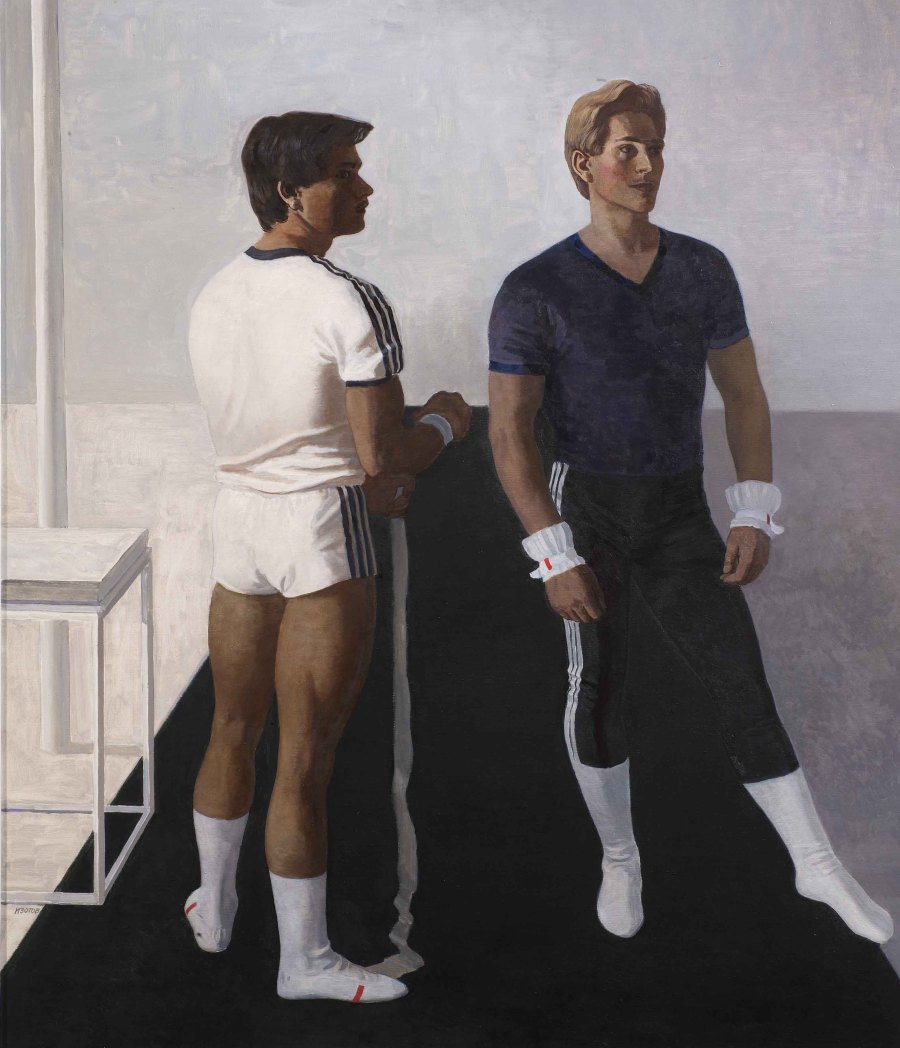 Mikhail N. Izotov (born 1956), Gymnasts . Portrait of Vladimir Artemov and Yury Korolyov, 1987, Oil on canvas. 175.5 by 149 сm, Institute of Russian Realist Art