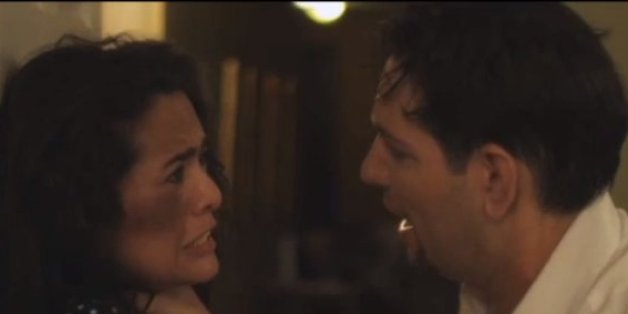 You have to have courage to write about your mother's bitter life, filled with physical and psychological abuse by her husband —your father. Then, you have to have guts to transform that story into a movie, and direct it. That is what Lorena Gordon, a 22 year-old native of Queens, New York, just did.
"Times Like These" is the story of Marisol, an immigrant from Ecuador, who suffers an abusive life in the hands of her husband, also Latino. But Marisol isn't alone, her young son, a witness of her despair, will soon become her supporter. When pregnant with her second child, she decided to leave her home for a better life.
"I wanted to write this story, I wanted to expose the courage of my mom to leave her abusive husband and to start a new life, full of challenges," said Lorena during a phone interview. "I wrote the script four years ago… I want to share this story."
Ever since she can remember, Lorena loved to tell stories through a camera. She picked up the family camcorder when she was six and that's when her love for film making began.
She is most intrigued by and passionate about telling stories about the human condition and the complicated facets of life.
Lorena has directed and produced the short films Fallen Hero, The Uninvited, The Cure, and Alone. She worked with and learn from her mentors, such as Martin Scorsese, Sam Mendes, Leonardo Di Caprio, and Ben Stiller.
Times Like These is Lorena's first feature film. Saturday, December 21, was the last day of shooting. Now comes the slow and detail-oriented process of post-production.
The movie will be ready for screening anytime on Spring 2014.
Lorena's mother lives now California and she is proud about what her daughter is doing. "She believe that the movie can help other women who are victims of abuse," explains Lorena. "She even had a long conversation with Nancy, the actress who plays her role in the movie, about the character."
"It was along conversation and I took lots of notes!" said Nancy Castro, 39, a Colombian immigrant who plays Marisol in Times Like These. "Now I feel myself like part of the family."
Nancy Castro was born in Guateque, district of Bocaya, Colombia. She moved to Bogota to attend college. After graduating with a major in Economy, she worked on her field for about two years. She then immigrated to USA.
"I was working as a Spanish teacher in Reading, Pennsylvania. One day I asked my students about their dreams, but later their turned the table around and they asked me what my dreams were!", says Nancy with a touch of emotion on her voice. "So I told them I wished to be an actress!"
This dialogue had an impact on Nancy. "Here I am, telling my students to follow their dreams… So I thought, shouldn't I follow my dreams too?"
A few months later, Nancy resigned to her job, made her suitcase and moved to New York to start a new life, a new career.
In the Big Apple, Nancy took acting classes while working making commercials, modeling, movie extra, and more.
In April 2013, Nancy read an announcement calling for casting for a movie to be named Times Like These. She didn't hesitate.
"I knew I could do it. I believe we all have an energy, and sometimes these energies connect," says Nancy explaining her connection with Marisol's character and with those supervising the casting, particularly Lorena.
"Lorena is very talented, and she gave us enough freedom to work with our characters," explains Nancy about the filming.
Nancy has another reason to believe on her role of Marisol. "I was myself a victim of emotional abuse, that was one of the reasons I identified myself with Marisol."
The other roles are played by Jayson Simba, Ethan Rosero and Marlene Forte Machado.
Lorena feels the casting can't be better. "Marlene Machado is the only one who didn't go throughout casting, I sent her the script," says the young movie director. "She liked it and accepted to play the role of Gladys, Marisol's friend."
A well-known actress of Cuban origin, Machado's confidence of Times Like These means a lot for Lorena. "I appreciated very much her trust on the project!"
The crew also is a professional one, as one can experience by watching the teaser of the movie on the official website.
There, people willing to help with the fundraising can make a pledge, since the movie is independently produced.
"I am very sure the movie will be recognized," said Nancy. "It was done with passion and dedication.
Originally published on VOXXI as "Times Like These," inspired by a true story of a Latina mother
BEFORE YOU GO
PHOTO GALLERY
Census: Latinos By The Numbers