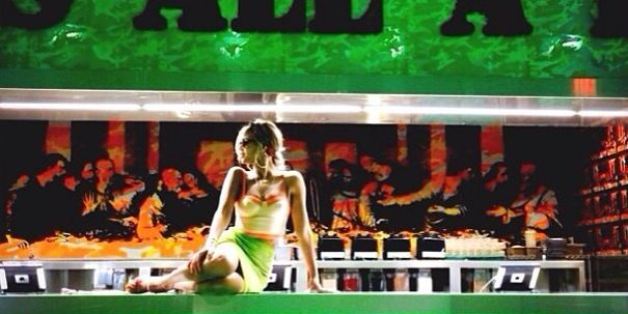 The media was buzzing yesterday with reports that Beyonce had "replaced Jesus" in a picture of Da Vinci's Last Supper, which depicts the last meal of Jesus with his disciples, as it is told in the Gospel of John.
She was, in fact, merely posing on the counter of Miami's Jugofresh juice bar, which features an Andy Warhol mural of "The Last Supper" with camouflage.
The singer came under fire earlier this week, for her controversial use of audio footage from the 1986 Challenger explosion, in her song "XO."
According to Flavorpaper, which provided the wall decor, the mural isn't the only religious themed aspect of the juice bar. "Pews in the seating area give you a hint that the kitchen is home to a Last Supper mural with flanking hand screened Last Supper, all in Orchard," states their website. "This juice is a religious experience!"
For another unconventional "Last Supper," check out the photo these young Muslims composed as an interfaith tribute.
BEFORE YOU GO
PHOTO GALLERY
The Face of Jesus in Strange Places