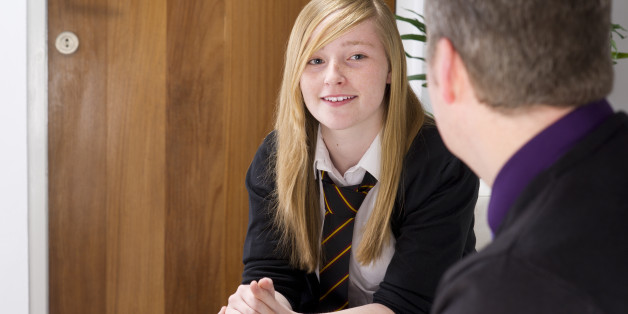 By Megan Shuffleton
Applying to college on paper is nerve-wracking in itself, so it's no wonder that a face-to-face conversation with an admissions officer can be intimidating! Not all colleges recommend an interview during the application process, but those that do take your conversation into serious consideration. We spoke with college interview experts to find out some key things you should say in your upcoming college interview!
1. Address your interviewer formally.
"Nice to meet you, Dr. Baker."
You should always be formal with your interviewer. Sure, you do want to be yourself and show who you are – but not the casual version of yourself. Try to address the interviewer (at minimum) by Mr., Ms. or Mrs., and avoid addressing the interviewer by his or her first name unless invited to do so.
"There is a good possibility the interviewer may have a doctorate," notes Clinton Aldrich, founder of Best Performance Interview Coaching. "It's respectful and professional to address them as 'Dr.' They've earned the title."

2. Something that shows you know the school well.
"What I love about The University of College is its emphasis on service learning."
Do your research! If you know little to nothing about the school you're applying for, you'll need to study up. How embarrassing would it be if an interviewer asked you about a certain program that you didn't know about?
"Make sure you learn as much about the school as you can," Aldrich says. "Understand what their mission statement is and how you as a student will fit into the environment this institution fosters and promotes."
You should be familiar with the college itself, all its basics and what you like about it specifically. Then, picture how you'll fit into this particular school. The point of the interview is to prove that you'll be a good fit, after all!
3. Something that shows who you are as a person -– not just a student.
"Winter is my favorite season, so I definitely want to go to school up north where I can ski."
All the experts we talked to gave the same advice: be yourself. "The college wants to see that you know a little about what you want and a lot about who you are," says Katherine Burik, a career coach at The Interview Doctor, Inc.
The goal of a college interview is mainly to see that you will be a good fit for the specific college, and how else will the interviewer be able to determine that if you aren't demonstrating who you are? "An interview is the opportunity to say the things about yourself that may not necessarily translate in the written application materials," says Laura Lee Smith, assistant dean of admission at Hamilton College. "It is an opportunity to let a school know who you are and it helps increase the chances of finding students who truly do 'fit.'"
Click here to read the rest of the article on HerCampus.com.
BEFORE YOU GO
PHOTO GALLERY
10 De-stressing Apps