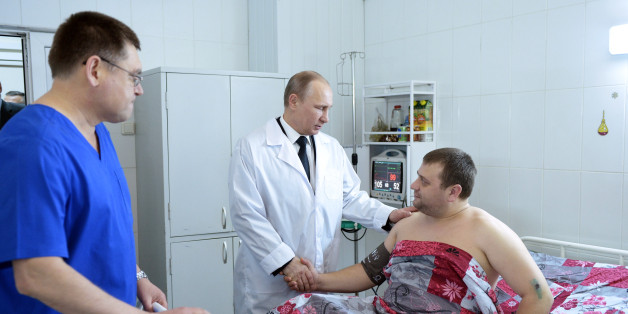 By Sergei Karpov
VOLGOGRAD, Russia, Jan 1 (Reuters) - President Vladimir Putin met wounded victims of deadly suicide bombings in the southern Russian city of Volgograd on Wednesday, heaping condemnation on the attacks that raised security fears ahead of the Winter Olympics.
Putin flew in before dawn, after vowing in a New Year address to "annihilate" terrorists in uncompromising remarks aimed at Islamist insurgents based in the North Caucasus who have plagued his 14-year rule.
"No matter what motivated the criminals, there can be no justification for crimes against civilians, particularly against women and children," Putin said in televised comments at the started of a meeting with senior security officials.
"The vileness of the crime - or crimes - that were committed here, in Volgograd, needs no additional commentary," Putin said during the tightly-controlled visit.
A suicide bomb blast in Volgograd's main railway station on Sunday afternoon killed at least 18 people, and a second attacker blew up a trolley bus during rush hour on Monday morning, killing 16 and leaving bodies strewn on the street.
Putin donned a white hospital coat for bedside visits to wounded victims and placed red roses at the site of the trolley bus bombing.
The bombings raised fears of more attacks before Russia holds the Winter Olympics in Sochi a Black Sea resort on the edge of the Caucasus Mountain range 690 km (430 miles) southwest of Volgograd.
While nobody has claimed responsibility, the attacks underscored Russia's vulnerability to insurgents more than a decade after it drove separatists from power in the North Caucasus province of Chechnya during Putin's first term.
"We will confidently, fiercely and consistently continue the fight against terrorists until their complete annihilation," Putin told the nation in a New Year address televised from the far eastern city of Khabarovsk.
The insurgents say they are fighting to carve an Islamic state out of a swath of southern Russia that includes Sochi. In a video posted online in July, their Chechen-born leader called for "maximum force" to prevent Russia staging the Sochi Games.
Putin, 61, has staked his reputation on the success of the Olympics. He secured the Games for Sochi in 2007, during his first stint as president, and has not ruled out seeking a new six-year term in 2018. (Writing by Steve Gutterman; Editing by Andrew Heavens)
BEFORE YOU GO
PHOTO GALLERY
Volgograd Bombings