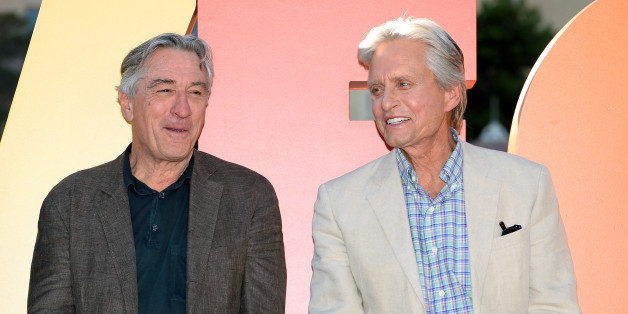 Between them, Michael Douglas and Robert De Niro have almost 140 years of life experience -- which includes a couple of failed marriages. Now, in a new interview, the actors are offering up their two cents on holy matrimony.
Douglas, who divorced his first wife Diandra Luker in 2000 and separated from Catherine Zeta-Jones in August, told the Belfast Telegraph that his views on love and marriage have changed over time.
"You can't take love for granted," Douglas said. "You've got to protect it, you've got to nurture it and take care of it. When you're younger, you just take it for granted."
As for getting hitched, he added, "I think you should wait. Everybody has their own careers, their own ambitions. I think you should work on your own career, try and get some financial security and independence ... I'm not saying it's for everybody, and I think people have to get their own life secure before they take on the responsibility of a partner and children."
De Niro, who divorced first wife Diahnne Abbott in 1988 after 12 years of marriage and two kids, had an equally pragmatic -- albeit difficult to plan for -- way of looking at matrimony.
"The only thing I would say is that if you get married, it's easier probably not to have children if you're going to split up – it makes life simpler," he said.
Douglas and De Niro are currently starring in the film "Last Vegas" together, which hit theaters on November 1st.
Keep in touch! Check out HuffPost Weddings on Facebook, Twitter and Pinterest.
PHOTO GALLERY
BEFORE YOU GO
Celebrity Splits 2013
PHOTO GALLERY
Celebrity Splits 2013