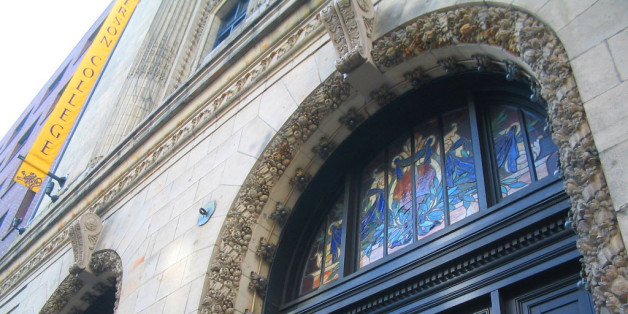 Emerson College is facing an investigation by the U.S. Department of Education's Office for Civil Rights in response to three complaints filed in October that claim the school failed to respond adequately to reports of sexual violence and harassment.
Nicole M. Merhill, a senior civil rights attorney for the Education Department, informed Emerson sophomore Sarah Tedesco of the investigation in a Dec. 23 letter, which was shared with The Huffington Post.
Tedesco is one of three students who filed complaints against Emerson. Tedesco said the Boston college took months to begin investigating her assault, and did not provide support for her when she began receiving anonymous threats. She was sexually assaulted by the same individual a second time, Tedesco said, while the college was still investigating her initial report.
Emerson junior Jillian Doherty, another complainant, said the college conducted a lackluster investigation of her assault and did not interview witnesses. A third student, junior Sarita Nadkarni, filed a complaint claiming the college did not provide support when she reported a sexual assault, and she later was put on academic probation and threatened with the loss of her scholarship.
The OCR will investigate all three complaints as part of a single review.
"While we have not yet seen the official notification, we look forward to cooperating with the Office for Civil Rights in pursuit of best practices," said Andy Tiedemann, Emerson's vice president for communications and marketing.
According to the letter, the federal agency will review whether Emerson "adopted and published grievance procedures that provide for the prompt and equitable resolution" of sexual assault and harassment complaints, and how well the college responds to sexual violence complaints it receives.
"We will be requesting documents from the College and may conduct an onsite to interview College staff," Merhill said in the letter. "We are also of course interested in reviewing any documents you may wish to provide, as well as interviewing any individuals with whom you would like us to speak."
The college joins nearly three dozen higher education institutions being reviewed by OCR under Title IX, the federal gender equity law. The Education Department faced an unprecedented wave of complaints in 2013 from students and recent alumni about how colleges have responded to sexual assaults on campus.
Emerson President M. Lee Pelton promised after the first complaint was filed that the college would review and improve its policies on sexual violence.
BEFORE YOU GO
PHOTO GALLERY
It Happens Here: Photos Of Men And Women Who Were Sexually Assaulted At Amherst College