Courtney met Ben just before Christmas at a bar in Northern Virginia, if the fliers she posted all over Old Town Alexandria about the encounter are to be believed.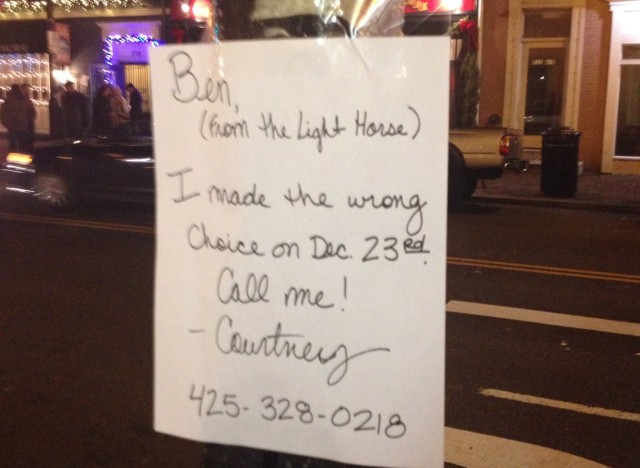 "Ben (from the Light Horse)," the flier reads, in case you can't make out the photo. "I made the wrong choice on Dec. 23rd. Call me! Courtney," before ending with Courtney's phone number.
There were 60 signs in all tacked to posts all up and down Old Town's main drag, Courtney told D.C.'s Fox affiliate, explaining that she was undergoing this effort because of a great conversation she and Ben shared at the Light Horse -- which, unrelated to this incident, is named for Confederate general Robert E. Lee's father, General Henry Lee III, known as Light Horse Harry; Harry was Virginia's 9th governor and later spent time in debtors prison.
"Religion, faith, morality, culture and how do you define culture in society, definitely not the things you just randomly talk to someone about in bar," she said, emphasizing to the station that she isn't "crazy," just fun and unpredictable. "It was an extensive conversation in the middle of a DJ playing, a hundred people dancing all around us."
On Dec. 23, though, instead of sticking around the bar long enough to talk about how to contact her, Courtney took off with her friends. Later she was, as one is wont to be after an evening at a bar around the holidays, filled with regret.
Patch first spotted the signs on Dec. 31. Courtney went the new-fashioned route that same day, taking to Twitter with the hashtag #FindBen -- before long, her quest had overtaken another #FindBen Twitter campaign, this one for a British infant who went missing in Greece in 1991.
In the early days of 2014, some were emotionally moved by Courtney's search for Ben, others were moved to offer that Ben might want to consider legal action.
Ben -- whom Courtney described to Fox as "probably early to mid-30s, white male with brown hair, beard, brown eyes, average build, slightly athletic" -- was evidently moved to get in touch with Courtney, though to what end we don't know.
I found Ben! To respect Ben's privacy, I won't be taking any more interviews. Thank you everyone for the support in my quest to #FindBen !!!

— Courtney (@OldTownCourtney) January 2, 2014
HuffPost certainly likes love, and we reached out to find out more -- like if the pair had, at last, made the right choice and scheduled a date. But Courtney now seems to have developed a shy side.
"Yes, I have in fact found Ben," she wrote to us by email. "Thank you so much for your support and interest. However, at this time, to respect Ben's privacy, I'm not taking any interviews or questions. Thank you again for your support! Happy New Year!"
BEFORE YOU GO
PHOTO GALLERY
Online Dating Fails