Unemployed and desperate for money to pay rent, journalist Craig D. Lindsey did something he never imagined doing –- he reached out to the Internet for help.
The result has been a deluge of more than $5,000 in donations from friends and strangers as of press time -- as well as a new outlook on life.
Since being laid off from the News & Observer newspaper in Raleigh, N.C., in 2011, Lindsey has won some writing awards, but has struggled to find steady work and even questioned why he ever pursued his competitive line of work, he wrote on his Tumblr blog.
When he had just one week to come up with two month's rent to pay his landlord's "enforcer," Lindsey grew increasingly desperate and decided to turn to launching an Indiegogo campaign on New Years Eve to raise $900.
In his campaign photo, Lindsey, whose unemployment benefits expired last January, holds a sign that reads: "Will be a snarky, cranky, unpredictable smart-ass for food!?!"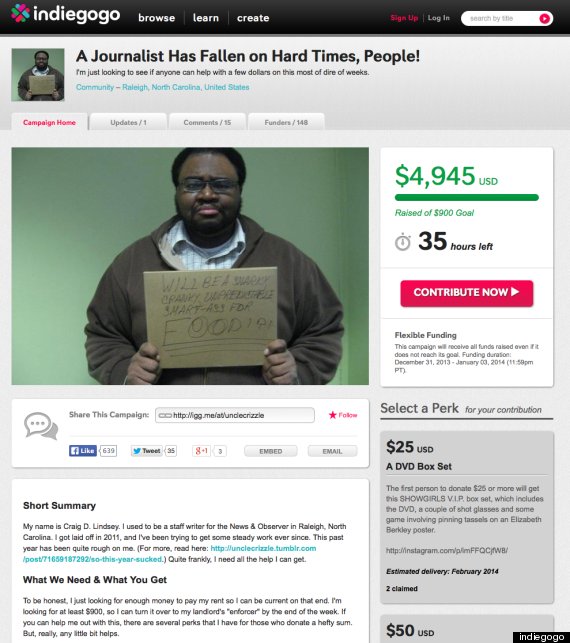 Lindsey also delineated the specifics of his struggles in his campaign.
"As I go into my fourth year of joblessness, with little to no prospects on the horizon, I've often felt I made a huge mistake choosing this line of work... I don't have family here, so I don't even have that to fall back on. My friends try to help me out when they can, but they have their own troubles. I only ask if you can help me on this endeavor, and I will be eternally grateful."
When media commentator Jim Romenesko came across the campaign, he tweeted it out to more than 87,000 followers on Tuesday, Business Insider reported.
Within three hours of making his online plea, Lindsey hit his goal and then surpassed it, according to his Tumblr blog.
His request spread quickly and after just 24 hours, he raised more than $3,500.
Once he reached his target, Lindsey profusely thanked his donors and actually asked them to stop sending money because he had earned enough funds to pay off four month's rent. But the campaign, as per Indiegogo's regulations, will remain open until Friday.
Lindsey also shared a number of inspiring lessons he learned throughout the process.
"I've learned that people aren't awful. (As I just recently told a mentor on the phone, "People just gave me $3000 – I can't say the world sucks anymore)," he wrote on his blog. "Secondly, while no one wants to be seen as a pitiful charity case, sometimes you need help. And, if you can get past your ego and your pride and just ask, people are more than willing to come to your aid."
The out-of-work journalist also noted how the experience has moved him to help others.
"Finally, it made me realize that I should be more giving and charitable as well," he wrote. "I often dream of having enough money and resources to help out those in need. This outpouring has showed me I don't have to wait until then. From those donating $5 to $200, every bit of it helped. No donation is ever small."
BEFORE YOU GO
PHOTO GALLERY
The Internet Saved My Life