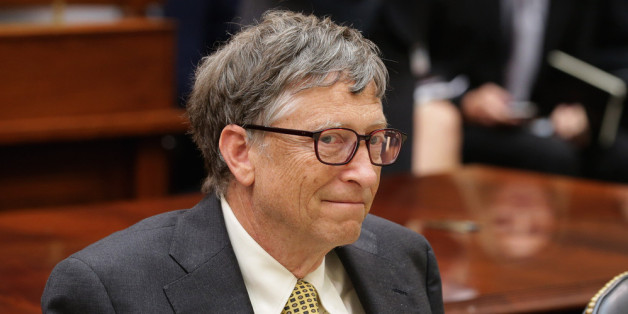 Before wildly successful and generous hedge fund owner Robert W. Wilson took his life, Bill Gates tried recruiting him to pledge half his wealth to charity, an initiative the business mogul deemed "practically worthless," BuzzFeed recently revealed in an exclusive story.
Wilson, a philanthropist who donated about $600 million over the course of his life, committed suicide at 87 by jumping from his Central Park West apartment on Monday, according to The New York Times. In the days following his death, BuzzFeed obtained and published a number of emails Gates and Wilson exchanged in 2010 that elucidated Wilson's disdain for the Giving Pledge.
Founded in 2010 by Bill and Melinda Gates and Warren Buffett, the Giving Pledge encourages uber wealthy individuals to pledge half their wealth to charity during their lifetime so that they have more control over how their money is distributed.
Certain that Wilson would be an ideal candidate to join the pledge, Gates reached out three years ago to recruit him to the group that currently boasts 122 members. A number of notables, including George Lucas, Mark Zuckerberg, and Michael Bloomberg, have signed on.
"Since your generosity has inspired so many and you have clearly already lived this Pledge, I am writing to see if you would be willing to help lead this effort and join us in encouraging others," Gates wrote, according to BuzzFeed.
Wilson responded by first noting that he had already made a personal vow to try and donate 70 percent of his net worth. He then went on to say that an alarming "loophole" in the pledge would keep him from joining.
"Your 'Giving Pledge' has a loophole that renders it practically worthless, namely permitting pledgees to simply name charities in their wills. I have found that most billionaires or near billionaires hate giving large sums of money away while alive and instead set up family-controlled foundations to do it for them after death. And these foundations become, more often than not, bureaucracy-ridden sluggards."
Gates tried swaying Wilson in a follow-up email by impressing how the hedge-fund owner could inspire others by publicly declaring his pledge, but Wilson couldn't be moved.
"I wouldn't have much fun or add much value to this group," Wilson wrote. "You, being a liberal, think you can change people more than I think. But let me make one comment. When I talk to young people who seem destined for great success, I tell them to forget about charities and giving. Concentrate on your family and getting rich—which I found very hard work. I personally and the world at large are very glad you were more interested in computer software than the underprivileged when you were young. And don't forget that those who don't make money never become philanthropists."
While Wilson immediately rebuffed the offer, Gates has had much success recently in recruiting other affluent people to join the Giving Pledge.
The pledge went international for the first time last year, getting a number of billionaires outside the U.S., including founder of Virgin Group Richard Branson and his wife, Joan, to commit.
Before New Years, six more signatories, including Bob Parsons, former CEO of GoDaddy, joined the Giving Pledge, too.
"The goal is to raise the visibility of philanthropy and the great things it can do," Gates told The Wall Street Journal in 2012. "I know that people are collaborating together quite a bit more than they would have otherwise."

BEFORE YOU GO
PHOTO GALLERY
People Donating 1/2 Their Wealth To Charity