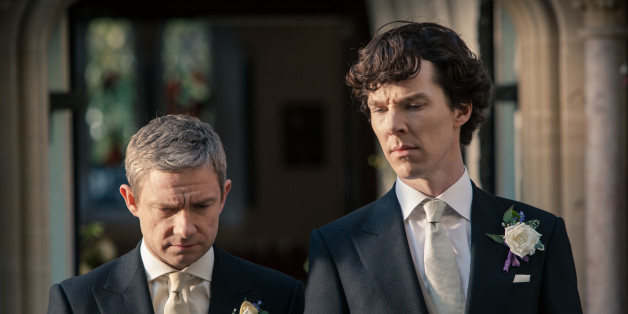 "Sherlock" is back.
On Jan. 1, "Sherlock" had its third season premiere on the BBC in the U.K., drawing its biggest audience yet. Luckily, American fans won't have to wait long, only until Jan. 19, to see it for themselves.
The Hollywood Reporter interviewed "Sherlock" showrunner Steven Moffat about what to expect from the third season and why "Sherlock" is the funniest its ever been.
The first episode of the season, "The Empty Hearse" is "an absolute stormer," according to Moffat. He describes the season premiere as a "reunion between Sherlock and Watson, and the solution to the riddle. It's hilarious and moving and fast-paced, and it's got one of my favorite scenes ever written on Sherlock."
While the first episode is about dealing with the return of Sherlock, the second episode of the season is more Watson-centric, namely his wedding. "It was obvious Dr. Watson only had one friend and Sherlock Holmes must've been the best man," said Moffat. "What was that like? I think we've delivered handsomely on that."
The Hollywood Reporter also asks Moffat what has changed the most since the series premiered in 2010. Moffat replied that the audience's emotional connection with Sherlock has grown the most over the series. "People's hearts break for Sherlock, which might be the first time that's been done since the original stories. People are quite emotional about it."
Don't worry, it's not all death and sadness. Moffat also believes that the third season is different because of the actors themselves. "I think Benedict and Martin [Freeman, who plays Watson] relaxed into the roles and it's probably the funniest Sherlock Holmes has ever been."
Excited yet?
Make sure to tune in to PBS Masterpiece on Jan. 19 to see the "Sherlock" season premiere "The Empty Hearse."
BEFORE YOU GO
PHOTO GALLERY
"Downton Abbey"