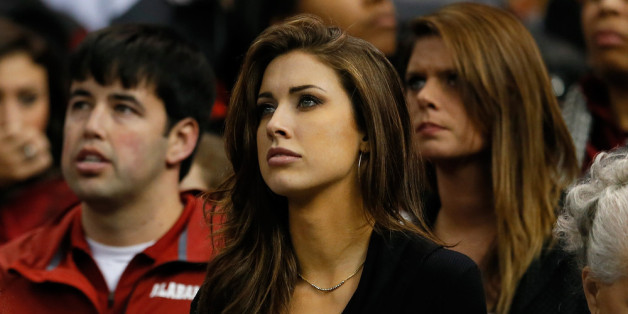 With one last gasp at the Sugar Bowl, Katherine Webb likely made her last appearance during a college football broadcast. ESPN caught the 24-year-old model's reaction after her boyfriend, Alabama quarterback AJ McCarron, was sacked in the final moments of Oklahoma's upset triumph.
Trailing 38-31 with 56 seconds remaining in the fourth quarter, McCarron and the Tide had one last chance to mount a game-tying drive from their own 18-yard line. Oklahoma linebacker Eric Striker stopped that drive before it could gain a single yard by sacking McCarron and forcing a fumble on 1st down. Defensive end Geneo Grissom scooped up the loose ball and scrambled eight yards for the victory-sealing touchdown. As the Oklahoma players celebrated on the field, Webb looked on in disbelief from the stands.
(GIF via @SBNationGIF)
With McCaron playing his final game for Alabama after a landmark run of success in Tuscaloosa, this late look of distress may be the last that college football fans see of Webb. A former Miss Alabama, Webb became the unlikely breakout star of the 2013 BCS National Championship Game after she caught the eye of ESPN broadcaster Brent Musburger as Alabama took an early lead over Notre Dame. Her relationship with McCarron had generated some attention ahead of the national title tilt because she was an Auburn alum supporting Alabama.
"Wow, you quarterbacks get all the good looking women. What a beautiful woman, whoa!" Musburger said as ESPN cameras showed Webb in the stands with McCarron's mother. "If you're a youngster in Alabama, start getting the football out and throw it around the backyard with pops."
A day after that game, ESPN admitted that Musburger went too far in his ogling of Webb.
"We always try to capture interesting storylines and the relationship between an Auburn grad who is Miss Alabama and the current Alabama quarterback certainly met that test," ESPN acknowledged. "However, we apologize that the commentary in this instance went too far and Brent understands that."
From the moment she was spotted at the Orange Bowl in Miami lat year through her late gasp in the Sugar Bowl, Webb remained a star in the college football universe. She picked up more than 75,000 followers on Twitter during that three-hour game in January 2013 and would have more than 290,000 by the time McCarron played his final game.
"Thank you for everything you've done and for helping my career and helping me make a new life for myself," a seemingly appreciative Webb said during an appearance on The Dan Patrick Show just days after her initial star turn when asked if she had a message for Musburger.
Webb would go on to appear in Sports Illustrated's swimsuit issue, go to the Super Bowl and star in a reality television show all before McCarron even got back on the field for the 2013 season.
As her boyfriend's senior campaign unfolded, Webb remained a constant presence at Alabama games. Although broadcasters were careful to avoid repeating Musburger's overzealous ode to her appearance, viewers saw plenty of her during broadcasts of Alabama's regular-season games. With the Crimson Tide facing LSU in November, CBS announcer Verne Lundquist actually made a point to talk about her as little as possible when she appeared on screen.
"I don't work for that four-letter network," Lundquist explained to his CBS broadcast partner Gary Danielson when asked if he had any more to say about Webb. "Discretion."
BEFORE YOU GO
PHOTO GALLERY
PHOTOS: 2014 Sugar Bowl