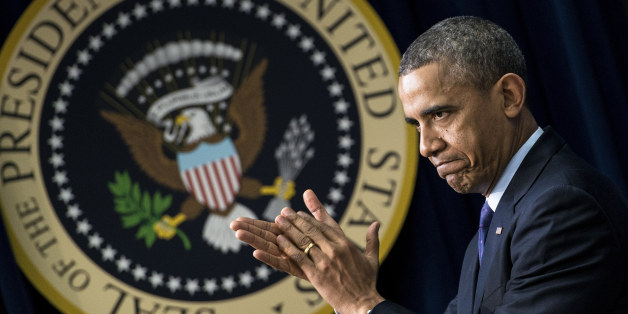 The first days of Obamacare enrollment were a mess. The first days of Obamacare benefits, on the other hand, went quietly. The health care industry expects that to change soon.
More than 2 million people signed up for insurance under the new law by year's end. Those people have yet to flood pharmacies, hospitals and community health centers surveyed by The Huffington Post.
The White House and health care companies are nevertheless bracing for a flood as soon as people who lacked health insurance coverage begin to take advantage of their new access to health care.
"At this point, we've seen only moderate activity," Jim Cohn, a spokesman for the Deerfield, Ill.-based pharmacy chain Walgreens, wrote in an email to HuffPost. "We are anticipating a surge in activity beginning next week, following the holiday period."
The White House views January, the first month of new coverage, as a critical moment for President Barack Obama's signature domestic policy achievement. The Obama administration has put in place measures to ease the transition for both those new to the insurance market and those switching from old policies, which have have been discontinued at year's end, into new plans purchased via the exchange marketplaces.
HealthCare.gov, the federal portal to the health insurance exchanges in 36 states, and most of the state-run insurance marketplaces, have mostly recovered from major technological failures that hampered signups during October and November. Still, some of those who enrolled before the December deadlines for January coverage may find their benefits aren't in place. The enrollment period runs until March 31.
Health insurance companies are scrambling to process the hundreds of thousands of last-minute enrollments, even as they continue to sort through faulty data about some customers provided by the exchanges. Premiums for January coverage aren't due in most states until next week, after insurers agreed to accept late payments for the first month of Obamacare benefits. Many customers haven't received invoices, while others who have paid don't yet have insurance cards.
Health care providers, led by drugstores, also are taking steps to smooth over problems. Major retail chains such as Walgreens, Walmart, CVS, Rite Aid and Kroger are offering patients whose enrollments are in doubt supplies of prescription drugs for up to 30 days. Smaller, independent pharmacies also are assisting patients who run into trouble confirming their health insurance coverage.
Pharmacist Robert Frankil spent about a half-hour Friday trying to track down the correct insurance information about a patient without his new insurance card at Sellersville Pharmacy, which Frankil owns in suburban Philadelphia.
"I believe I've received one Affordable Care Act plan come in, and the insurance was not accurate," Frankil said. "So we're 0 for 1." After several telephone calls, Frankil confirmed the patient's coverage, he said.
On the other side of Pennsylvania, Tim Davis of Beaver Health Mart Pharmacy in Beaver also hasn't see many Affordable Care Act enrollees. Davis encountered some problems with a few patients who believed they had new plans. In one case, the trouble was cleared up with a phone call. In another, Davis sent a patient home with medicine at no charge and will bill the insurer when the issue is resolved.
"I really anticipate this to be sort of a slow go at first," Davis said. His pharmacy may not notice for six months or more an upswing in prescriptions because of the coverage expansion, he said. The National Community Pharmacists Association in Alexandria, Va., arranged for Frankil's and Davis' interviews with HuffPost.
Health care facilities that treat large numbers of uninsured or low-income people also didn't report a rise in demand during the first few days of the year.
"We are not seeing any increase in patient volumes at our facilities due to newly covered ACA populations," Clay Holtzman, a spokesman for Seattle's Swedish Medical Center, wrote in an email Friday. "In a month of so, we probably will have a greater sense."
The emergency department at Los Angeles County University of Southern California Medical Center was busy Thursday, but no more than ordinary, spokesman Frank Toscano said. "So far, it's business as usual."
At Jackson Health System in Miami, administrators aren't expecting much to change because Jackson Memorial Hospital and its other hospitals and clinics already treat the area's poorest patients, spokeswoman Lidia Amoretty said Thursday. "We see people regardless of whether they have insurance or they don't. So for us, in that sense, we're not going to see any big difference or huge new service demand," she said.
Clinics operated by Salud Family Health Centers, a nonprofit chain based about 30 miles north of Denver in Fort Lupton, Colo., aren't seeing a rush of patients streaming in or trying to make appointments -- but that will change over time, said Jennifer Morse, the organization's vice president for development.
"We're seeing our regular practice still come in the door, but we do anticipate that growing," Morse said.
Community health centers are a vital source of medical care for patients who lack insurance, Morse said, so her organization will largely be treating the same people after they gain coverage. The Bethesda, Md.-based National Association of Community Health Centers put HuffPost in contact with Morse.
If enrollment in the exchanges continues to rise -- the Congressional Budget Office predicted 7 million people would sign up for private insurance and 9 million for Medicaid or the Children's Health Insurance Program -- patients without a medical home today will go looking for one, Morse said.
"We're expecting new patients," Morse said. "People are going to have access to health insurance and they're going to need a primary care provider."
BEFORE YOU GO
PHOTO GALLERY
Health Care Reform Efforts Throughout History