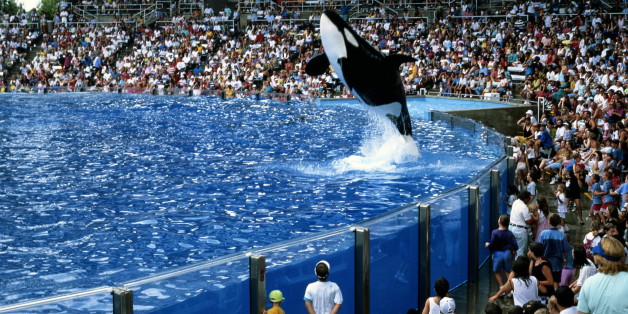 Something smells a little fishy.
In a recent poll about CNN's "Blackfish," a documentary about an orca held by SeaWorld, an overwhelming majority of Orlando Business Journal readers said that the film did not change their perception of the theme park. The results were surprising since SeaWorld has faced a fair amount of backlash following the release of the 2013 documentary, which SeaWorld dubbed "inaccurate."
So one curious Orlando Business Journal reporter audited the newspaper's SeaWorld/Blackfish poll to ensure the results were not biased or skewed, as he suspected.
"[I]magine our surprise when we noticed that one single Internet Protocol Address (IP Address) accounted for more than 54 percent of the votes, or about 180 of the total 328 votes," reporter Richard Bilbao wrote in a post Thursday.
The IP address in question (173.227.205.1) is hosted by seaworld.com, according to a search of domain name records.
While the discovery that many of the votes originated from a SeaWorld-owned IP address spurred some to question whether SeaWorld rigged the poll, the corporation has dismissed such claims.
Reiterating what SeaWorld told the Orlando Business Journal, spokesman Nick Gollattscheck sent the following statement to The Huffington Post:
Our team members have strong feelings about their park and company and we encourage them to make their opinions known.

If a poll is posted regarding SeaWorld, our team members have as much a right as anyone else to vote and express their opinion. We're unsure why that's being questioned here.

In this case, each of the votes that came from a SeaWorld domain were cast by team members who are passionate about the incredible work SeaWorld does and the experiences our parks provide.
Since news of the SeaWorld-owned IP address came to light, it seems the tides have turned.
Though Bilbao initially reported that 99 percent of readers voted in the theme park's favor, the results of the SeaWorld/Blackfish poll have drastically shifted. By Friday afternoon, 73 percent of readers answered "Yes" to the question "Has CNN's 'Blackfish' documentary changed your perception of SeaWorld?"
Still, let's put it to the test. If you've seen the documentary (it's available on Netflix), take a moment to answer the question below.
(Note: Both the Orlando Business Journal's survey and the following poll do not represent a scientific sampling.)
Editor's note: This post has been updated with additional comments from SeaWorld.
BEFORE YOU GO
PHOTO GALLERY
Whales In Action