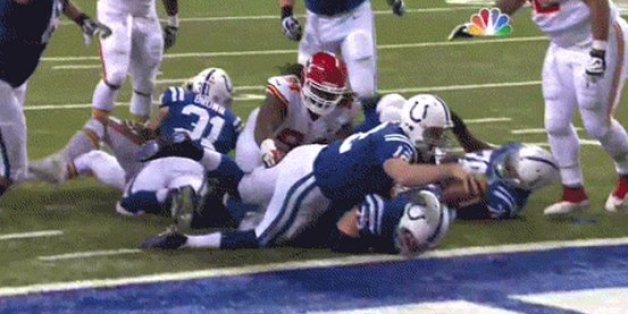 It may be better to be lucky than good but it is certainly best to be Andrew Luck and good.
With the Indianapolis Colts attempting to mount a second-half comeback against the Kansas City Chiefs in their AFC wild-card playoff game, Luck scored an incredible touchdown that was a credit to his poise, presence of mind and ... his luck.
Trailing 41-31 early in the fourth quarter, Luck drove the Colts deep into Chiefs territory. On a second-and-goal play from the 2-yard line, Luck handed the ball off to Donald Brown. Running straight ahead between the tackles, Brown fumbled the ball just steps from the end zone but Luck scooped up the loose ball before the Chiefs could recover. The 6'4" 239-pound quarterback then dove ahead for the touchdown.
(GIF via @BuzzFeedSports)
(GIF via @SBNationGIF)
Luck's improbable diving touchdown, and the ensuing extra point, cut the Chiefs' lead to 41-38. It was the closest the score had been since the Chiefs led 10-7 in the first quarter. In the second quarter, Kansas City outscored Indianapolis 21-3 to build a 31-10 lead at the intermission. When the Chiefs recorded the first touchdown of the second half, the 28-point lead seemed insurmountable.
It wasn't. With the help of this touchdown, Luck and the Colts overcame it for the second-largest comeback win in NFL postseason history
The Chiefs would respond to Luck's touchdown plunge by adding three more points on their ensuing possession, stretching their lead to 44-38 with 5:36 remaining in regulation. To the disappointment of those in Kansas City, Luck wasn't done yet. The second-year quarterback connected with T.Y. Hilton for a go-ahead 64-yard touchdown less than two minutes later. It was the Colts' first lead of the game and the only one they would need.
BEFORE YOU GO
PHOTO GALLERY
PHOTOS: Chiefs vs. Colts