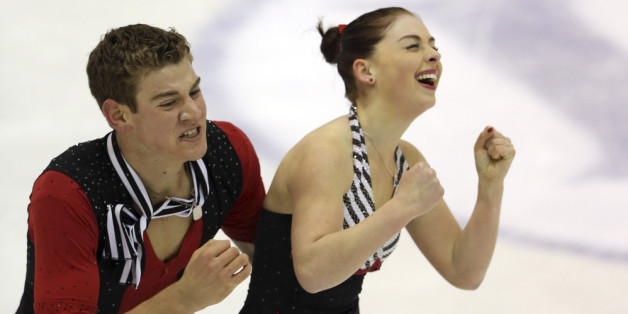 For Haven Denney and Brandon Frazier, it was a step back to their roots.
For Franchesca Chiera, it was a bold leap ahead.
The three figure skaters from Coral Springs will be viewed as dark horses in the U.S. Olympic Trials, beginning Sunday in Boston. But they are precocious enough to believe they can ride the fast-track all the way to the Soshi Winter Games in February.
And why not? Denney's older sister Caydee and former pairs partner Jeremy Barrett showed that Florida-bred skaters can compete with the best when they represented the United States at the 2010 Olympics while training at Saveology.com Iceplex.
Like her sister, Haven Denney and Frazier started out roller skating together in Ocala before transitioning to the ice. They took separate paths with different partners for several years before reuniting in 2011. The partnership jelled early last year when they followed a fifth-place finish at the U.S. senior championships with a gold medal at junior worlds in Milan, Italy.
PHOTO GALLERY
Haven Denney and Brandon Frazier
Meanwhile, Chiera, a sophomore at Coral Glades High, earned the chance to vie for an Olympic spot with the nation's top women with a dominant performance in winning the senior division at Eastern Sectionals in November. She moved up from the novice level, bypassing juniors in the past year.
"As the year progressed I just felt more and more confident. It led up to this moment, and I said to myself, 'Wow, I can do this,' " said Chiera, 16.
Haven Denney got the same feeling from her sister's experience at the Vancouver Games.
"I went to watch her and kind of just saw what it was all about. This year we have a chance of both making it. That's our dream," Haven Denney said.
Caydee Denney, now based in Colorado, and current partner John Coughlin are considered front-runners to grab one of two pairs spots on the American team. Coach John Zimmerman sees Haven Denney, 18, and Frazier, 21, as a rapidly rising team capable of ascending to that level.
"It's a wide-open but very deep field of pairs this year. I think it goes down to fifth or sixth can get the second place," Zimmerman said. "Brandon and Haven are definitely in that tier where anything could happen."
Chiera will be among a field of 21 seeking the three U.S. berths in women's singles, including two-time U.S. champion Lindsey Wagner and 2010 Olympian Mirai Nagasu. She is the only one without senior international experience, her coach, Artem Torgashev points out. But she beat three of them handily in winning sectionals by a margin of 21 points over runner-up Kiri Baga of Boston.
"She's capable of definitely getting in the top 10," Torgashev said, noting that it is difficult to foresee how judges will assess a competitor they are unfamiliar with. "I just hope she will skate her program like she can. That's all we ask."
Although Chiera's performance at sectionals was an eye-opener nationally, it was no surprise to Torgashev and his wife Ilona Melnichenko, who have coached her for the past five years at Saveology.com Iceplex.
"That's how she usually practices," he said. "She didn't do anything spectacular, but during competition it looks awesome."
More surprising was her misstep at regionals as a novice the previous year, when she failed to advance to sectionals. That led to soul searching, rededication and the fortuitous decision to skip ahead to seniors.
"It just made me work 10 times harder," said Chiera, who started skating when she was 2 1/2 as a diversion while her mother watched her brothers play hockey.
When you start that young and work that diligently there is no reason that ice champions can't be fostered in hot climes. The ice is just as cold indoors, and the coaching at the Panthers Figure Skating Club is world class.
Torgashev and Melnichenko excelled on the Soviet Union's national team. Curtis Chornopyski, who also coaches Chiera, skated in Canadian nationals. Likewise, Zimmerman is a three-time U.S. pair champ and 2002 Olympian who coaches with wife Silvia Fontana, a two-time Olympian.
This confluence of skating expertise has more potential stars in the pipeline, with four other skaters qualified for national competition at Boston in younger age groups: Andrew Torgashev, Lindsay Rosenberg and the intermediate pair of Maxine Weatherby and Mickey Sinthawatchiwa.
And the reputation is spreading. Last spring four-time world champion pairs Aliona Savchenko and Robin Szolkowy spent three weeks training at the Coral Springs rink. The pair that may have benefited most from that experience was Frazier and Denney, who had a chance to work and learn from the Germans.
"Just watching how they train and how they handle everything mentally," Frazier said.
Like Chiera, Denney and Frazier are relentless in their training but will be contending with more experienced competitors in Boston.
"They are very gifted and have tremendous potential. Yet they still need a little more seasoning that only time can really give them," Zimmerman said. "What you try to do is speed up time; try to get as much concentrated work in as you can."
All three of the Olympic hopefuls are young enough that if they don't make it this time they could have another chance in four years. But Frazier is focused on right now, saying, "I feel like we're not only ready but we belong on the Olympic team. We can get a spot." ___