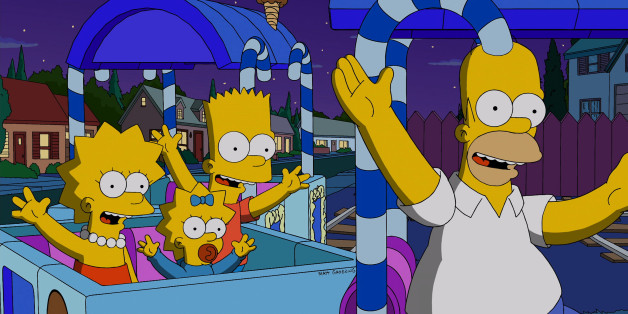 Judd Apatow and "The Simpsons" are having a moment. The "Girls" producer will guest voice a character -- himself --on tomorrow's (Jan. 5) episode, and a spec script he wrote two decades ago for the show will get made next season.
In an new interview with EW, Apatow revealed that "The Simpsons" episode he wrote is basically the premise for everything he's written since, like "The 40-Year-Old Virgin" and "Knocked Up." In his episode, the family goes to a hypnotism show, but the hypnotist has a heart attack, leaving Homer as a hypnotized 10-year-old. " It's about Bart and Homer becoming best friends because they're the same age," Apatow said. "And then Homer doesn't want to be revived because he'd rather be 10 than have adult responsibility."
Apatow said having his first script come to life was a dream come true, despite the success he's had in TV and movies. "I wanted to be a part of it from the second it was created," he said. "I knew it was one of the landmark moments in comedy and now that I have become a part of it, there is a small part of me that thinks I should retire. I should just move to the woods and realize that the circle has closed. There's nothing else to dream for."
In the Jan. 5 episode, Apatow will be joined by other Hollywood heavyweights, including Will Arnett, Leslie Mann, Paul Rudd, Seth Rogen and Channing Tatum. Here's a sneak peek of a very "Simpsons"-ized Apatow:
"@Supersuth: @JuddApatow Wow man. #TheSimpsons #NoFilter pic.twitter.com/e0aBeljn2C" Jan 5 you will see me look like this on The Simpsons!

— Judd Apatow (@JuddApatow) December 31, 2013
Head over to EW to watch a clip of Apatow's guest appearance on "The Simpsons" and catch the episode on Sunday, Jan. 5 at 8 p.m. EST on Fox.
BEFORE YOU GO
PHOTO GALLERY
The Simpsons Season 24