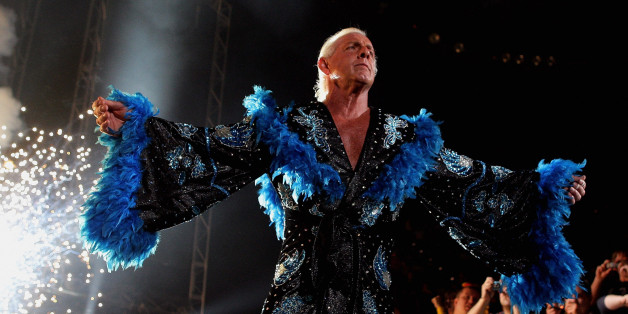 A night before going up against Mother Nature in Green Bay, the San Francisco 49ers got a visit from the Nature Boy.
With the 49ers preparing to face the Packers in what could be one of the coldest games in NFL history, 64-year-old professional wrestling legend Ric Flair was a surprise guest during a meeting at the team's hotel in Appleton, Wis. The Nature Boy's visit quickly heated things up in Wisconsin by inspiring an inflammatory tweet from a 49ers player.
Whooo! Nature Boy Ric Flair fired up the #49ers on the #QuestForSix. pic.twitter.com/9llsGy3jv5

— San Francisco 49ers (@49ers) January 5, 2014
49ers offensive tackle Anthony Davis was so appreciative of Flair's visit that he opted to insult the Green Bay area on Twitter.
WARNING: NSFW LANGUAGE IN FOLLOWING TWEETS
Nature Boy Ric Flair flew into this shit hole to show us some love. pic.twitter.com/F6gTC4Hpts

— Anthony Davis (@AnthonyDavis76) January 5, 2014
That remark understandably resulted in a social media backlash against the 24-year old from Piscataway, NJ. Davis engaged in some less-than-cordial banter with those on Twitter who disagreed and retweeted one person who seemed to share his opinion of the Green Bay area.
If @AnthonyDavis76 was talking about the Paper Valley, well, it's hard to get upset. But if he was talking about Appleton, he can eff off.

— Aaron Nagler (@Aaron_Nagler) January 5, 2014
Emotionally high jacked over my opinion. lol Poise yourself. Mental Toughness/Grasp is at an all-time low here in Appleton. lol

— Anthony Davis (@AnthonyDavis76) January 5, 2014
@AnthonyDavis76 I lived in GB 4 18 months. Worst 18 mos. of my life #truth

— steve stark (@stark_steve) January 5, 2014
Ok everybody that strongly disagrees w me can you defend your argument on this place not being a shithole? lol btw that is not Rhetorical. 🙇

— Anthony Davis (@AnthonyDavis76) January 5, 2014
@OnWisconsin016 Home is never a "shithole". You are entitled to your opinion. It would not effect me in any way, we have that liberty.

— Anthony Davis (@AnthonyDavis76) January 5, 2014
Several of Davis' teammates shared less controversial reactions to the visit.
Got a nice motivational speech from Ric Flair wooo #BangBang Oh Lets Do It!!!! Why worry about the cold when u a living flame #Firemancoming

— Anthony Dixon (@Boobie24Dixon) January 5, 2014
Got 2 meet Ric Flair 2night, never really thought i would actually ever meet him lol http://t.co/bW5Ki5gPMb

— Perrish Cox (@pcox16) January 5, 2014
Ric flair!!!

— Corey Lemonier (@CoreyL55) January 5, 2014
49ers cornerback Daryl Morris shared a brief video clip of Flair greeting the team.
For those wondering what some hyped-up speechifying from the Nature Boy might have sounded like, here are some of his wilder moments: