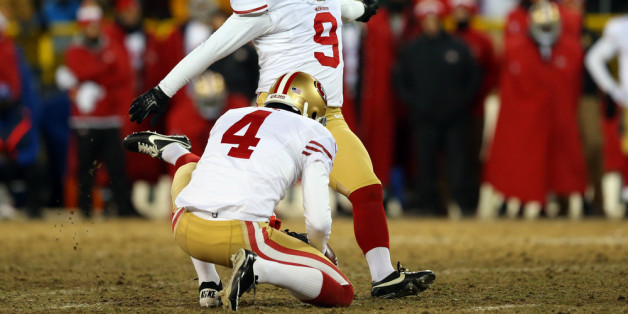 In one of the biggest nail-biters of the season, the San Francisco 49ers beat the Green Bay Packers in the NFC wild-card game on Sunday with a last-second field goal that lifted the team 23-20.
While reviewing a clip of the play, the breathless FOX Sports post-game announcers claimed that it almost didn't happen.
Cue the GIF insanity:
It appeared as if the Packers' Davon House nearly blocked the kick, with the ball sailing helplessly through his outstretched arms. In truth, however, the call wasn't as close as it seemed.
House was flagged for an offsides penalty during the play, which might explain how he was able to get so close. Because the kick was good, the 49ers obviously dismissed the penalty. But had 49ers kicker Phil Dawson missed, the penalty would have allowed for another kick, five yards closer to the uprights.
Still, as SB Nation noted, the GIF reminds us that football really is "a game of inches."
The win is only the latest cliffhanger victory for the 49ers: Sunday was the second week in a row that featured a game-winning field goal. After blowing a 17-point lead against the Arizona Cardinals in week 17, Dawson saved the day again with a 40-yard kick. In the week prior, the 49ers beat the Atlanta Falcons when a deflected pass led to an 89-yard touchdown return by NaVorro Bowman that could only be called miraculous.
While the streak makes for some seriously dramatic football, it also makes fans wonder when San Francisco's luck might run out.
BEFORE YOU GO
PHOTO GALLERY
PHOTOS: 49ers vs. Packers