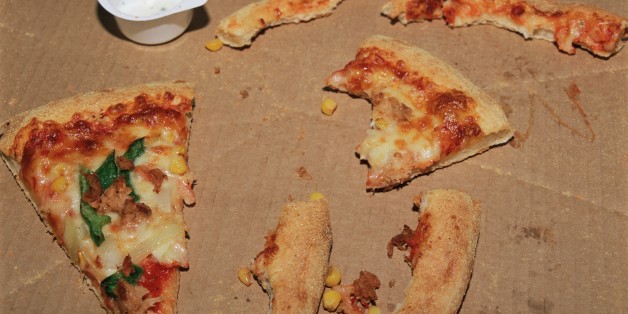 From Mother Nature Network's Matt Hickman:
Here's an interesting development for New Yorkers to ponder as they don their best "house sweaters" and batten down the hatches in preparation for a brutal blast of wind, snow, and single-digit temps: during winters in the not-so-distant future, the heat being pumped into nearly 5,200 New York City homes will come courtesy of last night's leftover shawarma platter, this morning's everything bagel, and the remnants of the mediocre Thai takeout that you scarfed at your desk in the afternoon.

Late last month, just in time for the high season of discarded edibles, former New York City Deputy Mayor Cas Holloway along with Sanitation Commissioner John Doherty and Environmental Protection Commissioner Carter Strickland announced a major scheme geared to help tame the egregious mountains of food waste that are being shipped to out-of-state landfills while also curbing annual greenhouse gas emissions to the tune of 90,000 metric tons.

The pilot program, launched as part of the city's ambitious PlaNYC goal of reducing municipal greenhouse gas emissions by 30 percent by the year 2017, revolves around two key partnerships. The first, carried out with Waste Management, involves the delivery of pre-processed organic food waste collected throughout the city to Greenpoint, Brooklyn's Newton Creek Wastewater Treatment Plant where it will be mixed in with wastewater sludge (read: liquefied poop) to help boost the production of biogas, a natural byproduct of the five-step wastewater treatment process at Newtown Creek. The second partnership, this one with utility National Grid, will see the methane-rich biogas in question be converted into clean, pipeline-quality natural gas (methane is the main component of natural gas) that will be used to heat homes and businesses across the five boroughs.
Proclaimed former Deputy Mayor Holloway, who with the 2014 mayoral switch-up, is now under the private employ of ex-Nanny-in-Chief Michael Bloomberg:
This first-of-its kind renewable energy project will harness part of the 1.3 billion gallons of wastewater that New Yorkers generate every day. The public-private partnership that made this possible will reduce greenhouse gas emissions by the equivalent of removing nearly 19,000 cars from city streets — a huge step towards making a greener, greater New York City.
Added Strickland:
Collecting and treating the more than 1 billion gallons of wastewater produced in New York City every day is essential to public health and the protection of the environment, but it also offers a significant opportunity to mine the resources in that waste stream for clean, reliable energy. At no cost to ratepayers, these projects will harness a byproduct of the wastewater treatment process to provide renewable natural gas to local residents while helping to clean the air we all breathe.
Currently, the Department of Environmental Protection reuses in the ballpark of 40 percent of the naturally occurring biogas produced at the Newtown Creek Wastewater Treatment Plant (aka "the Fart Factory"), a strikingly designed — even amorous — facility that accepts an average of 250 million gallons of wastewater per day from northern Brooklyn, western Queens, and sections of Lower Manhattan. In addition to a popular visitors center and nature walk, the plant is best known for its eight sludge-filled "digester eggs" that rise dramatically like shimmering metallic onions above the East River waterfront (seriously, they're a sight to behold when illuminated at night). That 40 percent of biogas that's reused at Newtown Creek heats the plant's buildings and digester eggs while the excess 60 percent is flared into the atmosphere.

Under the new pilot program, all of the biogas produced at Newtown Creek – as the city's largest wastewater plant, 500 million cubic feet of biogas is produced at the facility each year — will be reused. The excess 60 percent that's usually flared will be purified on-site by National Grid and transformed into renewable natural gas before it's piped into the utility's distribution network. The bill for the innovative biogas purification system, due to be completed in 2015, is being footed by National Grid.

As for the scrumptious leftovers that will be added to the delightful biogas soup over at Newtown Creek Wastewater Treatment Plant, they'll be collected from 200 public schools, predominately in Brooklyn. If the pilot program proves to be a success, organic food waste would be collected from an additional 200 schools along with 100,000 homes across the city.

"Earlier we would just bury the waste," " Sanitation Commissioner Doherty tells The Daily News. "With composting and food waste management we have something new here. A project like this will help protect the environment for our grandchildren."

Via [The Daily News], [Triple Pundit]
BEFORE YOU GO
PHOTO GALLERY
Top U.S. Renewable Energy Sources - 2011 (MOST RECENT DATA)