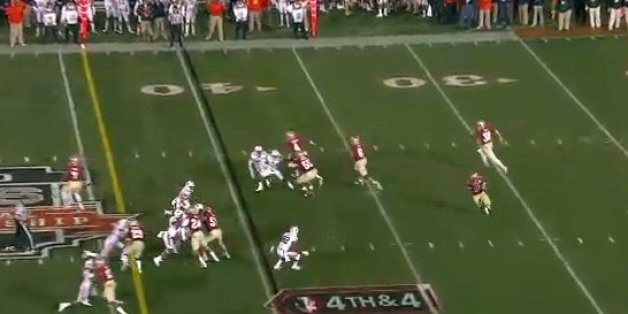 Florida State was struggling to make a play so head coach Jimbo Fisher decided to fake one.
With his No. 1 Seminoles already trailing 21-3 in the second quarter of the BCS National Championship Game, Fisher dialed up a fake punt rather than kick the ball back to Auburn. On 4th down at their own 40-yard line, the ACC champs lined up in a punt formation but running back Karlos Williams ended up with the ball in his hands. Fisher's risk paid off as Williams picked up the first down. Jameis Winston and the FSU offense capped that revitalized drive with a touchdown to cut the lead to 21-10 with less than two minutes remaining in the first half.
"We lost momentum of the game," Fisher told ESPN's Heather Cox at halftime. "We had to gain it back. We had to do something to make a change. And our kids are relaxed now and they're playing ball again."
The gambit continued to pay dividends in the second half as Fisher's team outscored Auburn in both the third quarters and fourth quarters. A 41-yard field goal from kicker Roberto Aguayo accounted for the only scoring in the third quarter as the Seminoles closed within 21-13. In a wide-open fourth quarter that included four touchdowns and a field goal, Florida State outscored Auburn 21-10 to pull out a thrilling 34-31 win. Even after all the explosive plays in the second half, the fake punt was still being talked about.
"I think that was the call of the game," Alabama coach Nick Saban told Fisher after the game, in his role as an ESPN analyst. "You've got to be bold some times. You guys needed something. You guys went down and scored. That made a big difference from a momentum standpoint."
BEFORE YOU GO
PHOTO GALLERY
PHOTOS: Auburn vs. Florida State