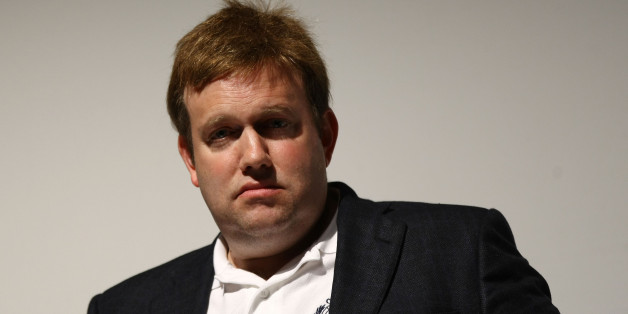 Frank Luntz is down on politics and wants to start over. Again. Our colleagues explain how we improved our election night reporting in Virginia. And our first newsletter for 2014 is going to disappoint Joel Benenson. This is HuffPollster for Monday, January 6, 2014.
FRANK LUNTZ 'IN CRISIS' - Molly Ball interviews the Republican "public-opinion guru": "Luntz--the tubby, rumpled guy who runs the focus groups on Fox News after presidential debates, the political consultant and TV fixture whose word has been law in Republican circles since he helped write the 1994 Contract With America--has always been a hard man to please. But something is different now, he tells me. Something is wrong. Something in his psyche has broken, and he does not know if he can recover...Luntz hasn't renounced his conservative worldview. His belief in unfettered capitalism and individual self-reliance appears stronger than ever. He hasn't become disillusioned with his very profitable career or his nomadic, solitary lifestyle. His complaints—that America is too divided, President Obama too partisan, and the country in the grip of an entitlement mentality that is out of control—seem pretty run-of-the-mill...A few weeks after our lunch, Luntz tells me he's made a move. He has changed his principal residence from Northern Virginia to a condo overlooking the Las Vegas Strip, and he's contemplating a sale of his company, Luntz Global LLC, the details of which he is not at liberty to discuss. Las Vegas, he says, represents 'my chance to be intellectually challenged again' by a place that is 'the closest thing to a melting pot America has to offer.' As fresh starts go, it's not much, but Luntz hopes it will bring some new clarity." [The Atlantic]
Luntz has 'danced this dance' before - Philip Bump: "Hollywood site The Wrap reported in April 2009 that Luntz, having seen his team lose a presidential election in a landslide, decided that he wanted to go to Hollywood. 'I'm tired of selling reality,' he told the site. 'Reality sucks. It's mean. Divisive. Negative. What Hollywood offers is a chance to create a new reality, in two hours time.' Because, he added, he's 'not as partisan as I once was,' and doesn't 'like what politics has become.' In 2009, though, he didn't take any credit for the partisanship, instead blaming 'the culture of political vilification' that brought Obama to power. Different year, same message." [The Wire]
A LOOK AT HOW HUFFPOST ESTIMATED THE VIRGINIA ELECTION OUTCOME - Jay Boice: "Television networks have sophisticated models built with the aid of exit polls and other Election Day data to project the winner of elections, but without a dedicated decision desk at The Huffington Post, we wanted to use the data available to us to help readers see that partial vote counts may not be a good representation of the final results. During November's election for Virginia governor, we estimated our best guess at the outcome of the election in real-time, and published it under the actual results in the later part of the evening. These estimates were based on the county-level results reported at that time and the results from the 2009 Virginia governor's race. Over the course of election night, our estimates were consistently closer to the final results than the results being reported at that time. These estimates are driven by two main principles: 1. The swing (change in vote percent since the previous election) for each party will remain roughly consistent across counties. 2.Turnout, relative to 2009 turnout, will remain roughly consistent across counties." [ Tumblr]
ONE NEW YEAR'S RESOLUTION WE'VE ALREADY BROKEN - Obama pollster Joel Benenson: ""Here's one -- with a variation, if mine is too extreme: Go one year without reporting any public polling data. Rationale: Most public polling continues to be reported on strictly from a topline, horserace-type perspective that does nothing, or at best very little, to illuminate the news of the day. ALTERNATIVE IF THIS IS TOO STRICT: Go one year without reporting any public polling data that doesn't provide in an in-depth analysis of the underlying dynamics that are truly shaping the data….Others to consider: No items posted regarding the 2016 presidential race until Jan 1, 2015. " [Politico]
CELL-PHONE ONLY HOUSEHOLDS CLUSTER IN SURPRISING PLACES - Drew DeSilver, in a pre-Christmas post: "The state where people most rely on their cellphones isn't, as you might think, a busy metropolis (like New York) or a city crowded with texting college students (like Boston). It's scenic, sparsely populated Idaho, where as of last year more than half (52.3%) of adults lived in households that had cut the landline-phone cord completely. That's according to a recent report from the CDC's National Center for Health Statistics, which has tracked the rise of wireless-only households since 2003….The patterns are similar when the analysis is expanded to include households that have a landline phone but receive most calls on cellphones. Largely rural states in the West and South have the highest shares of such "wireless-primary" households, while the lowest wireless-primary shares are clustered in the Northeast." [Pew Research]
HUFFPOLLSTER VIA EMAIL! - You can receive this daily update every weekday via email! Just enter your email address in the box on the upper right corner of this page, and click "sign up." That's all there is to it (and you can unsubscribe anytime).
'OUTLIERS' WE MISSED - Links to the best of news at the intersection of polling, politics and political data that we missed during our holiday break (starting with a few new items from today:
-Charlie Cook doubts 2014 will be a 'wave' election for either side. [Bloomberg]
-Scott Bland lists 30 U.S. House Districts most likely to flip in 2014. [National Journal]
-Micah Roberts (R) has five observations about four years of polling data on Obamacare. [POS]
-Greg Sargent doubts the American people are "hopelessly polarized." [WaPost's Plum Line]
-70 percent of Americans lack confidence in the government's ability "to make progress on the important problems and issues facing the country." [AP]
-Republicans are now less likely to say that humans have evolved over time than they were in 2009. [Pew Research]
-Nick Gourevitch (D) attributes the Republican shift on evolution to "moderates fleeing GOP." [@NickGourevitch]
-Charles Franklin plots the 2013 trend in Obama job approval. [@PollsAndVotes]
-Sean Trende reviews how the 2013 Census data showing more movement South and West would affect Congressional apportionment. [RCP]
-Alec Tyson and Carroll Doherty show how question order mattered for a question about preserving social security rather than reducing the budget deficit. [Pew Research]
-Mark Penn explains how his "SWAT Team" drives Microsoft's advertising strategy. [NYMag]
-Pandora's ad targeting analytics users music preferences to predict their political affiliations. [NYTimes]
-Brian McFadden suggests an unlikely 2014 headline: "Midterm Elections Briefly Interrupt 2016 Presidential Election Hysteria." [NYTimes via @OpinionToday]