My, Amazon, what big hands boxes you have!
The better to ship cars with, my dear.
At least, that's what we believe is the purpose of this behemoth box snapped by Reddit user "listrophy" in Madison, Wis. Specifically, we believe the ginormous package holds a Nissan Versa Note. As part of a promotion launched last year, three of the cars sold through the site were supposed to be delivered in oversized Amazon boxes.
(Scroll down for update)
(Story continues below)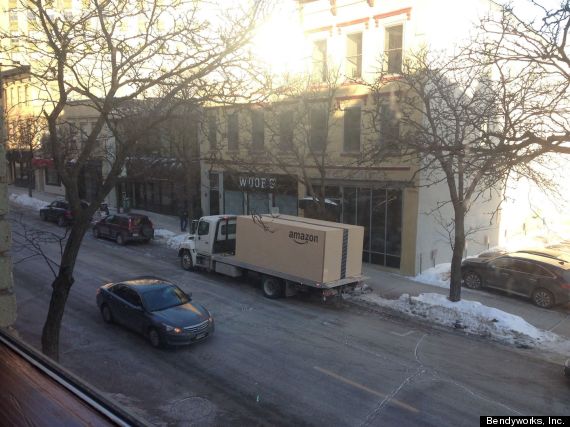 (Photo credit: Bendyworks)
"This is something that we don't believe has been done before in the automotive space where consumers can find a vehicle through a consumer retail site like Amazon," Josh Clifton, a Nissan spokesman, told Edmunds in an earlier article about the promotion.
The first 100 customers to buy the car via Amazon were to receive $1,000 Amazon gift cards, Automotive News reported last year. Only three of the vehicles were to be delivered in the comically large brown box.
We've reached out to Amazon for more information but haven't heard back. So, technically, the box could just be holding a bulk order of banana slicers.
What do you think is in the box?
Here's another picture of the package, via Twitter:
What do you suppose is in this box? Giant Ad? From a Madison viewer. It's on Regent St. #Amazon #Madison pic.twitter.com/3wcUnf2TsS

— Jen Ayres (@jenayres) January 6, 2014
UPDATE: Wednesday, Jan. 8 -- In an email to The Huffington Post, Nissan North America spokesman Josh Clifton confirmed the mystery box does indeed contain one of its cars. As evidence, Nissan provided the following picture: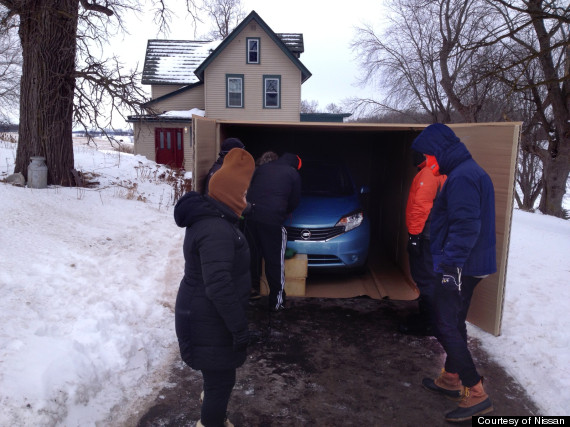 BEFORE YOU GO
PHOTO GALLERY
WTF Amazon Items