The New York Post has a tendency to strike with touchy and often controversial covers, but this time it seems they have crossed a line that many are not willing to accept.
The newspaper's Sunday cover, which features the murdered Hasidic Jewish Brooklyn real estate developer Menachem Stark, has sparked outrage and disgust in the Jewish community and beyond.
Here is the cover: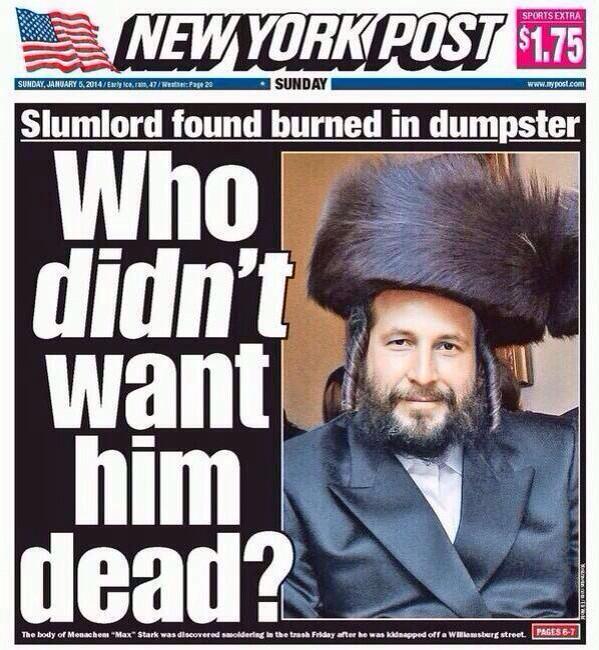 Stark, the father of eight children, was seen on video surveillance being forced into a minivan by two men outside of his office Thursday night. His body was found the next day in a Long Island dumpster.
In an interview with the Algemeiner, Stark's family members called the Post's cover "disgusting," saying it is "adding salt to the wound."
"Apologies wont help, the damage is done," Stark's brother-in-law told the Jewish newspaper. "It would be nice [for them] to apologize, because that is the best they can offer now, but it was disgusting what was done, and that can't be reversed."
A statement from the New York Post defended its decision and made no suggestion of an apology on its way:
"The Post does not say Mr. Stark deserved to die but our reporting showed that he had many enemies, which may have led to the commission of this terrible crime. Our thoughts and prayers are with the family at this time of loss."
Twitter has been on fire with disapproval for the cover, accusing it of "condoning" and "justifying" the murder. Among those voicing fury were several New York City council members:
This morning's New York Post cover is sickening, offensive, and reaches a new low http://t.co/PIPGwIzkyw

— Stephen Levin (@StephenLevin33) January 5, 2014
Sickened by the @NYPost condoning the murder & kidnaping of chasidic businessman. I don't subscribe. If I did, I would cancel subscription.

— David G. Greenfield (@NYCGreenfield) January 5, 2014
One of worst front pages ever; I usually stay away from such labels, but open to claim of anti-Semitic stench pic.twitter.com/lwpMDDmZs8

— Chemi Shalev (@ChemiShalev) January 5, 2014
I join all those outraged by @NYPost's hateful, anti-Semitic, unacceptable cover today pic.twitter.com/M0780CCTsh #StopNYPostHate

— Brad Lander (@bradlander) January 5, 2014
Were the @nypost editors asleep at the switch? Who signed off on such a disturbing, defamatory & insensitive cover? pic.twitter.com/Lxw2RZFQBH

— Aaron Troodler (@troodler) January 5, 2014
Sick even by Post standards RT @YossiGestetner: SICK @NYPost cover asks of Murdered father "Who DidnT Want him Dead?" pic.twitter.com/01GkaseZPY

— Mark D. Levine (@MarkLevineNYC) January 5, 2014
Some called for greater action to be taken:
Ny post to be baned by jewish comunity world wide unless regret @ appolgy front cover tomoro

— Sam frankel (@jewishumanright) January 6, 2014
DO SOMETHING!
tips@nypost.com
online@nypost.com
letters@nypost.com
customerservice@nypost.com
2129308000 x 2 or8 pic.twitter.com/4uR8C97I5M"

— Chaskel Bennett (@ChaskelBennett) January 5, 2014
BEFORE YOU GO
PHOTO GALLERY
Controversial Magazine Covers