Bank robbers commonly pack guns for their heists, but one in Denver is known for bringing along an oxygen tank.
A robber known as "the O2 Bandit" because of his ever-present oxygen tank and medical mask is believed to have held up three Denver banks in the last month, according to the Denver Channel.
The M.O. of the suspect is always the same: He enters the bank, hands a teller a note and then leaves with the cash, oxygen tank in tow, the Metro reported.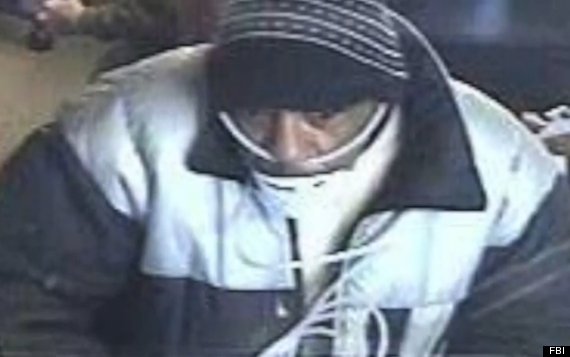 Police are searching for a bank robber known as the "O2 Bandit"
The suspect is described as a black man between 50 and 60 years old, with a medium build and between 5-feet-8 inches and 6 feet tall, according to the Associated Press.
Investigators aren't sure whether the O2 Bandit is dependent on supplemental oxygen, or if it's part of an elaborate disguise, the Denver Post reported.
A $2,000 reward is being offered for information leading to the O2 Bandit's arrest. Anyone with any information is asked to called the FBI Rocky Mountain Safe Streets Task Force at 303 629-7171 or Crime Stoppers at 720 913-STOP (7867).
The O2 Bandit isn't the only alleged person robbing banks like they're going out of style.
Maryland police are currently looking for the "Pink Bank Robber," an African American woman who does her heists in all-pink outfits.
BEFORE YOU GO
PHOTO GALLERY
Bank Robbing Family