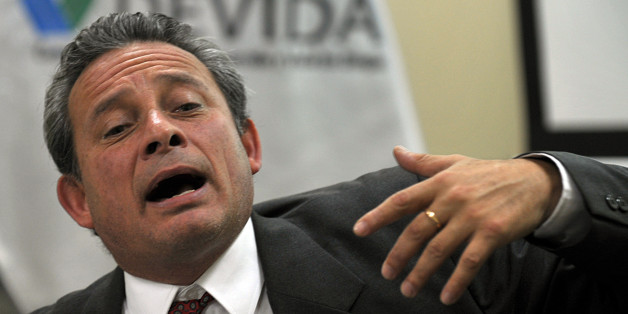 Uruguayan President José Mujica isn't the only Latin American leader that wants to legalize weed.
The former director of Peru's anti-drug commission is trying to pressure government officials to open a debate over the legalization of marijuana, pointing to recent experiments in the U.S. states of Colorado and Washington. His comments come on the heels of Uruguay's unprecedented decision to legalize consumption and government sale of marijuana last month.
"Let's open a forum," Ricardo Soberón said last week, according to Peruvian broadcaster RPP Noticias. "First on the topic of health, second on the topic of citizen security and the implications of its use."
Soberón resigned his position as the head of Peru's National Commission for Development and Life Without Drugs (DEVIDA, in Spanish) last year. His opponents criticized his liberal attitudes toward drug prohibition and his close relations to coca leaf growers. The coca leaf may be grown for traditional use and several legal products in Peru, though the government also eradicates illicit plantings in an attempt to rein in drug trafficking.
The Peruvian ex-official's voice joins a growing chorus of Latin American leaders urging a reassessment of U.S.-led anti-drug policies widely viewed as a failure that nourishes murderous drug cartels, while siphoning resources into policing and jailing non-violent crime.
The head of Argentina's anti-drug agency, Juan Carlos Molina, also called for his country to take a hint from Uruguay and reconsider its strategy.
"Argentina deserves a good debate about this," Juan Carlos Molina said shortly after the Uruguayan vote, according to Argentine daily La Nación. "We have the capacity to do to it, let's not underestimate ourselves."
Molina, a Catholic priest, did not specify whether he favored completely legalizing marijuana, as Uruguay has.
Former Mexican President Vicente Fox has emerged as one of Latin America's most enthusiastic proponents of legalizing marijuana, saying he'd grow weed himself if it were legalized.
Fox cites the violence of a drug war that has claimed more than 70,000 Mexican lives as the most important reason for legalizing marijuana.
Marijuana accounted for 99.5 percent of Border Patrol drug seizures by weight at the U.S.-Mexico border in 2011, according to an analysis by the Center for Investigative Reporting.
"My highest priority is to stop violence in Mexico," Fox told High Times last year. "And this is one clear way that we will accomplish that in the process of time."
BEFORE YOU GO
PHOTO GALLERY
27 Reasons Why U.S. Shouldn't Lead War On Drugs