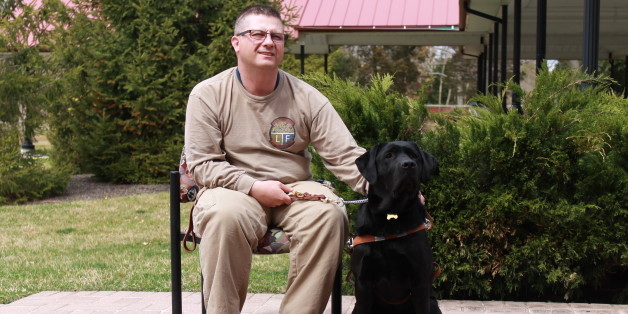 It's been seven years since retired Army Staff Sgt. Brian K. Pearce awoke from a two-month coma, wondering, "What the heck is (my wife) doing in Iraq?"
His last clear memory was of his Humvee jerking violently and the smell of explosives.
Shrapnel from the roadside bomb shot through his skull, leaving him with a narrow field of vision, much like peering through a straw. In the years that followed, he also would battle short-term memory loss and post-traumatic stress disorder, among other problems.
While his road to recovery included some "really dark days," Pearce said, teaming with a guide dog less than a year ago has helped him regain independence.
"I feel like a human again," he said.
Pearce, a 43-year-old Mechanicsville resident, headed to New York in early 2013 to meet and bond with Gunner, a black Labrador retriever, now 3 years old.
The dog quickly became a friend and second set of eyes for Pearce.
"He is an awesome dog and has improved things for me tenfold," Pearce said in April, shortly after returning from New York.
The relationship has only improved since, he said Thursday.
Gunner helps Pearce avoid obstacles while walking, awaken from nightmares (common among many with PTSD) and quickly exit crowded buildings when experiencing wartime flashbacks.
Pearce said his vehicle had been hit with roadside bombs numerous times during his service in Iraq, but he suffered severe injuries only once. In October 2006, shrapnel the size of a quarter penetrated his skull. A major portion of his skull had to be removed to drain fluid that had built up around his brain.
In the years that followed, being legally blind had Pearce feeling trapped when he was in crowds, he said.
"Every now and then, I'll catch a whiff of something, and it will take me right back into full combat mode just because it smells just like Iraq," Pearce said.
But Gunner has helped him deal with those situations.
"If I'm somewhere and I just don't like what's going on, I can tell the dog 'go to the door,' and it will start pulling me toward the door," he said.
Gunner was provided to Pearce by the nonprofit Guide Dog Foundation for the Blind through its America's VetDogs project, which became a separate nonprofit organization in 2006.
William Krol, a spokesman for the organizations, said he has heard many stories about the highly trained assistance dogs transforming people's lives, but it's one that often goes untold.
"The goal is to increase their mobility and independence," Krol said, adding that the dogs receive training tailored to the needs of prospective owners, including those who are blind, have seizures or are missing limbs.
Krol said the nonprofit, which is funded through private donations, has provided several thousand veterans with dogs since 1946.
Love and support from his wife, two children and a steady group of friends have kept him going, Pearce said. And while he has come to accept a much slower lifestyle than before his injuries, Gunner has allowed him to live outside the confines of his house.
"He goes everywhere with me. ... He's just become very attached to me, and he knows my ins and outs probably more than I do," Pearce said recently, noting that the only time he leaves his home without Gunner is when he competes in fishing tournaments.
"He's helped me with my patience more than anything," Pearce said last week. "He's definitely a great friend to have. That's for sure."
Pearce, a Purple Heart recipient, moved to Mechanicsville several years ago to receive therapy treatments. The former Ohio sheriff's deputy, who joined the Army in 1992, says he had spent too much time working, and there were times when he was focused more on being a standout officer and soldier than on being a standout father and husband.
"I'll never get that time back, but I can try," Pearce said. "The one good thing about the injury, if there was a good thing, is it taught me to slow down."
Pearce spent much of his time, years after the explosion, trying to convince himself and others that he was better off than he really was. He got irritated easily, he said, struggling to cope with his new life. But Pearce, who pointed to some men whose wives divorced them after their injuries, said he is thankful his wife and children, Jordan and Logan, supported him when he let out his frustrations on them.
His wife, Angie, said the years immediately after her husband's injuries were very difficult, but the family dealt with them together.
"Yes, he got injured. But the whole family got injured," she said. "I think having the dog has helped everyone."
At his house this past summer, the nearly 85-pound dog, a male, sat beside Pearce's recliner, ready to respond to his commands. In addition to doing such basics as playing fetch, Gunner escorts Pearce to street crosswalks on command, stops for vehicles and navigates through crowds of people, while stopping at stairs and street curbs.
"He will not go down the stairs until I've told him it's OK," Pearce said.
Pearce said he had struggled with stairs before having Gunner, and often fell.
He said he recently gave a motivational speech that would not have been possible without Gunner by his side. Pearce said he now takes more walks and is far more comfortable outside his home.
Pearce said he was often amazed by the intelligence of K-9s he had worked with in law enforcement, but added that Gunner is even more intelligent.
As with all recipients, the dog and training sessions were provided to Pearce free.
The injuries have left him unable to work, and he receives federal financial assistance reserved for wounded veterans. In addition to having done volunteer work for wounded war veterans, Pearce spends much of his time nowadays enjoying his family.
Within the past couple of years, Pearce says he has finally come to terms with his injuries. He has come to appreciate his wife and children even more than before his injuries.
"They are my sanity," Pearce said.
When Pearce met his future wife, he was 26 and she was 19.
"I knew as soon as I met her that we were going to get married," he said.
Their first date was a deer hunting excursion, though the two spent the entire time talking, he recalled, and he doesn't think he ever loaded his gun.
"A deer could have come along and taken my gun, and don't think I'd have ever known," he said.
Angie Pearce said the two quickly fell in love and got married weeks later.
She said her husband's kindness and care for others are contagious.
"He's not even supposed to be here," she said, noting the severity of his injuries. "There was a reason he was spared his life."
Brian Pearce said he is happy with life nowadays.
"The way I look at it is, if you think you've got it bad, just sit down and watch for a while, and you'll see someone who's got it worse," Pearce said. "I hope at the end of the day, everybody can say that I've been as good a friend as what they are to me ... as good a husband as she's been a wife to me ... as good a dad as they have been kids of mine." ___
BEFORE YOU GO
PHOTO GALLERY
Animals In The News